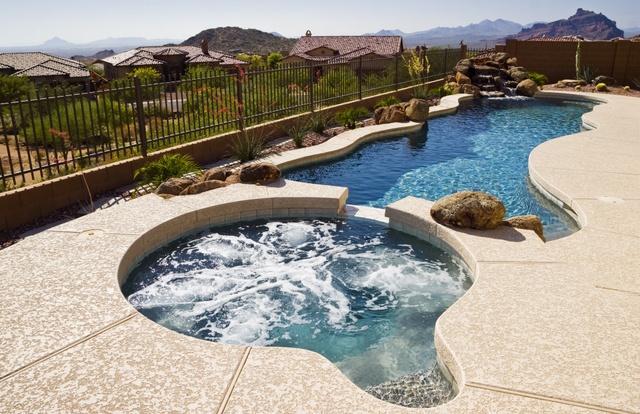 Most cities require pool fencing. It is an important consideration in building a pool, especially if you live with or around children. The best pool fences or walls have three main elements:
1. A safe pool fence or wall is high.
Many city codes only require a 4-foot fence, which provides a barrier. However, most children will still be able to see the pool from a distance. The ideal height to avoid unintentionally inviting others to your pool is 6 to 8 feet.
2. A safe pool fence or wall is smooth and virtually impossible to scale.
A secure fence or wall is not easily scaled. As such, try to eliminate potential footholds and gaps between posts. When building your fence or wall, consider nearby objects that could enable someone to boost themselves or jump over your fence or wall.
3. A safe pool fence or wall has a secure gate lock.
Fencing is only secure if its gate is. Your lock should enable a homeowner to gain access, when needed or desired, but also secure the area for long periods of time (such as while you may be traveling). Also, check the gate often to make sure it is self-closing and self-latching. As springs age, they need attention to make sure they continue to close the gate tight behind you without being pulled shut.
---
Presidential Pools, Spas & Patio is Arizona's largest pool builder, providing custom pool design, custom spa design, pool construction, and backyard hardscaping services to the Phoenix metro area, including the Scottsdale, Surprise, Goodyear and Gilbert areas, and the Tucson metro area. Our design consultants can also assist you in selecting hot tubs, swim spas, and patio furniture to complete your backyard.