If you live in the Phoenix or Tucson regions, you may feel overwhelmed by the number of custom pool builders listed online. To distinguish a quality pool builder from "a few guys in a truck," there are several things you can ask for to be able to evaluate their experience and substance.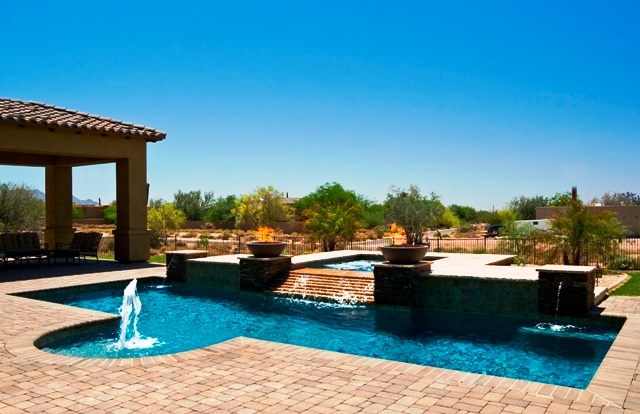 1. Ask for examples of past work, testimonials, references, and Accreditation.
A quality pool builder should be able to provide many examples of past work, testimonials and references you can contact directly.
You can also compare what they provide with what you can find about them through review sites like the Better Business Bureau, Google, Yelp, and others. If you cannot find their company on review sites, ask them why.
Established pool builders will also be able to provide proof of industry accreditation. These accreditations come from organizations like the Association of Pool and Spa Professionals, TradeCertified, the Southwest Pool and Spa Association, and United Aqua Group. They are earned through third-party evaluation of the company's work, and can be useful in distinguishing experienced professionals.
2. Ask for a 3-dimensional rendering of your custom design.
A quality pool builder will create a detailed 3-D rendering of your custom design. Without it, you cannot be sure what your end result will look like, and cannot be sure that all of your design priorities will be properly incorporated.
3. Ask for a detailed estimate.
A quality pool builder will break out costs in writing. This can help you both to understand the quality of materials being used and concentration of expenses.
Unsophisticated pool builders may initially offer you a "bundle price," but will often return mid-construction with price increases. Without a detailed written estimate, you won't have any way to understand if such increases are legitimate.
4. Ask about their service team.
A quality pool builder will have a service department that can support you after construction is complete. If they do not have a separate service team, you should ask about communication concerns, prioritizing past customers vs. new construction projects, and other things that would result from not having a dedicated team.
Also ask about warranties on the pool and products (i.e. pool pump).
5. Ask about materials and suppliers.
When building a custom swimming pool, the quality of materials is extremely important. Ask the pool builder to bring physical examples of things like tile, or to take you to see them in person; we have the Presidential Pool Park, the largest demonstrative pool park in Arizona, for this purpose. Ask for the brand names of any products or technology being employed so that you can look up their reputation online.
Also ask about their supplier network. Pool builders with limited supplier networks must automatically limit the creativity of your custom design. And those without an established network will not be able to guarantee quality.
---
Presidential Pools, Spas & Patio is Arizona's largest pool builder, providing custom pool design, custom spa design, pool construction, and backyard hardscaping services to the Phoenix metro area, including the Scottsdale, Surprise, Goodyear and Gilbert areas, and the Tucson metro area. Our design consultants can also assist you in selecting hot tubs, swim spas, and patio furniture to complete your backyard.