One of the most exciting home improvement projects a home owner in the Phoenix Valley can undertake is adding a custom pool. Whether you're looking for a customized freeform pool that will augment your backyard or simply looking to add a lap pool for exercise purposes; there are a few important questions that you should ask your pool designer in Phoenix that when answered will help you understand the process and enjoy the experience.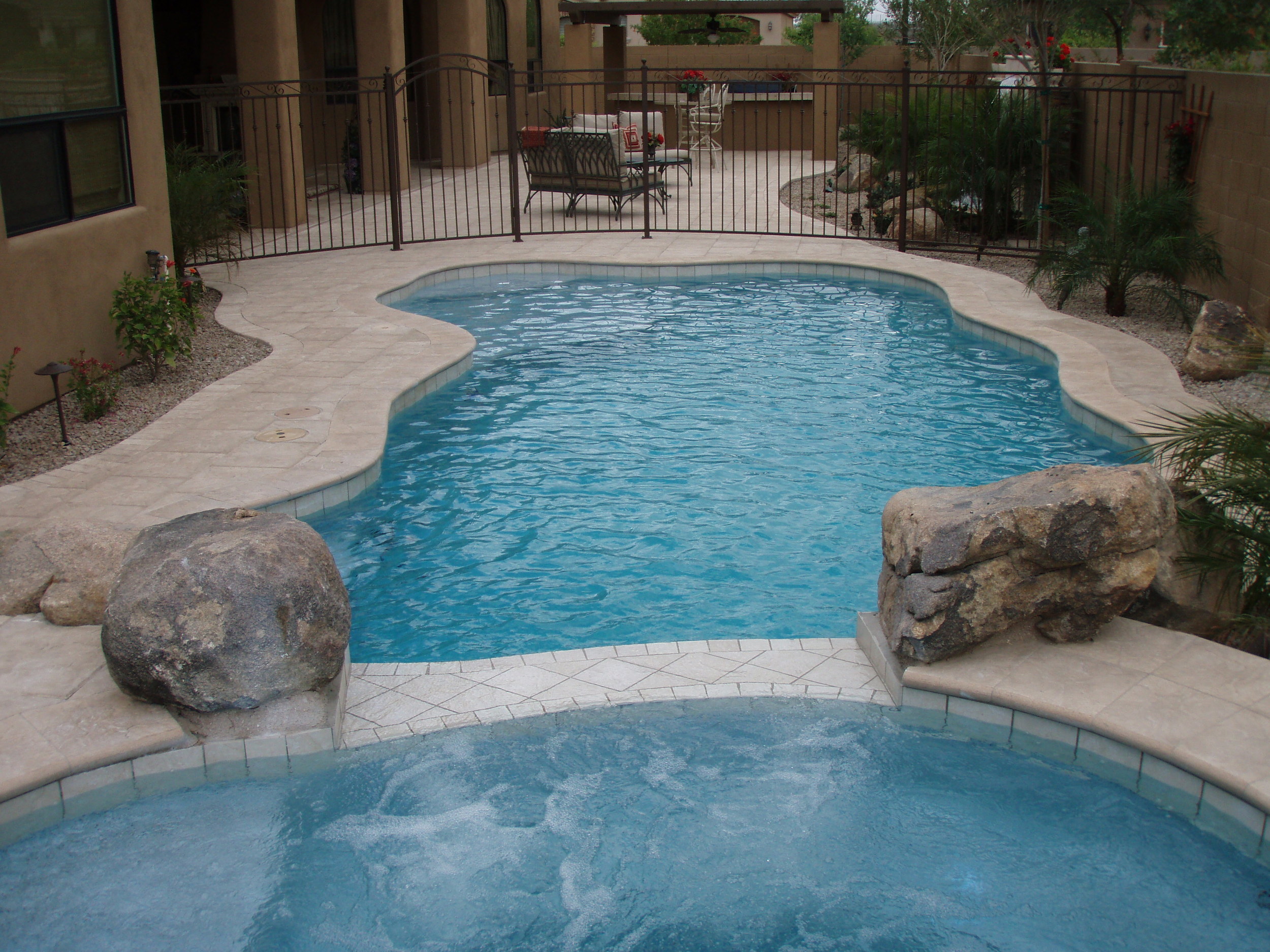 Here are five questions that should be clarified by a pool company before you sign on the dotted line.
1. Can you tell me about your company?
Anytime you take on a construction project, you want to be certain the company has the right qualifications to safely and professionally complete the job. Ask how long they've been in business. Ask how many employees they have, and how many projects they are capable of working on at the same time. Ask about the number and types of pools built, and for a wide variety of examples of past work. While talking about their company history, ask them for customer references from people in the Phoenix area that have completed pool construction projects similar to yours.
2. Is your Phoenix-based pool company licensed and bonded?
Accidents can occur in the construction industry. Due to this fact, it's very important for you to protect your property and those working onsite from liability. A professional pool designer and builder should be currently licensed, insured and bonded to complete pool construction in the city or county in which you live. The company you choose should be able to provide proof of this.
3. What is the process involved in designing a custom pool?
For many homeowners, the thought of designing their dream pool is the most exciting part of the pool construction process. However, each custom pool builder in Phoenix is unique in the way they design your pool.
At Presidential, our process is customer-centric. We provide a free design consultation, including complimentary measurement of your home to get an accurate idea of possibilities. Your design consultant will then work with you to develop a professional 3D rendering of every unique feature you're looking to add. You can request changes, and a detailed estimate will be provided before you ever make a financial commitment.
Once the design, materials and budget have been approved, we will help you obtain the right building permits in order to begin construction.
4. What types of materials will your company use?
The best pools are ones that can withstand the extreme weather conditions we experience in the Phoenix Valley. This is possible only when the pool design and construction company uses the highest quality materials during all phases of pool construction.
The application of those materials is just as critical, which is why the construction process is best managed by a well-organized team. Keeping you apprised of the construction process through an easily-accessed online schedule is also a good indication that you'll be working with a professional operation dedicated to quality in all parts of their business.
At Presidential, we have decades-long relationships with wonderful pool products partners, including Pentair and Blue Square Manufacturing.
5. What services does Your pool company offer after the pool is finished?
Even well-built pools require routine maintenance and occasional service. Ask your pool developer about how they support you as a pool owner after the initial build is complete. Having someone you can call when your control panel is blinking at you, but you don't know why, is invaluable.
At Presidential, we have a staff of 12 that do nothing but service Presidential Pools. They are always happy to answer your questions. We also offer complimentary Pool School classes on a specific topic related to pool ownership one Saturday each month.
Making the decision to design and build a pool is one that should be done with confidence knowing that the team you've chosen to build your dream pool will complete the project on time and within budget. After building tens of thousands of pools for satisfied pool owners throughout Maricopa County, Presidential Pools has established a strong reputation as the leading pool designer in Phoenix. Our entire team is dedicated to delivering superior service in all phases of your pool design, construction and service after the job is complete.
If you're interested in beginning the process of designing a pool in Maricopa County, want to visit the largest demonstrative pool park in the region, or simply have questions about our pool design process, please contact us and make plans to visit one of our showrooms in Surprise, Gilbert, or Scottsdale.