Last Friday, we were honored to host Phoenix-area families for a special event with a very special athlete: Michael Phelps.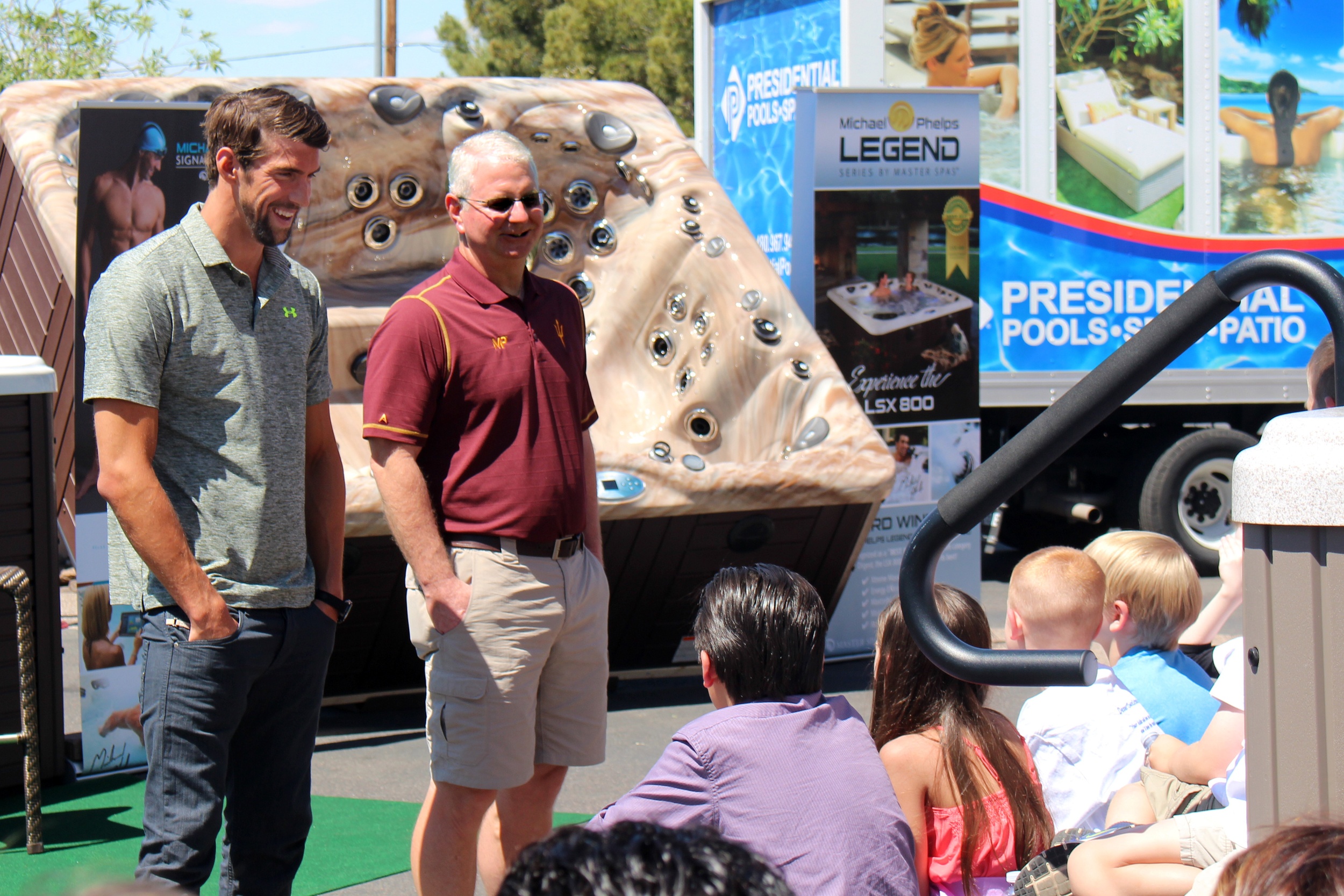 The most decorated Olympian in history generously gave of his time and knowledge to talk with the kids about water safety, an increasingly important subject as the temperatures heat up. Michael made the kids laugh, smiled for tons of pictures, and patiently answered everyone's questions.
As Michael discussed with the families in attendance, water safety means:
Be aware of your surroundings. Beware of slippery pool decks, changes in pool depth, and other elements.
Learn how to swim, and continue to practice, practice, practice. Even Michael does so!
Always swim with a buddy.
The Presidential family has had the opportunity to work with Michael through our exclusive partnership with Master Spas. Michael has been working with Master Spas since 2010 when they launched the industry-leading Michael Phelps Signature Swim Spas series. Since then, they've worked together to also build the Michael Phelps Legend Series of hot tubs. Presidential Pools, Spas & Patio is proud to exclusively carry both series, as well as other Master Spas hot tubs and spas.
Friday was such fun for the whole Presidential family. We'd like to publicly thank Michael Phelps. He couldn't have been a nicer guy, and we can't wait to cheer him on at the 2016 Summer Olympics in Rio! We wish you the best, sir.
---
Presidential Pools, Spas & Patio is Arizona's largest pool builder, providing custom pool design, custom spa design, pool construction, and backyard hardscaping services to the Phoenix metro area, including the Scottsdale, Surprise, Goodyear and Gilbert areas, and the Tucson metro area. Our design consultants can also assist you in selecting hot tubs, swim spas, and patio furniture to complete your backyard.