One of the most critical items that must be added to any swimming pool construction checklist in Phoenix is ensuring all pool permit requirements are submitted, approved and in possession of the homeowner. When you work with an experienced pool contractor that serves Phoenix and Maricopa County, they'll work with you to fill out and submit all construction permits needed to be approved before construction begins.
The checklist below is a guide to the required permits and areas needing to be approved by the city of Phoenix when building a swimming pool.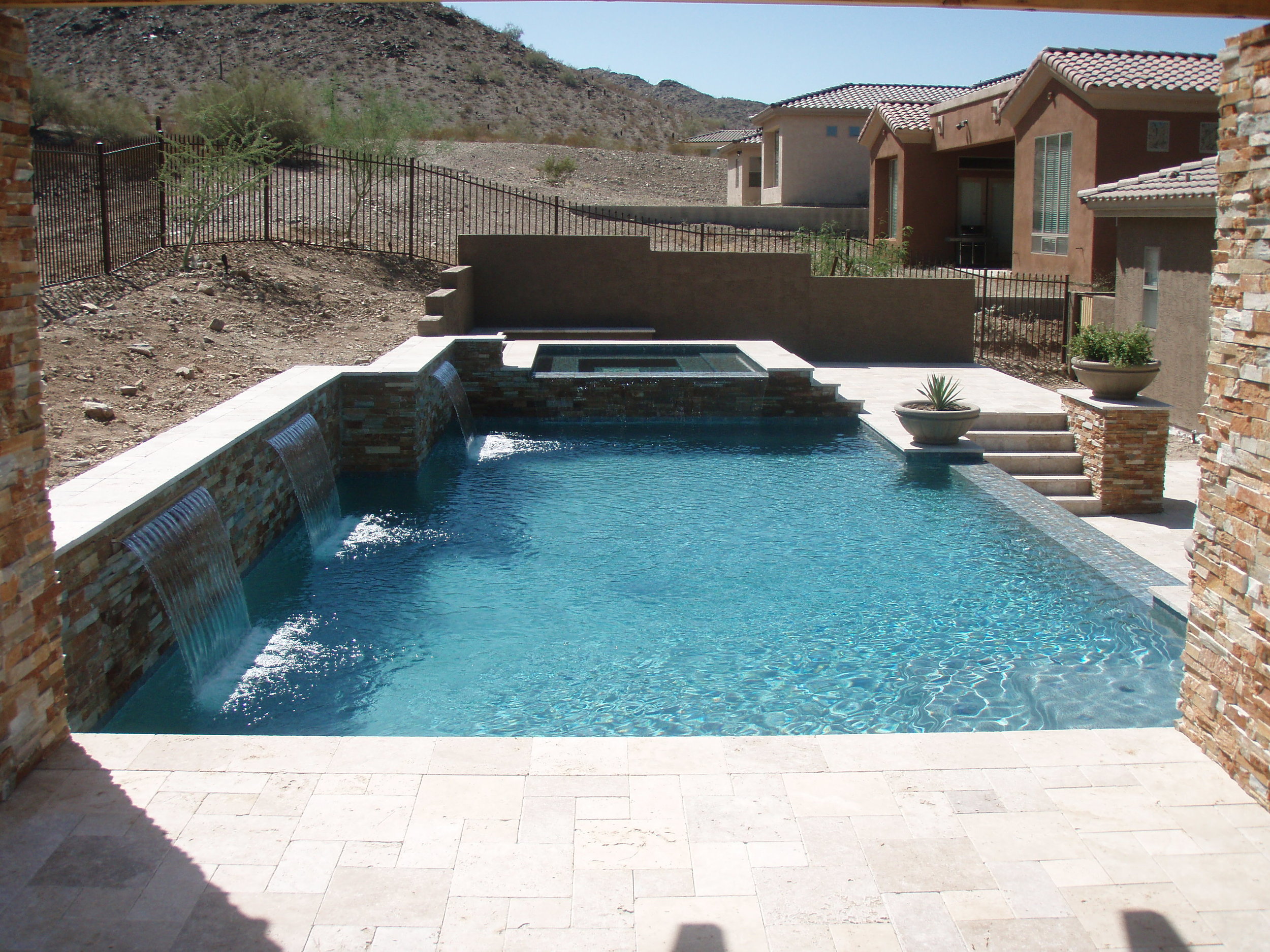 Step One – Fill Out the Pool Permit Application
Once your pool has been designed, you have an idea of the materials and location for your new pool, the process of filling out and obtaining pool permits in Phoenix begins. The primary pool permit application is the first step that most home owners and the pool builder will fill out together. In this application, you'll be required to document exactly what type of pool/spa construction will be taking place on your property. Here are a few of the categories that will be reviewed by the city of Phoenix:
Custom Pool or Spa: A custom pool is an engineered pool design for use at one site specific location.
Standard Pool/Spa: The standard swimming pool / sap is an approved engineered standard plan that is on file with the City of Phoenix Planning and Development Department. Any changes to the function, features or additions to the Standard Pool or Spa require additional permits to be filed and approved.
Several pool projects involve the utilization of standard pool or spa designs but add additional features that require application amendments including:
Grotto
Water Features
Rock Waterfall
Fire Features
Step Two – Ensure Pool Barrier Fencing Requirements are met
For any residential swimming pool built in Phoenix city limits, certain fencing barrier restrictions must be met in order for an application to be approved. Since the specifics will vary based on the type of residential property, the City of Phoenix has put together a very easy to comprehend pool barrier requirement list which can be reviewed and downloaded here. Most swimming pool contractors in Phoenix will work with you on constructing the barrier, or making sure that this important phase is completed prior to submitting the application.
Step Three – Complete a Survey Waiver (if required)
The City of Phoenix requires that a completed survey waiver is filled out and submitted with the application if the water's edge of the pool or the location of water, or waterfalls is less than five feet from the property line. It's required by the city to ensure that the owner of the property and the contractor have completed due diligence to ensure that any component of the pool (including decking) is not built on a portion of a lot that is not legally owned by the property owner.
Additional Requirements:
Some pool construction projects that are highly customized or involve unique features may require additional permits and submission of specific plans or applications, including:
Structural Engineering Plans: This is required typically when you design a raised pool more than 18 inches out of grade, hillside pools, or pools that are designed to hold back grade or other structures.
A Site Plan: A professional pool designer will typically fill this submission out for you as it's important to follow the city or county guidelines.
HOA Approval Letter: Although this is not always a requirement for the approval of an application, in some housing developments, an approval letter from the owners HOA is required.
As you can see, there are quite a few legal steps that need to be completed if you're looking to build a pool in the city limits of Phoenix. This process becomes much smoother when you work with a professional and experienced Phoenix-based pool construction and design company.
Presidential Pools, Spas & Patio has worked with tens of thousands of customers in the Phoenix area and regularly submit permit applications without hassle on behalf of those customers. We'll work with you to ensure you are fully aware of all pool permit requirements, and communicate with you during all phases of design, development and construction.