Jimmy Buffett fans naturally understand a pool-centric lifestyle. They also, generally, know how to make a mean margarita. So, why not assume it's 5 o'clock and start channeling your inner Parrothead around the pool?
Side note: for those of you who don't know who Jimmy Buffett is, you are likely a Parakeet (a.k.a. a young fan). Just download or stream the songs. You can thank us later.
The Parrothead Poolside Playlist
We've paired 10 Jimmy Buffett classics with 10 other artists to create a party's worth of music.
Margaritaville - Jimmy Buffett (video above)
Where the Boat Leaves From - Zac Brown Band
A Pirate Looks at Forty - Jimmy Buffett
Escape - Rupert Holmes
Cheeseburger in Paradise - Jimmy Buffett
Surf Song - Bag of Toys
Volcano - Jimmy Buffett
Good Vibrations - The Beach Boys
Jolly Mon Sing - Jimmy Buffett
Brown Eyed Girl - Van Morrison
Fins - Jimmy Buffett
Three Little Birds - Bob Marley & The Wailers
Changes in Latitudes, Changes in Attitudes - Jimmy Buffett
Two Pina Coladas - Dylan Miller
Come Monday - Jimmy Buffett
Mexico - James Taylor
Boat Drinks - Jimmy Buffett
The Horizon Has Been Defeated - Jack Johnson
Off to See the Lizard - Jimmy Buffett
Key Lime Pie - Kenny Chesney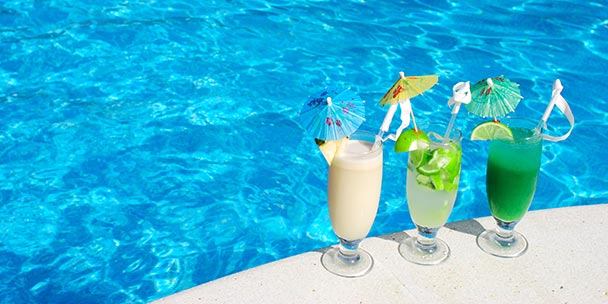 "If life gives you limes, make margaritas." - Jimmy Buffett