There are 31 days in May, and we're giving you an excuse to throw a pool party on every single one of them.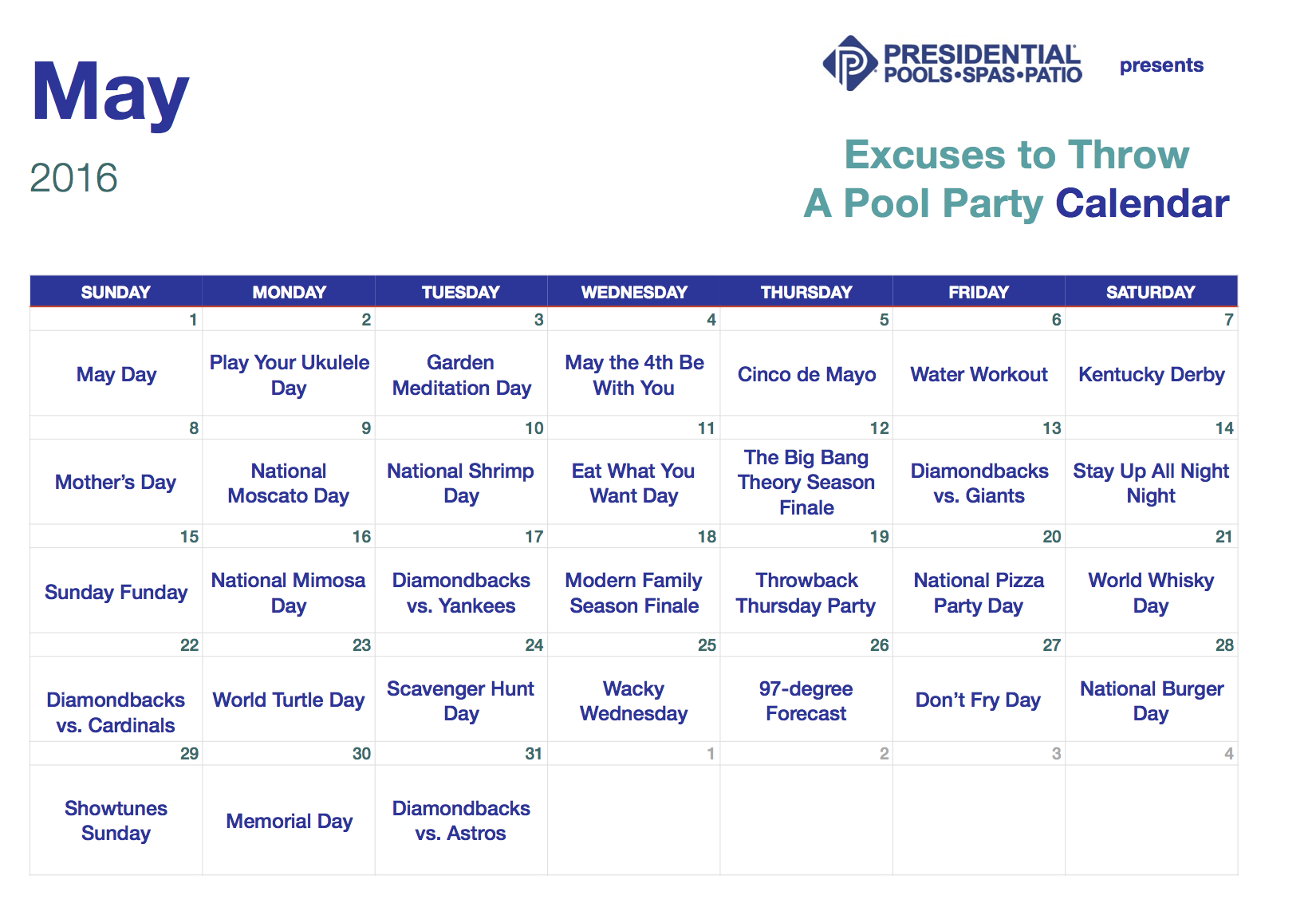 On May...
May Day: make some flower crowns and dance/swim around
Play Your Ukulele Day: throw a luau, grill some pineapple, and hula the night away
Garden Meditation Day: meditate... in the pool
May the 4th Be With You: Star Wars-themed... go all out
Cinco de Mayo: margaritas, guacamole, and some fun in the sun
Water Workout: gather a few friends for some friendly lap races to challenge yourselves (and work off the tortilla chips from the day before)
Kentucky Derby: get some pool noodles out for the kids to have their own "horse races"
Mother's Day: honor mom by letting her float in the pool all. day. long.
National Moscato Day: at least you know what adult beverage to serve at the party
National Shrimp Day: host an intense game of Sharks & Minnows, while you grill some shrimp
Eat What You Want Day: we're thinking a potluck pool party sounds delicious
The Big Bang Theory Season Finale: watch the finale together on an outdoor TV, while you relax in the spa
Diamondbacks vs. Giants: the first pitch is at 6:40 p.m.
Stay Up All Night Night: throw a late night party (but go to sleep if you're tired... it's not safe to swim when tired)
Sunday Funday: plan a day full of pool games for the whole family
National Mimosa Day: again, you know what adult beverage to serve
Diamondbacks vs. Yankees: the first pitch is at 6:40 p.m.
Modern Family Season Finale: invite the extended family over for a swim... and hope it is less dysfunctional than many of the show's family dinners
Throwback Thursday Party: familiar with the hashtag? Make a great playlist, and host a period party
National Pizza Party Day: have pizzas delivered and play in the pool. That's an order.
World Whisky Day: throw a Western-themed party
Diamondbacks vs. Cardinals: the game starts at 11:15 a.m., so poolside brunch is in order
World Turtle Day: turtles don't move a lot, so this should be a chill-vibe kind of party
Scavenger Hunt Day: create a pool area scavenger hunt for the kids
Wacky Wednesday: mismatched swimsuits and silly decorations - let loose!
97-degree Forecast: It's going to be hot. Might as well be in a pool.
Don't Fry Day: the National Council on Skin Cancer has claimed this day to bring awareness to skin safety in the sun. So why not give out sunscreen as party favors?
National Burger Day: host the neighbors for pool games and a gourmet burger contest
Showtunes Sunday: have the kids create synchronized swimming routines to famous Broadway tunes, and sit back for a show!
Memorial Day: get patriotic, and enjoy a day around the pool with friends and family
Diamondbacks vs. Astros: the first pitch is at 12:40 p.m.