Dying for an excuse to have a pool party? We have a reason to throw one for every single day of the August.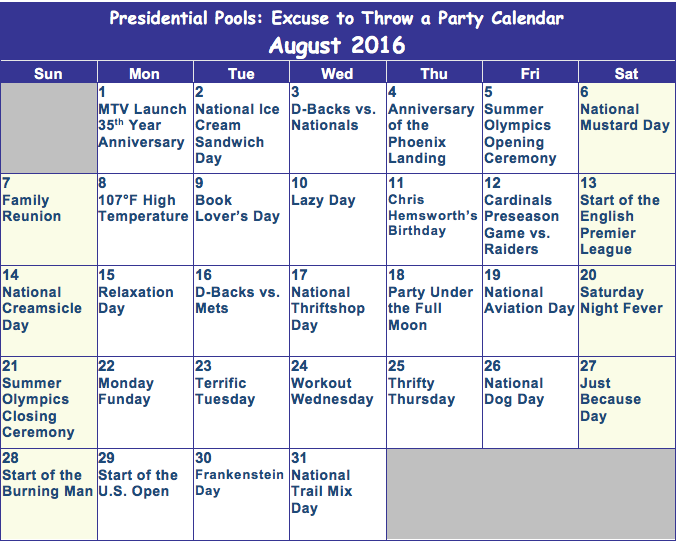 1. MTV Launch 35th Year Anniversary: Recreate those awesome outfits you used to wear in the 80s.
2. National Ice Cream Sandwich Day: Here is one day where it is okay to have breakfast for dinner.
3. Diamondbacks vs. Nationals: The game starts at 12:40 p.m. Sounds like a good party to be grilling.
4. Anniversary of the Phoenix Landing: 9 years ago NASA landed a spacecraft with an awesome name on Mars. Celebrate with an Space-themed party.
5. Summer Olympics Opening Ceremony: Bring back those American outfits that you stored away from the 4th of July party.
6. National Mustard Day: Hotdogs, hamburgers, or bratwurst. Mustard can fit on anything this day.
7. Family Reunion: Take a Saturday everyone has off from work to bring the whole family together.
8. 107°F High Temperature: You won't even need to invite people over. They will already be asking to jump in your pool with that kind of heat.
9. Book Lover's Day: It's okay to have a quiet party every now and then.
10. Lazy Day: There is no better way to celebrate the Holiday than hanging around the pool with friends.
11. Chris Hemsworth's Birthday: Celebrate by dressing up in your favorite Marvel costume.
12. Cardinals Preseason Game vs. Raiders: Bring everyone over to preview what the Cardinals are going to do in 2016.
13. Start of the English Premier League: The beautiful game is back. Games start at 7 A.M. Soccer with a side of breakfast.
14. National Creamsicle Day: Cool down with the pool and creamsicles.
15. Relaxation Day: Is there anything else you would rather do on Relaxation Day.
16. Diamondbacks vs. Mets: Watch the Diamondbacks against one of the top teams in the league. First pitch is at 6:40 p.m.
17. National Thriftshop Day: Everyone dress up in cheap clothes and hang out by the pool.
18. Party Under the Full Moon: You won't need pool lights for this party.
19. National Aviation Day: Tom Cruise outfits galore.
20. Saturday Night Fever: Break the disco outfits and throw a night time disco party.
21. Summer Olympics Closing Ceremony: It will be the last time you use the patriotic decorations of 2016.
22. Monday Funday: There is a lot of ways to have fun in the pool.
23. Terrific Tuesday: Celebrate just the fact it's Tuesday.
24. Workout Wednesday: The amount of ways you can stay healthy in the pool is endless.
25. Thrifty Thursday: See how little money it really takes to throw a party.
26. National Dog Day: Check out how you dog can work with your pool here.
27. Just Because Day: Why are you throwing a party? Just because.
28. Start of the Burning Man: Someone needs to celebrate this wacky festival.
29. Start of the U.S. Open: Break out the athletic outfits and hang around to watch the start of America's largest tennis tournament.
30. Frankenstein Day: Celebrate this classic character with a party full of Frankensteins.
31. National Trail Mix Day: Finish the month off with a party that involves healthy eating.
Happy Pool Season!