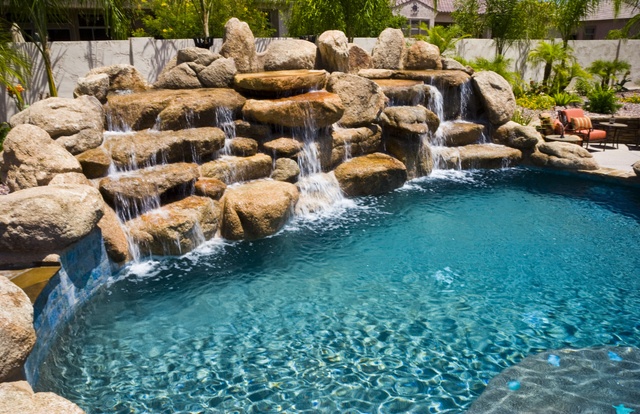 When designing a pool, the custom feature options are nearly endless. While some may seem to simply add ambiance and elegance, there can be practicality behind them. In addition to the practical advantages, some pool features are actually smart investments in the long run. We highlighted five of our favorites below.
IN-FLOOR CLEANING SYSTEM
The Q360 In-Floor Cleaning System will revolutionize the way you maintain your pool. It is the most energy efficient system on the market, saving you costs on chemicals and energy use.
This system automatically removes debris and filters pool water by itself, allowing you to have more time to simply enjoy your pool. This also means you won't need to pay a pool service company for frequent cleanings.
POOL HEATER
Living in Arizona means that you can use your pool for more months of the year than the average pool owner. But, with a pool heater, the period that you can use a pool is extended even longer. A pool heater allows owners to use their pool when the temperature outside is colder. Just imagine the difference in value when you are able to use your pool 12 months a year instead of 8!
WATERFALL
Where a pool heater keeps water warm, owning a pool waterfall allows water to stay cool when you need it! This is great for when you want to go outside and cool off in the pool on even the hottest of Arizona summer days.
Your pool is already going to have a state-of-the-art Pentair Pump to keep water moving. A waterfall not only helps move water around the pool, but also adds to your pool's elegant aesthetic.
POOL COVER
The advantages of a pool cover go beyond just saving energy. A cover allows you to cut down on cleaning time and costs since it will prevent debris from entering the pool when it is not in use. Plus, it is often a safer option than leaving a pool uncovered when not in use.
Where is the energy saved? Evaporation. Having a cover significantly reduces the amount of water your pool loses.
SCREENLOGIC
ScreenLogic brings all your pool energy saving features together. The application, which is available on both mobile devices and desktop computers, lets you wirelessly control features of your pool from the comfort of your home. With ScreenLogic, you can adjust the water heater, start your waterfall, or even turn on the EcoSelect settings to further conserve your pool's energy use.