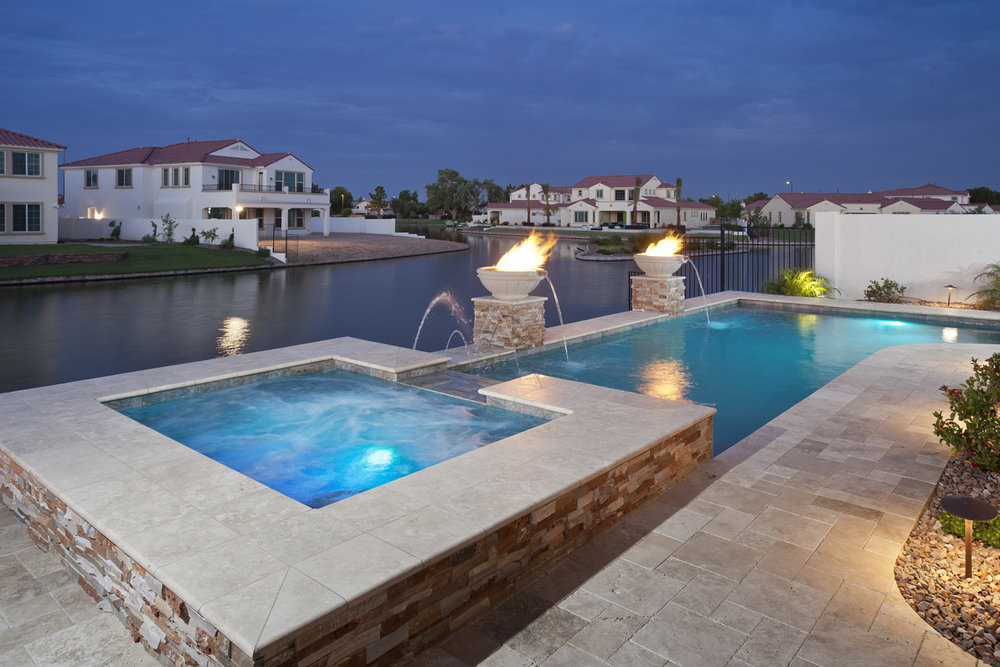 Everyone is trying to find a pool that balances elegant features and affordability. Before deciding on a pool design for your Arizona backyard, it may be helpful to know what elements can bring substantial changes to your pool pricing. Below, we talked about five of those features.
POOL SIZE
The size you choose to make your pool is going to have a significant effect on price. Having a larger pool means more materials to fill the pool—shotcrete, plumbing, steel, and interior finish. The same is true for decking and the materials that come with that.
Spas are popular choices as a supplement to a traditional pool or by themselves. They come with a variety of features and can be used at all times of the year. Spas are great for rehabbing an injury, relaxing after a long day of work, or even playing with the kids. They can be built in the ground or above ground, and have a number of different models with their own features and advantages.
GROTTO SLIDE
A grotto slide is a popular feature among pool owners with a family. It has a stone waterfall that drips into the pool and a slide that comes over the top and into the water. The grotto slide can be added to any type of pool design, and, for the size and value it provides, can actually be a cost effective feature to consider.
HEAT PUMP
The heat pump is used to heat your pool when the temperature starts cooling down. There are electric and gas versions, both of which are most effective when paired with a solar blanket. It's a great addition for anyone who wants to swim a couple extra months each year, but comes at a cost.
AUTOMATIC POOL COVER
The automatic pool cover does exactly what you would expect it to do: conceals the pool water without any significant effort from you. Particularly during monsoon season, this feature really comes in handy. But that luxury comes at a price. If an automatic pool cover is out of your budget, there are many other covers that have different advantages.