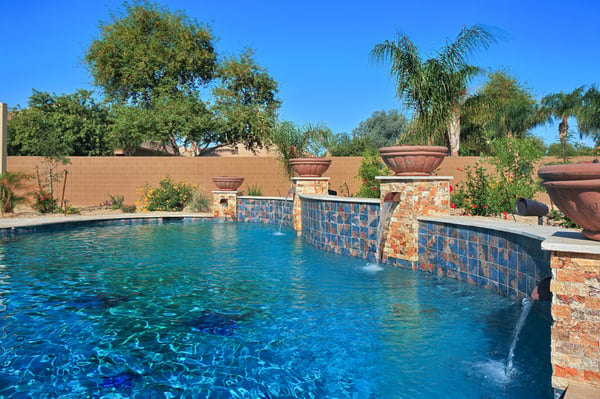 The amazing swimming pool designer, Karin Tierney, answers five of the most common questions she's been receiving recently. The questions range from hardware to lighting to the benefits of in-floor cleaning systems.
If you have any questions of your own, please feel free to call us at 480-967-9467 or fill out this form.
Enjoy!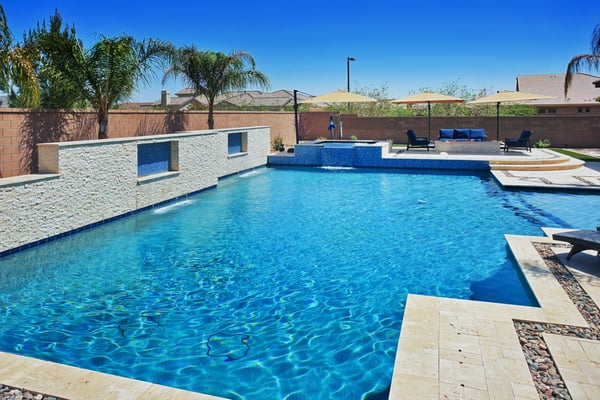 What are the benefits of an in-floor cleaning system?
Karin: The benefits of in-floor cleaning are huge. The main one being cost savings.
An in-floor cleaning system will drastically lower the amount of time you have to spend maintaining your pool. We're all so busy these days, we just want to enjoy our pool! This makes it much easier.
There are many other benefits to in-floor cleaning systems which a pool designer can review with you while touring our working equipment room. There you can see other options that come standard with our in-floor system like the Low Profile Eclipse drain where the pebble is installed over the drain so that it is barely visible and our Abyss canister which collects the debris from the Eclipse drain prior to it getting into your filters – again, reducing the time it takes to maintain your pool.
We also have a great promotion to help reduce the cost of a Q360 in-floor cleaning system, which has a lifetime warranty on its heads and valves. This makes it a no-brainer.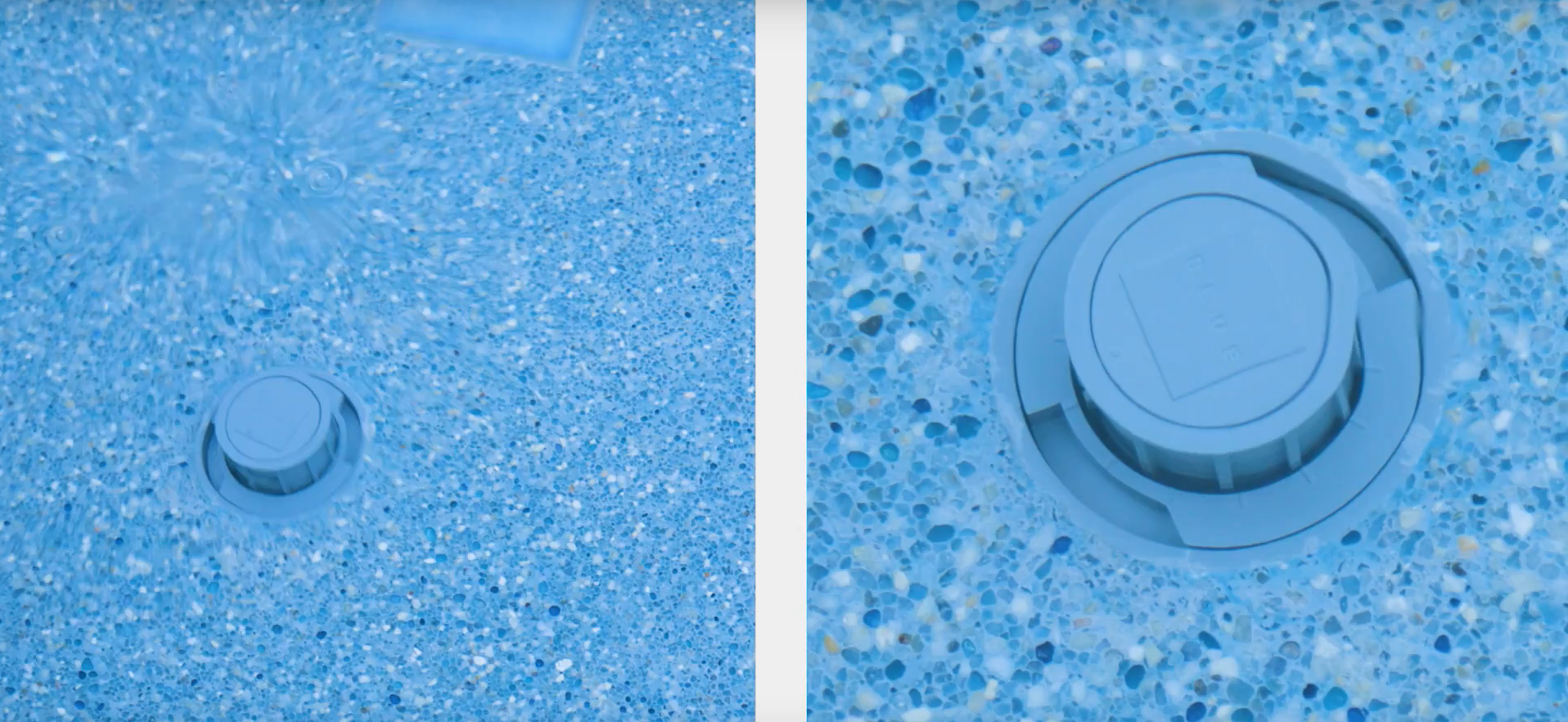 What are the interior options for my swimming pool?
By touring our pool park, you will be able to see first-hand many of the hot trends in pool interiors. With six full-size pools, the pool park shows you many different options, including our Presidential Premium Plus, Pebble Radiance, and Radiant Fusion. Our pebble interiors have abalone shell and glass bead which add to the brilliance of the interior.
Seeing these interiors in an outdoor environment make the choice for the interior of your pool easy with no second guessing like when you pick an interior out of a book or from a sample.
What do I need to understand about lighting?
Custom lighting is a big trend and presents customers an opportunity to enhance the beauty of their pool.
Right now, our customers can upgrade their LED white light free of charge to a beautiful LED blue light. Also, a customer can choose to upgrade to a multi-color light for $102. Many water features we offer also have LED color lighting capabilities to truly make the water dance in the light. Just a few available are our LED sheers, led laminar jets, and LED bubblers.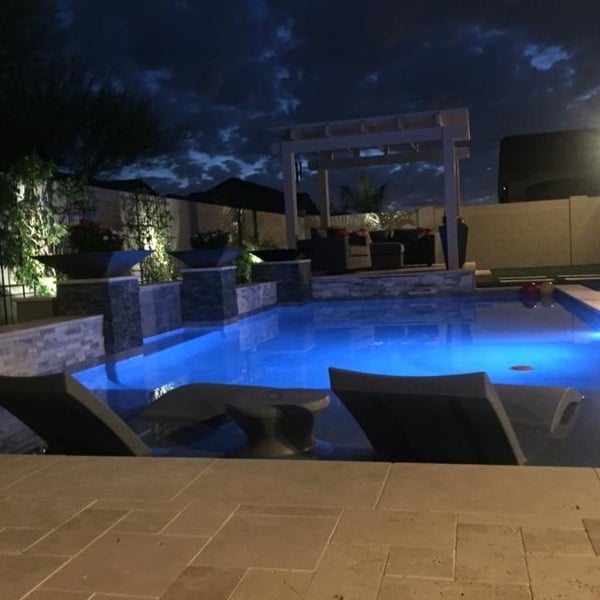 WHAT COMES STANDARD WITH EVERY POOL?
Below is the list of everything included in a classic pool. Of course, every pool design is custom, so this list will look different for everyone. However, it's a good starting place!
Sport or Play Pool up to 5 ft. in Depth
75 ft. Perimeter and 350 sq. ft. Surface Area
Intermatic Time Clock with Subpanel
Pentair Variable Speed, High Performance Pump
Pentair Energy Efficient Cartridge Filter
Rebel Suction Cleaner
Automatic Water Leveler
Spectrum 360 White LED Pool Light
300 sq. ft. of Acrylic Lace Decking
Full Circle Vanishing Drain
White Marble Plaster
Shotcrete Structure with Fiber Mesh
6" Ceramic Waterline Tile (Standard Selection)
Orientation of All Pool Operations and Procedures
Brush, 16 ft. Pole, Net, Test Kit, Thermometer, and All Start-Up Chemicals
If you'd like more detail about building a new pool, check out our Pool Build FAQ.
WHAT ARE THE BENEFITS OF SALT WATER?
Salt water is very much like the soft water system in your home, except the tank is your pool. Salt water and sodium chloride breaks down into a form of chlorine that is gentler on your eyes, hair, skin and swim. You're also not having to purchase chlorine.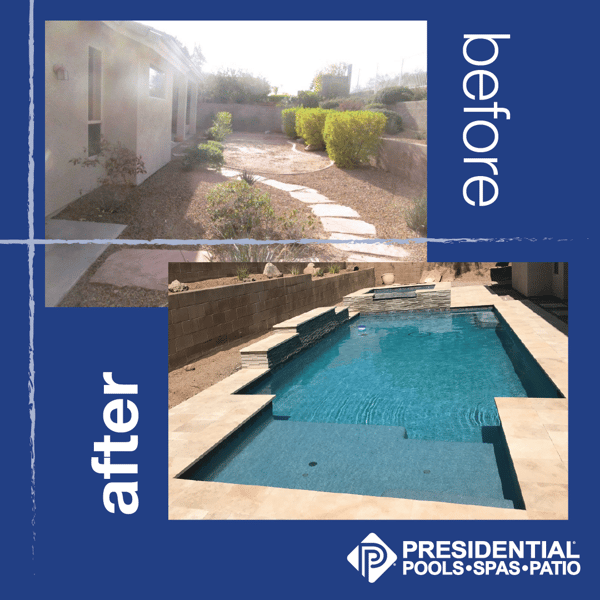 Do you have questions of your own you'd like to ask Karin or one of our other amazing pool designers? Feel free to call us at 480-967-9467 or fill out the form here.