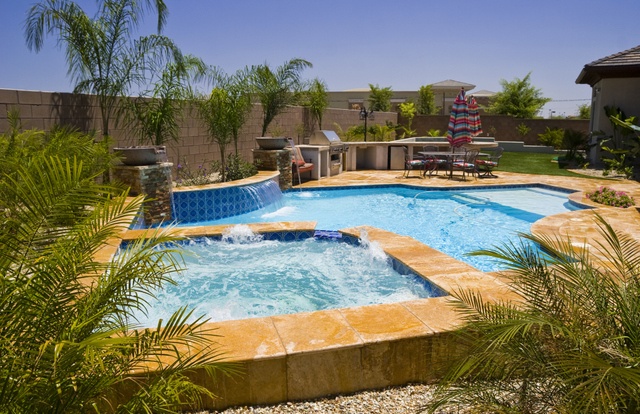 You may have noticed the temperature has been over 90° F this entire week. Knowing the weather in Phoenix, you should probably expect to continue to use your backyard pool in the near future! Here are some tips to maintain your pool this fall.
SKIM WATER AND CLEAR BASKETS
Even if Arizona doesn't get as many leaves in the fall as other states, there is still a good chance of increased debris as the seasons change. Make sure to stay diligent about cleaning the pool surface.
OVERALL CLEANING
Your pool has probably gotten a lot of use over the past few summer months. Take a look at your pool tiles, deck, and accessories to see if any of them need cleaning or polishing. It's never a bad idea to make your pool look even more beautiful than it already is!
CHECK THE FILTER
Your filter has just gone through its busiest months of the season. Look and see if it's functioning efficiently. There is a chance you may need to clean it!
LOOK AT WATER LEVELS
Your automatic water leveler has been handling low water levels during those especially hot summer months. It is never a bad idea to check the water level and make sure everything looks good.
LESS POOL CHEMICAL CHECKS
Since water was constantly being evaporated and replenished in the fall, water chemistry was constantly changing. That meant more frequent pool chemical measurements and adjustments than you should do now. Having said that, Phoenix is still very warm in the fall and chemicals should remain routinely measured!
INSPECT YOUR POOL COVER
In all likelihood this is working perfectly fine. Still, it wouldn't hurt at all to know everything is all right before your pool cover use increases over the next few months.