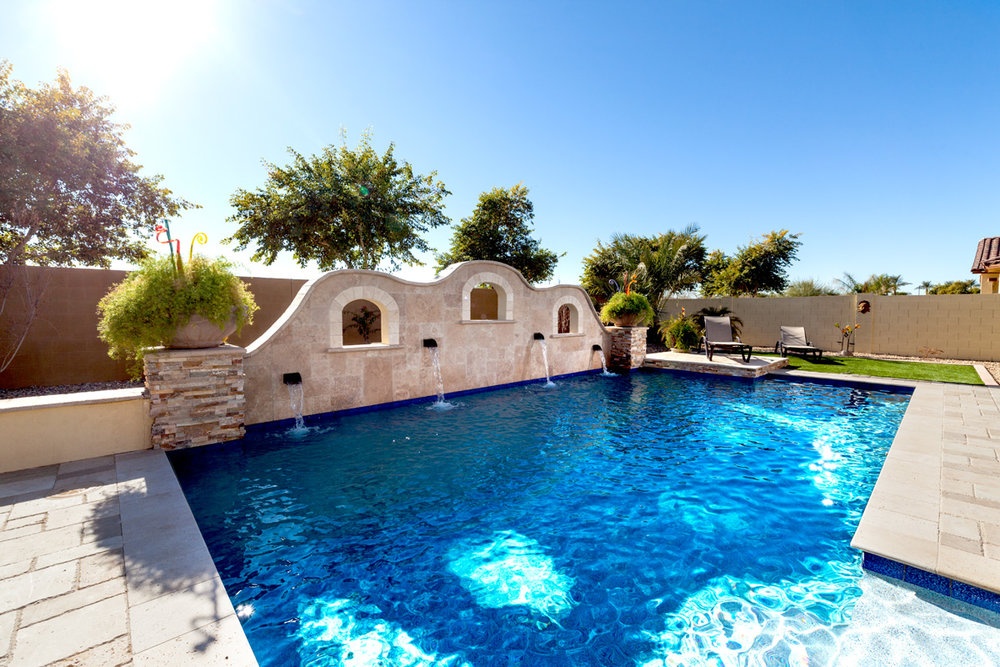 How do you keep a pool running smoothly for decades? Given that you already purchased from Presidential Pools, you have to be a proactive about your pool. Adopt these habits from the best pool owners and keep your family happy and healthy around the pool for a lifetime.
REGULAR WATER CHEMISTRY CHECKS
The best pool owners are always on top of their pool's chemistry—literally. The water chemistry check involves standing over the pool and putting a test strip in the water for 20 seconds. It measures the pH levels, calcium hardness, and Cyanuric Acid. This practice should be done every 2-3 days. Use these resources for more information on checking your pool's chemicals!
USE LAYERS OF PROTECTION
Layers of Protection is a safety strategy supported by Presidential Pools and a number of safety commissions in Arizona and across the country. The basic premise is that multiple strategies are needed to be safe around the pool. It includes constant supervision, various physical barriers, pool floatation devices, and swimming instruction.
POOL FILTER CLEANING
A clean pool filter is essential to a pool's proper function. While it needs to be attended to less often than other aspects of pool maintenance—every 3 months—it is no less important. A clean pool is not possible without a clean filter. Increased flow between the pressure gauge and flow meter (10 to 15 pounds per square inch) is a sign the filter needs cleaning.
WATCHING WATER LEVELS
Arizona weather affects the water levels in a pool more than other areas of the country. The dry climate, big parties, or rainstorms will impact a pool's water levels. The level check is done every two to three days during the same time you test the pool's chemicals.
SCREENLOGIC APPLICATION
The best pool owners know that ScreenLogic makes their job much easier. ScreenLogic is an application from Pentair for your digital device that allows you to communicate wirelessly with the IntelliTouch and EasyTouch control systems. This means that from a phone you can control the water temperature, turn on pool lights, start the water features, view the pool's history, and manage energy use.
SKIM THE TOP OF THE POOL
While the Q360 In-Floor Cleaning System does almost all the cleaning for your Presidential Pool, there still could be some debris floating at the top of the water. The solution is easy: simply take a skimmer and lift the debris out of the water every 2 to 3 days when you are executing the other maintenance tasks.