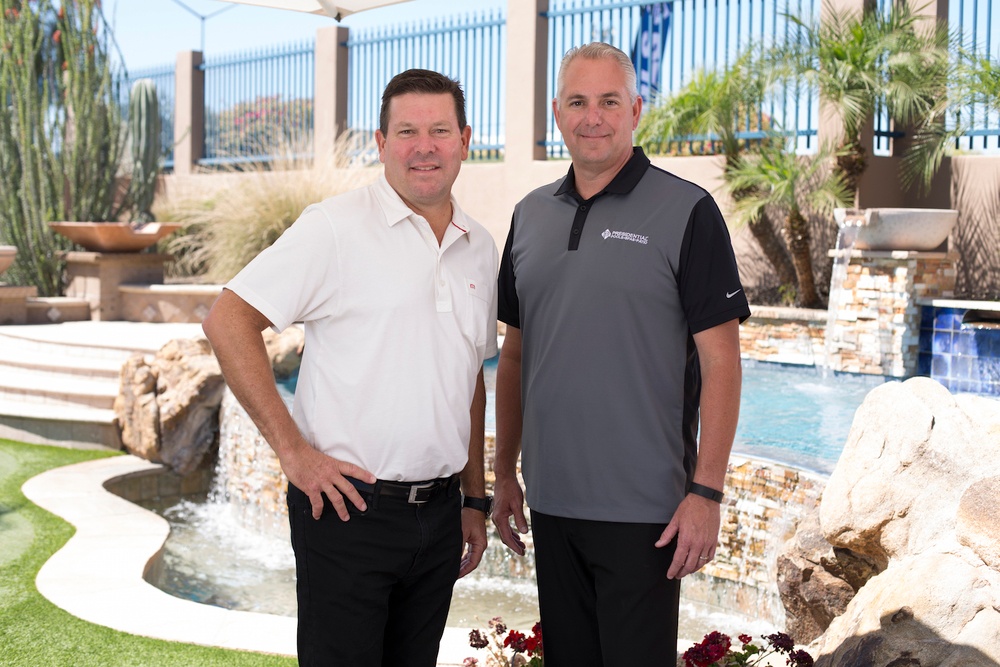 Our founder, Tim Murphy, gave a great interview at Voyage Phoenix. He tells about how he started cleaning pools at 14, how the company handled 2008, what's next, and much more!
You can get the whole interview here. Enjoy our highlights!
Tim, please share your story with us. How did you get to where you are today?
I'm a lucky guy. It's crazy to reflect on how each step led to the next.
When I was 14, I started cleaning the waterline tile on a handful of neighborhood pools to earn money. Pretty soon, I had so many pools to clean that I needed to hire high school friends to help.
Through cleaning pools, I realized that people wanted weekly maintenance on their pools, so I started doing that.
Through maintenance, I learned how to repair pools, and I started doing that in my early 20s.
Through repairing pools I learned all sorts of mistakes that pool builders make and where things can go wrong when building a pool. This turned out to be a really valuable education a few years later when I started building pools.
When I was 27, I got a lucky break. A friend of mine bought a home at an early age and asked me to help him build a pool. I jumped on the opportunity and had an absolute blast building it.
After that, I knew I wanted to focus on building pools. A few people I knew socially hired me after they learned I had entered the pool construction business. Then I started running small ads in the papers.
I was building pools by day and designing and selling them at night. It was a wild time!
I still remember the numbers for the early years. 5 pools in the first year, 27 in the second, 51 in the third, 101 in the fourth, and we just kept growing. Our peak year was in 2006 when we built over 2000 pools in Arizona.
Fast forward to today, and our awesome team of over 100 people build over 1000 pools per year with offices in Gilbert, Surprise and Tucson.
We're always bombarded by how great it is to pursue your passion, etc – but we've spoken with enough people to know that it's not always easy. Overall, would you say things have been easy for you?
I don't know if business is ever smooth! Taking care of customers and employees can be difficult, especially in times of change.
We've had to constantly change our business. Even when times were great we had to innovate in order to keep going. In the peak building years we couldn't find enough sub-contractors so we created companies to do the work internally. This meant hiring a ton of people, buying equipment, etc.
Then 2008 hit, which was a huge struggle for just about everybody in the Phoenix Valley and Tucson metro areas. We had to downsize and adjust our business model. The market became really competitive, requiring us to continue innovating. Between 2009 and 2011, we started two companies to help improve.
We started Pebble Radiance, which offers beautiful interior finishes, to meet consumer design preferences and demands. We also founded Blue Square Manufacturing to offer better quality, more energy-efficient pool hardware, including drains, in-floor cleaning systems and pool lights. The struggles led us to valuable opportunities!
So, as you know, we're impressed with Presidential Pools, Spas & Patio – tell our readers more, for example what you're most proud of as a company and what sets you apart from others.
It's all right there in the name: "Presidential Pools, Spas & Patio". We specialize in designing and creating incredible custom pools, spas, and outdoor environments for Arizona families. We're known for quality design, engineering, craftsmanship, and customer service.
Our success stems from always placing a huge focus on customer satisfaction. My parents were in the insurance business, and I learned from an early age the importance of ensuring each client is happy. A lot of people say this, but our customers will back me up–we actually do it! Over decades, this follow-through has created a strong brand that people trust to transform their backyards.
I'm incredibly proud of the thousands of lives our pools have changed over the years. In Arizona, pools are a big deal, so I'm honored that Presidential Pools has been trusted by so many people over the years.
I'm also proud of Blue Square and the patents and products we have there that can help pool owners as well as pool builders. I really enjoy being a manufacturer and getting to meet and learn from other pool builders.