THE DUNCAN FAMILY OF TUCSON, ARIZONA PARTNERED WITH PRESIDENTIAL TO BUILD THEIR DREAM BACKYARD, AND WERE NICE ENOUGH TO SHARE PICTURES AND DETAILS ABOUT THEIR PROJECT, ALONG WITH ADVICE FOR THOSE OF YOU WHO MAY BE LOOKING TO BUILD A SWIMMING POOL.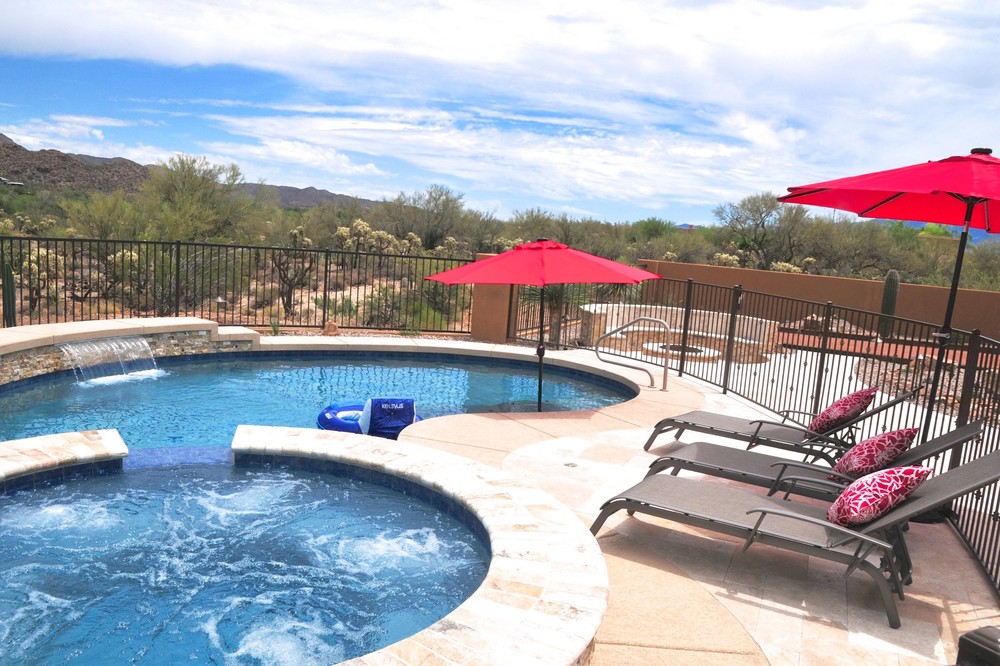 The Duncan family had a pretty simple reason to build a backyard pool: "It's Tucson." With help from Presidential Pools, Spas & Patio, they constructed a beautiful backyard design.
Here are their thoughts on the project:
WHAT FEATURES WERE MOST IMPORTANT TO YOU IN DESIGNING YOUR POOL?
Beauty – we love the views of the desert and mountains behind our fence and wanted something that would add to that aesthetic. The connected spa has been wonderful, especially on starry nights. Also, low maintenance. Salt pools are great. We like the floor sweeping popup jets (part of the in-floor cleaning system).
WHY DID YOU CHOOSE PRESIDENTIAL POOLS, SPAS & PATIO AS YOUR POOL BUILDER?
Presidential did a good job building our daughter's pool.
WHAT DO YOU LIKE MOST ABOUT YOUR POOL NOW?
It looks great, fitting in well with the natural terrain beyond our fence and the landscape and hardscape of our backyard. It has also been a breeze to maintain.
WHAT ADVICE WOULD YOU OFFER TO THOSE JUST STARTING THE POOL BUILDING PROCESS?
Think long and hard about the design of the pool and how it will fit in with the house, landscape and environment. Once you have that down, Presidential will take care of the rest.