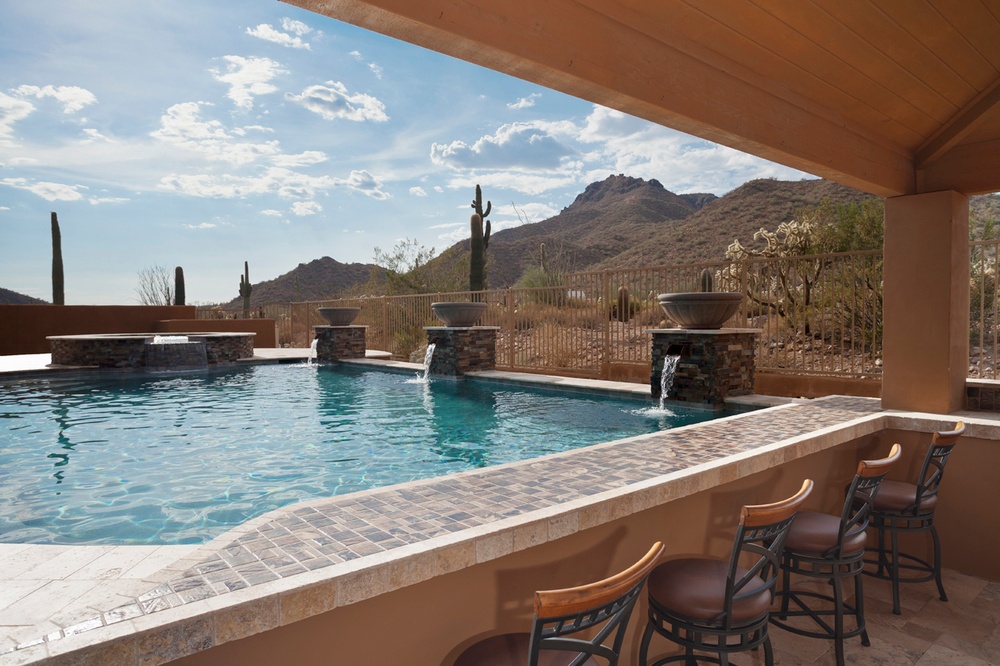 Presidential Pools, Spas & Patio builds both chlorine and saltwater pools in Arizona. One type is not better than the other; it all depends on your preferences.
Below is a basic outline of why individual customers generally lean toward one or the other.
HOW CHLORINE POOLS WORK
Chlorine is the most popular disinfecting agent. It will kill bacteria, and if used effectively, prevent new algae and bacteria from entering the water. Chlorine can also absorb pool particles that dull the water and make it stay sparkling and clear.
Part of the chlorine will be used immediately when you put it in the water. The rest is chlorine residual, and stays in the water until the next time you add chlorine.
Chlorine comes in liquid, gas, granule, and tablet form. The tablets are the most popular and convenient because of the high concentration of chlorine available. Do not put the tablets directly in the pool, as they can stain the plaster. Try to choose the tablets that float on the water and dissolve slowly.
HOW SALTWATER POOLS WORK
Owning a saltwater pool does not mean you don't add chlorine. Saltwater just needs significantly less chlorine and the chemical is generally added by an automatic chlorine feeder. This means you don't have to go to the store to buy the chlorine tablets and store chemicals around the house. Additionally, the tablets contain stabilizer in them. If the stabilizer gets too high, owners are forced to drain their entire pool.
The chlorine generator also makes maintenance easier. It can be adjusted for the pools needs, and continue to run when an owner is away or on vacation. Whereas chlorine can sometimes irritate skin and eyes, salt is also beneficial for skin.