Glendale pool owners shouldn't need any reason to throw a pool party this summer. The heat, your family and friends, and just having a pool should be motivation itself for inviting people over and having a great pool party.
But if you are having trouble finding a reason to have guests over for a party, here are eight upcoming dates perfect for throwing a pool party this summer.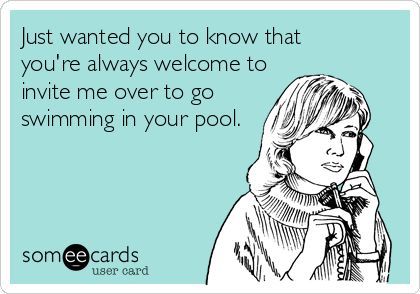 FINDING DORY PREMIERE: JUNE 17TH
It has been 13 years since Finding Nemo hit the theaters. On June 17th the long-awaited sequel, Finding Dory, finally premieres. You can throw a fish-themed pool party to coincide with what surely will be the biggest family movie of the summer season. Tell everyone at the party to remember: just keep swimming!
FINAL DAY OF THE U.S. OPEN: JUNE 19TH
Even with the absence of Tiger Woods, the U.S. Open is going to be a huge event this year. Take advantage of the final Sunday and tell everyone come over wearing golf polo shirts and visors. For this party, you may even want to get a floating golf hole.
COPA AMERICA CENTERAIO THIRD PLACE GAME: JUNE 25TH
Glendale's very own University of Phoenix stadium will host to the third place game of Copa America Centenario. This historic soccer tournament is celebrating 100 years since Copa America's inception. Here are some ideas to throw an awesome soccer-themed party that Saturday. If team USA makes a historic run to the final, you may want to wait until June 26th and throw a patriotic themed party.
INDEPENDENCE DAY: JULY 4TH
If you own a pool, you should almost be obliged to throw a party and celebrate our country's birthday. Use our ideas on skewer recipes, break out the patriotic pants, and throw an American party your guests will remember for years.
JUNO TO JUPITER: JULY 4TH BONUS
An alternative to the classic patriotic-themed party on July 4th could be a space themed one. NASA's Juno spacecraft was launched in 2011, and is expected to reach its Jupiter destination on July 4th. Maybe you could have a space-themed party during the day and switch to an Independence Day party once the fireworks come out at night.
STAR TREK BEYOND PREMIERE: JULY 22ND
Everyone can admit that they are, at some level, Star Trek fans. The latest installment of the franchise, Star Trek Beyond, hits theaters on July 22nd. Have your friends come over in star trek suits, mold some Star Trek ice cubs, and celebrate your inner geek.
OLYMPICS OPENING CEREMONY: AUGUST 5TH
The world's biggest sporting event returns on August 5th with the opening ceremony of the 2016 Summer Olympics. Use your leftover American decorations from the Independence Day Party and celebrate the commencement of the games. We've also got easy recipes to help you start planning.