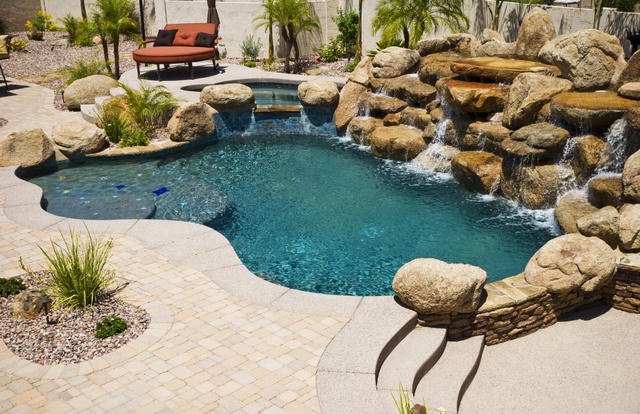 There is a reason Presidential Pools, Spas & Patio recommends an in-floor cleaning system to every customer building a new pool: It is simply the best. The Q360 circulates water and removes debris, all while allowing you to do next to nothing. Here is an overview of the four aspects that lead to beautiful, clear pool water.
1. VARIABLE SPEED PUMP
The patented water valve is the central aspect of the entire cleaning system. It provides smooth water flow and adjusts for the desired speed. The valve's 6-port design distributes water systematically to the entire pool. And with a transparent lid, these features can always be observed and maintained.
2. JETS
The jets use a 360-degree mechanism to push water to every part of the pool and remove debris. Plus, the speed can be adjusted to whatever the pool needs. The High Flow, Low Flow, and Dual Flow allow for three customized cleaning options. Finally, you can choose from white, gray, black, beige, and blue jets to create a perfect match for your pool.
3. ECLIPSE DRAIN
There has to be a place where all the debris goes! That is the eclipse drain. The drain has a sleek circular design to maximize flow and effective debris removal. It can fit to any pool or spa style and sits at the bottom of the water. The Single Source Suction is the tool that removes all large debris and leaves.
4. ABYSS CANISTER
The Abyss Canister provides the largest storing capacity on the market. It captures debris and transfers it to the bottom of the basket. The heavier the debris, the farther down it goes. It is designed to minimize lost energy and maximize efficiency. The lid gives you a transparent view of when it needs to be cleaned. And with how large the canister, cleaning will be rare. When you do clean it, just slide out the basket containing all the debris. No mess or hassle.