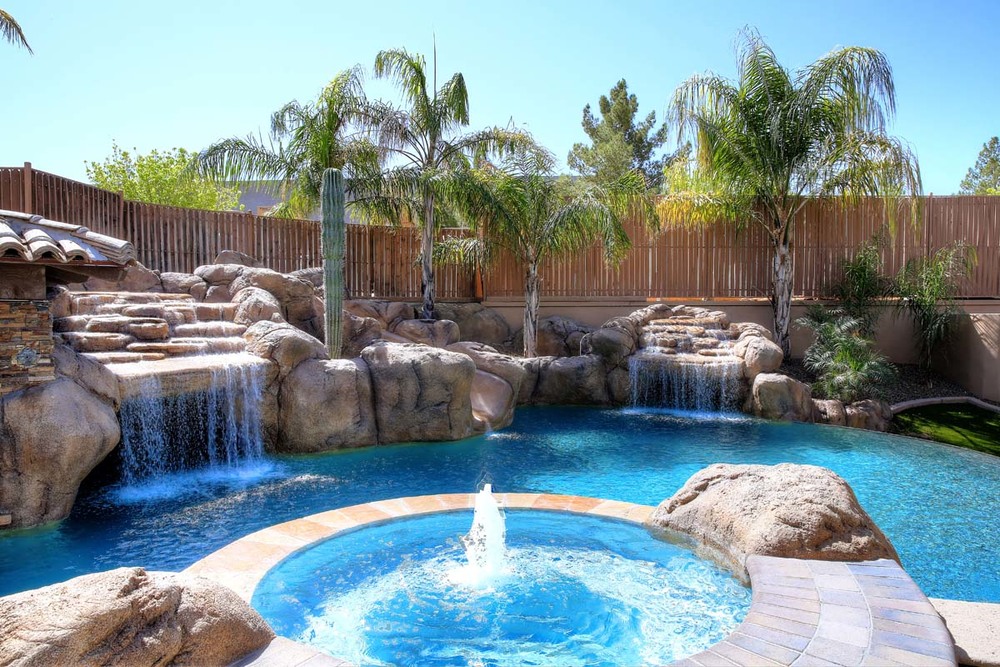 Presidential Pools, Spas & Patio, along with multiple safety commissions in Arizona and across the country, support the "Layers of Protection" concept to prevent drowning in pools and spas. This means that along with constant adult supervision, a pool or spa is outfitted with proper safety devices and instructional measures prevent accidents.
WHAT DOES 'LAYERS OF PROTECTION' MEAN?
The solution to drowning is more than just a single device. Any supervisor near a pool should implement multiple approaches simultaneously for maximum pool safety.
One layer can by physical barriers. This means fences, pool covers, alarms, and other objects of that nature. In addition, supervision must always be maintained regardless of the other layers that are present. Some barriers—like fences and pool covers—prevent unauthorized access to the water. Others—the alarms—can immediately alert a supervisor if a child is going near the water. Finally, proper swimming education and rescue techniques are necessary measures to prevent pool accidents.
Here are some specific rules to implement Layers of Protection:
NON-WATER ACTIVITIES SUPERVISION RULES
Know where the children are. You cannot leave a child unattained near any body of water even with a lifeguard present. Even containers that collect water (buckets, play toys etc.) can be a risk for drowning.
Assess potential dangers in new environments like friend's homes, vacation pools, and community pools.
Instruct other caregivers of potential hazards and explain the necessity of constant supervision.
Always check the pool or spa first if a child is missing.
WATER ACTIVITIES SUPERVISION RULES
See all rules for non-water activities supervision.
An adult should be within an arms length whenever any toddler or infant is near water.
At social gatherings, have a designated Water Watcher. This is a sober adult who knows CPR and continually watches the water area and doesn't engage in any social conversation. Rotate the Water Watcher every 15 minutes.
Flotation devices are not a substitute for supervision. Some are even an additional obstacle for a young swimmer.
Consider having a certified lifeguard for large social gatherings.
Look at the National Drowning Prevention Alliance Layers of Protection page for more information on the subject.