The Malaney family of Goodyear, AZ prtnered with Presidential Pools, Spas & Patio to build their new backyard swimming pool. Below is a short interview about their experience.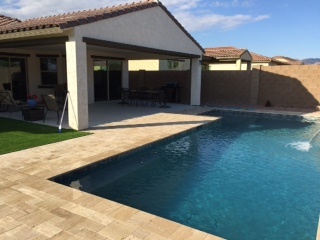 Why is having a pool important to you and your family?
We have had pools at two of our previous homes. We enjoy swimming and we have four grandchildren and they also enjoy swimming. We have a lot of fun with the kids!
Which features were most important to you in designing your pool?
My grandchildren enjoy the sheer descent waterfall. I playfully push them under it and tease them with "waterfall torture". Also, my youngest grandson (2 years old) loves the extended baja step. It was put there expressly for him. It is his space in the pool.
What advice would you offer to those just starting the pool building process?
Deal with a builder that you like and trust. Review your design, redesign your design, review it again then revise it again. Take your time doing it. Make sure the builder shows you all options. Consider them for both benefit and cost. Get what you want.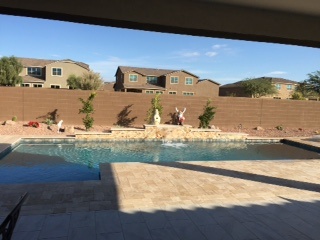 Why did you choose Presidential Pools, Spas & Patio as your pool builder?
We chose Presidential for two reasons. First, Presidential built the pool at our previous home (for the previous owner) and we were very happy with it.
Secondly, we had another bid for this project from the home builder's preferred pool builder. His quote arbitrarily changed in the middle of negotiations. That and a couple of other adverse interactions and we just could not trust him. We were comfortable with Jerrod and Presidential.
What do you like most about your pool now?
We like having the heater. Although we don't swim frequently in the cool weather, we can.
Want to see more stories like this?

Ready to start designing your new backyard? Call us at 480-967-9467, visit any of our locations, or click here.