THE PRITCHETT FAMILY OF LITCHFIELD PARK, ARIZONA PARTNERED WITH PRESIDENTIAL TO BUILD THEIR DREAM BACKYARD, AND WERE NICE ENOUGH TO SHARE PICTURES AND DETAILS ABOUT THEIR PROJECT, ALONG WITH ADVICE FOR THOSE OF YOU WHO MAY BE LOOKING TO BUILD A SWIMMING POOL.
The Pritchett family had had enough of the cold, snow, and ice. After living in New Jersey for over 40 years, they moved to Arizona for retirement. They had one non-negotiable requirement for the move: a home with a backyard large enough to accommodate a pool and outdoor kitchen. With the help of Presidential Pools, they built a dream dream backyard retreat that is going to provide years of family fun.
Hear what they had to say about the project:
WHAT FEATURES WERE MOST IMPORTANT TO YOU IN DESIGNING YOUR POOL?
We wanted a unique design. A Baja for lounging, a spa large enough to accommodate several people, water features to provide the relaxing sound of water in motion, and lights to enhance the overall evening atmosphere. We also wanted an unobtrusive cleaning system.
WHY DID YOU CHOOSE PRESIDENTIAL POOLS, SPAS & PATIO AS YOUR POOL BUILDER?
We interviewed several pool builders before deciding. Most of the designs presented to us were rather unimaginative. Our meeting with Presidential Pools was quite the opposite. Lenny Kramer listened to our wants and desires and came up with a unique design for the pool and surrounding hardscape.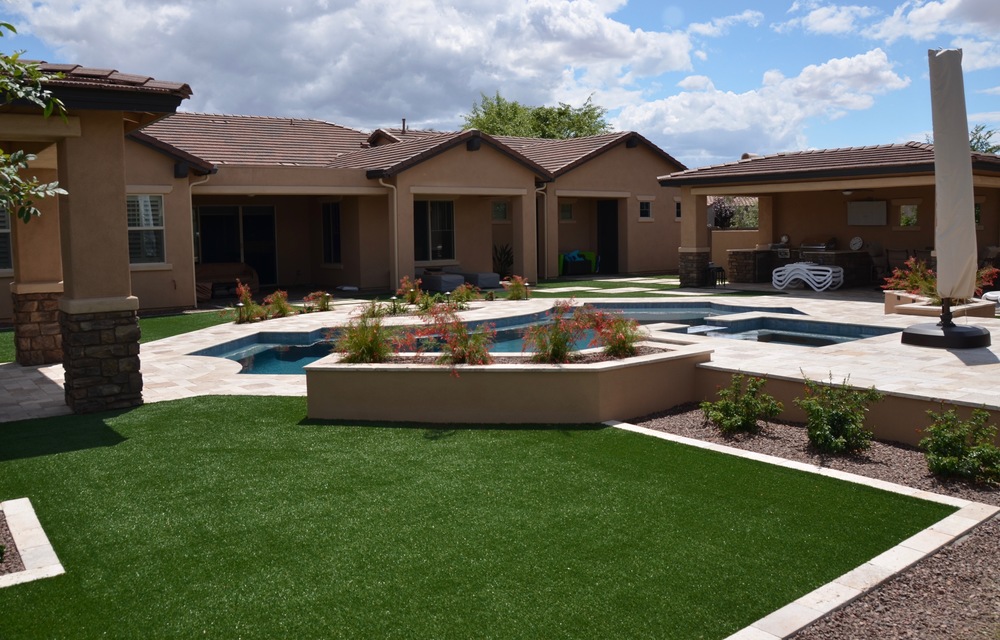 WHAT DO YOU LIKE MOST ABOUT YOUR POOL NOW?
We love everything about it. We really appreciate the ability to manipulate the various pool systems from our laptop and iPhone. It makes turning systems (lights, spa heating, waterfall, etc.) on and off very convenient.
WHAT ADVICE WOULD YOU OFFER TO THOSE JUST STARTING THE POOL BUILDING PROCESS?
A pool is a major financial investment. You need to know exactly what you want the pool and surrounding landscape/hardscape to look like. A lot of decisions have to be made and taking advantage of the knowledge the Presidential Pools staff has to offer is a resource not to be overlooked. Don't rush; make sure you are completely happy with everything before moving forward.