THE AMEND FAMILY OF PEORIA, ARIZONA PARTNERED WITH PRESIDENTIAL TO BUILD THEIR DREAM BACKYARD, AND WERE NICE ENOUGH TO SHARE PICTURES AND DETAILS ABOUT THEIR PROJECT, ALONG WITH ADVICE FOR THOSE OF YOU WHO MAY BE LOOKING TO BUILD A SWIMMING POOL.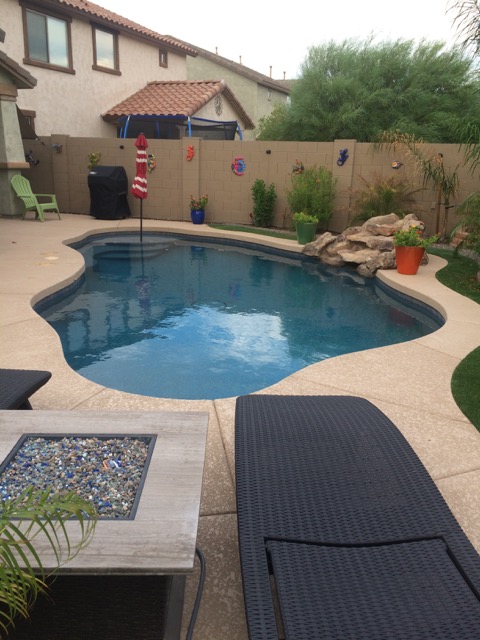 After retiring from the Fire Service in Colorado, Richard Amend recently moved to Arizona and planned to upgrade his new backyard. He talked to another pool company, but wasn't satisfied about working with them to build a pool. A golfing friend of his recommended Presidential Pools, Spas & Patio to him, and the rest was history.
Here are more details on his project:
WHAT WAS THE BEGINNING OF THE PROCESS LIKE?
An appointment was made and Doug Boston came out to my home. We talked design, and he impressed me so much with his obvious industry knowledge that I sent him back to his office to do his computer magic.
The proposed design pictures were breathtaking. They made the decision for me at first look. The total contracted package was nearly 30-40% more value for the same or possibly even less money than I was proposed by the competition.
WHY DID YOU CHOOSE PRESIDENTIAL POOLS, SPAS & PATIO AS YOUR POOL BUILDER?
Doug's sales and design procedures were smooth and without drama. My construction super, Dion Hanke, was the lynchpin for the success of this job. All the selling and design in the world would have been for naught had it not been executed with such professionalism and obvious industry experience. He and Doug are solid gold for the company in my opinion!
All the sub contractors were skilled and professional and right on time where possible. Although I experienced one delay with pool finish due to the enormous backlog for those contractors, the wait was again worth it in the end. I chose to finance my pool project and was again pleased with the smoothness of the process with Altier Credit Union.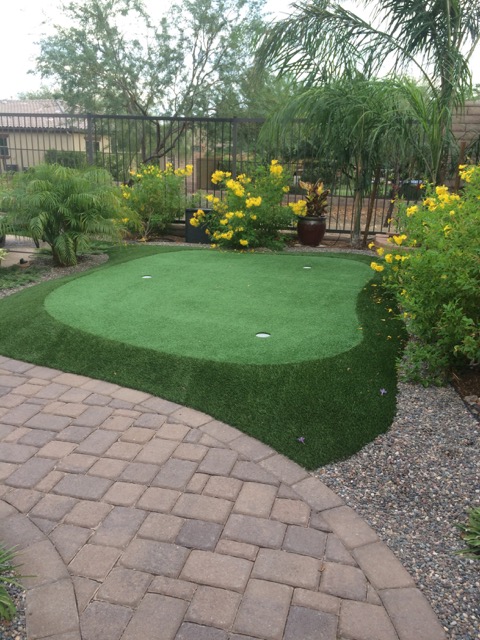 WHAT DO YOU LIKE MOST ABOUT YOUR POOL NOW?
I like my lagoon style pool and decking choice because it fits my yard without being oversized or pretentious. It gives me the room I need to enjoy the pool for exercise or just chilling with friends! The look of the pool and water features make the backyard warm and so inviting!
The maintenance is a dream and completely easy for me to accomplish without much effort at all. I am still learning, but having a blast every day doing it while enjoying the pool and surroundings. Doug also met my golf needs by installing a putting green that complements the opposite end of the yard. This yard is nearly maintenance free compared to other yards and I just love being here.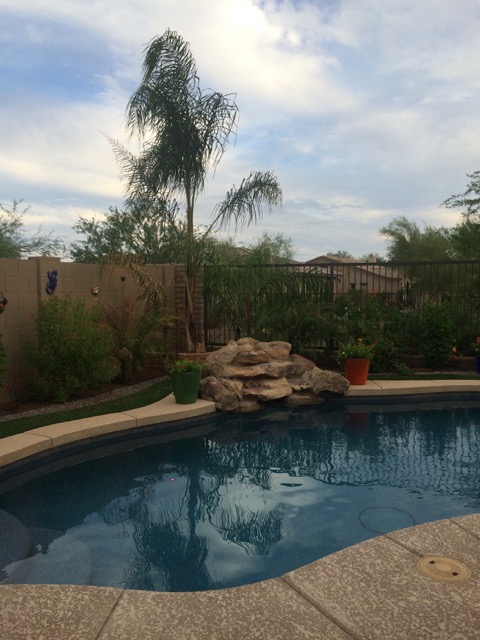 WHAT ADVICE WOULD YOU OFFER TO THOSE JUST STARTING THE POOL BUILDING PROCESS?
I would advise others to compare companies and products not just by industry hype, but logical functionality as well. If they don't know what that is, they need to educate themselves somehow before they visit anyone.
They should not settle for any pool company that does not have representatives who know the process from design, maintenance, construction and sales backwards and forwards. I was just fortunate to find Presidential.
There is nothing like cooling off in the pool after a hot round of golf! LOL