THE COVINGTON FAMILY OF MARICOPA, ARIZONA, PARTNERED WITH PRESIDENTIAL TO BUILD THEIR DREAM BACKYARD. THE CONVINGTONS WERE NICE ENOUGH TO SHARE PICTURES AND DETAILS ABOUT THEIR PROJECT, ALONG WITH ADVICE FOR THOSE OF YOU WHO MAY BE LOOKING TO BUILD A SWIMMING POOL.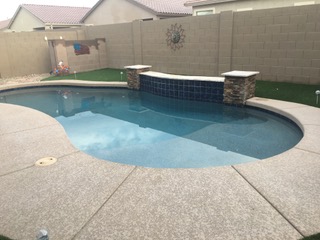 WHAT PROMPTED YOU TO BUILD A POOL?
Before we purchased our home, we were in a rental house that had a pool. My husband and I spent all summer in the pool, and it made the summers go by quicker. We knew right away that we wanted to build a pool in the backyard of our new home.
WHAT FEATURES WERE MOST IMPORTANT TO YOU IN DESIGNING YOUR POOL?
When designing our pool we wanted the following features: waterfall feature, salt water, self-cleaning, and LED lighting within the pool.
WHY DID YOU CHOOSE PRESIDENTIAL POOLS, SPAS & PATIO AS YOUR POOL BUILDER?
My husband and I looked at three pool companies; we received quotes and sketches. We had a design in mind for our backyard; however, our designer from Presidential gave us another idea that we had not even thought of. Once he put it on paper we fell in love with it. We liked how the Presidential designer wasn't afraid to show us another idea for our backyard.
WHAT DO YOU LIKE MOST ABOUT YOUR POOL NOW?
We love our entire backyard, Presidential did not only design our pool, they designed the entire backyard. We had synthetic grass installed, along with decking for our fire pit and grill. We love being outside and having the view of our pool to look at.
WHAT ADVICE WOULD YOU OFFER TO THOSE JUST STARTING THE POOL BUILDING PROCESS?
Sit back and enjoy the fact that you will have a pool to enjoy soon. I loved the fact that Presidential sent us a link to follow the pool process the entire way through. We always knew what was going to happen next in our backyard. If we had any concerns or questions our project manager was always there to answer them for us.