THE GILROY FAMILY OF AVONDALE-GOODYEAR, ARIZONA, PARTNERED WITH PRESIDENTIAL TO BUILD THEIR DREAM BACKYARD. THEY WERE NICE ENOUGH TO SHARE PICTURES AND DETAILS ABOUT THEIR PROJECT, ALONG WITH ADVICE FOR THOSE OF YOU WHO MAY BE LOOKING TO BUILD A SWIMMING POOL.
WHAT PROMPTED YOU TO BUILD A POOL?
We knew that we wanted a pool in our new house as soon as we picked out our lot. We love spending time outside and really wanted a relaxing place for our family.
WHAT FEATURES WERE MOST IMPORTANT TO YOU IN DESIGNING YOUR POOL?
We wanted a spa and bar area, and the kids really wanted a waterslide. We loved the freeform look that would blend with the mountains behind our house.
WHY DID YOU CHOOSE PRESIDENTIAL POOLS, SPAS & PATIO AS YOUR POOL BUILDER?
We had a few quotes, but James at Presidential Pools was able to create an amazing design for a great price. He walked us through all of our costs and was very responsive. It was a great experience compared to the other companies we were working with.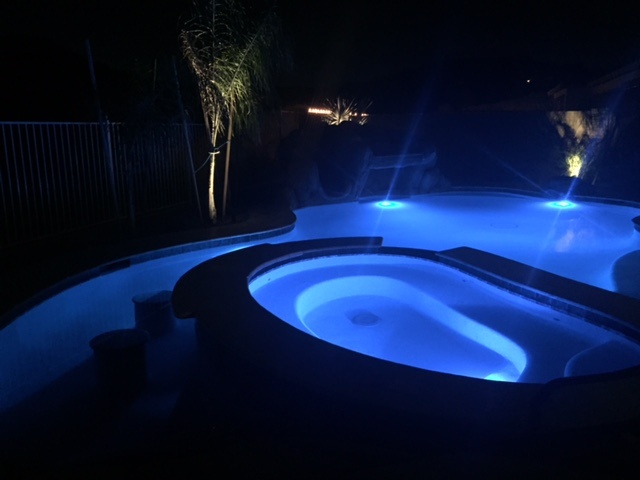 WHAT DO YOU LIKE MOST ABOUT YOUR POOL NOW?
It looks amazing in our backyard setting. The spa can be used year-round, and the whole family enjoys the various aspects of the pool. We also love the colors and texture of the pool interior and tile. Everything turned out amazing!
WHAT ADVICE WOULD YOU OFFER TO THOSE JUST STARTING THE POOL BUILDING PROCESS?
Look at multiple options and really think about where you will spend your time. We almost cut out a few items because of cost, but Presidential was able to reconfigure the pool so that we got everything we wanted at a really reasonable price.