THE JANIS FAMILY OF SURPRISE, ARIZONA, PARTNERED WITH PRESIDENTIAL TO BUILD THEIR DREAM BACKYARD. THEY WERE NICE ENOUGH TO SHARE PICTURES AND DETAILS ABOUT THEIR PROJECT, ALONG WITH ADVICE FOR THOSE OF YOU WHO MAY BE LOOKING TO BUILD A SWIMMING POOL.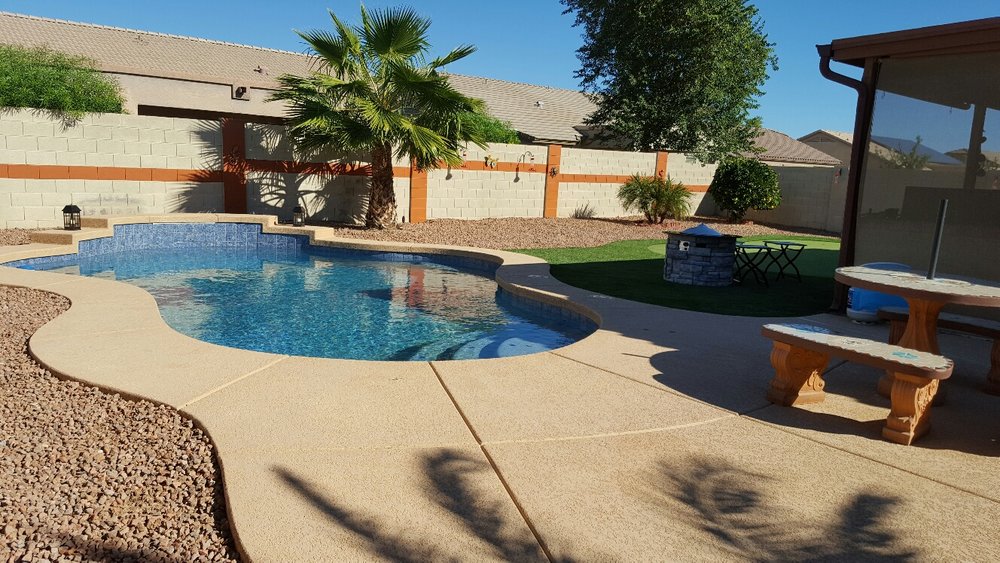 WHAT PROMPTED YOU TO BUILD A POOL?
We moved here from Milwaukee and all the time we lived there we had a pool. Really missed being able to walk out the back door and relax in a swimming pool.
WHAT FEATURES WERE MOST IMPORTANT TO YOU IN DESIGNING YOUR POOL?
Easy to Maintain
My husband hated all the maintenance we had to do on our pool in the Midwest, so it took a lot of talking to get him to agree to have one here. Some friends of ours have a Presidential pool and when they showed us how easy it is to maintain a salt water pool, we were sold.
WHY DID YOU CHOOSE PRESIDENTIAL POOLS, SPAS & PATIO AS YOUR POOL BUILDER?
Trusted name in the industry, loved Lenny, our salesman out of your Surprise office. They had built our friend's pool and they love it. The estimate was within the budget we had and they referred us to reputable subs for solar pool heating and landscaping.
WHAT DO YOU LIKE MOST ABOUT YOUR POOL NOW?
We love how our pool brightens our backyard and adds to the beauty of our home. Solar has warmed it so we were able to be in it already this year.
WHAT ADVICE WOULD YOU OFFER TO THOSE JUST STARTING THE POOL BUILDING PROCESS?
If you are thinking of building a pool, talk to your friends and neighbors who have one. Also look for those little wading pools out front of people's homes (an indication they are building a pool) and talk to them. Make sure you feel comfortable with the salesman as it all starts from there.
We couldn't be happier with everyone we dealt with at Presidential. They were within budget, on time, and responsive whenever we needed them.