THE JOHNSON FAMILY OF BUCKEYE, ARIZONA PARTNERED WITH PRESIDENTIAL TO BUILD THEIR DREAM BACKYARD, AND WERE NICE ENOUGH TO SHARE PICTURES AND DETAILS ABOUT THEIR PROJECT, ALONG WITH ADVICE FOR THOSE OF YOU WHO MAY BE LOOKING TO BUILD A SWIMMING POOL.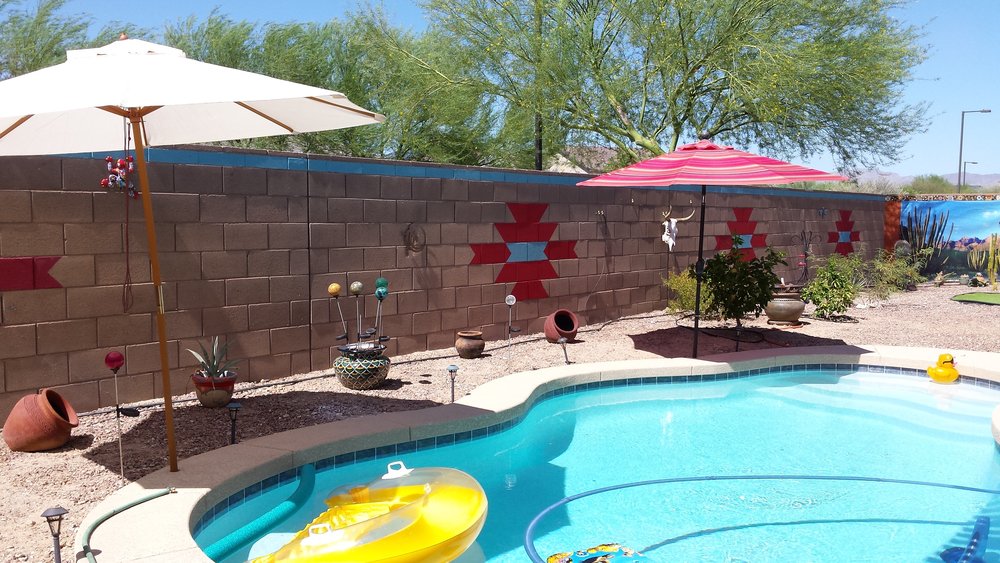 Diane Johnson had always lived near the water and used to swim, sail, and kayak on a daily basis. Living in Arizona made her miss it! She built a pool with Presidential Pools, Spas & Patio to bring her closer to water and to use aerobics to stay in shape.
Here is more of her pool construction story:
WHAT FEATURES WERE MOST IMPORTANT TO YOU IN DESIGNING YOUR POOL?
Price was the first consideration, but I also wanted something that could be customized to meet my needs.
WHY DID YOU CHOOSE PRESIDENTIAL POOLS, SPAS & PATIO AS YOUR POOL BUILDER?
I have been asking around for 2 years and looking at pools that others had. Got the best recommendations about Presidential.
WHAT DO YOU LIKE MOST ABOUT YOUR POOL NOW?
Accessibility - I do not have to get in the car and go anywhere else to get in a pool. My backyard is now my favorite place to be. The dog also enjoys cooling off in the pool.
WHAT ADVICE WOULD YOU OFFER TO THOSE JUST STARTING THE POOL BUILDING PROCESS?
Go into it with an open mind and ask a lot of questions. My salesperson was extremely knowledgeable and offered lots of helpful ideas. He made the process very easy and was only a phone call away. He did not try and sell me something I did not need or want. I could not be any happier with my decision!