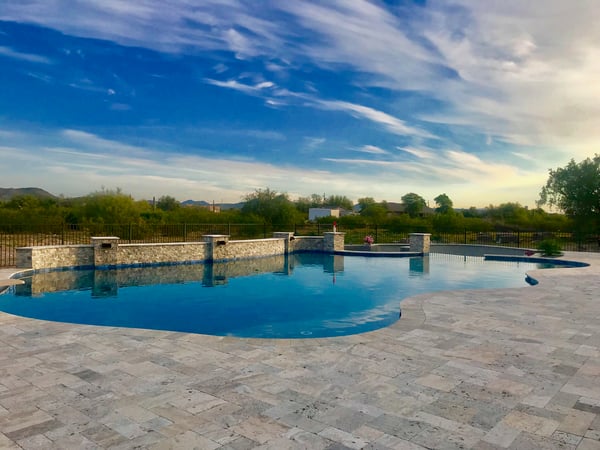 "Having been in the swimming pool industry for almost 20 years, it was extremely important to choose a pool builder who 100% stands behind their workmanship, products and labor."
This post highlights an interview with Martin family of Surprise, Arizona and pictures of their incredible pool. They worked with Karin Tierney here at Presidential Pools, Spas & Patio to build the backyard of their dreams.
You'll find advice about building a pool, tips they learned from their first experience, the steps they went through with their designer, and much more. Enjoy!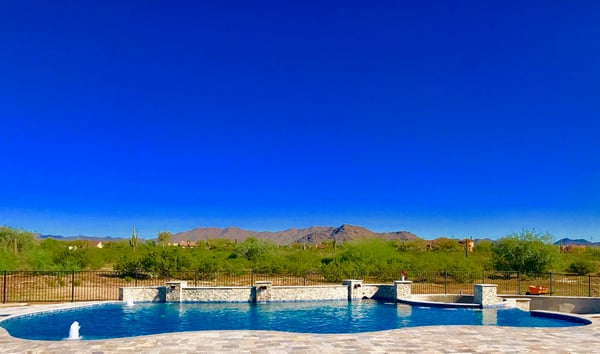 Why is having a pool important to you and your family?
Living in Arizona, it is very important for us to have a pool in our backyard to cool down on hot summer days. It is also important to provide a place to have fun with family and friends.
We love to entertain, so it is important to have a large space to enjoy the gorgeous weather year-round where we can either party or relax. Lastly, given the fact that we are small business owners and work from home, it is imperative to have a gorgeous pool so we can enjoy our "office view" and utilize it during down-times.


Which features were most important to you in designing your pool?
It was very important to provide ample swim area for the kids to play in at the same time the adults were able to relax and enjoy the water. We wanted a swim area large enough for the adults to have fun as well. The diving pool provides endless fun for both the actual kids as well as the big kids (us adults)!
We knew we wanted a swim-up bar so the entertaining could be accomplished seamlessly and to offer a cool place to eat, drink and socialize. For the colder months, it was very important to have multiple water features so the pool could still be a center-piece for gatherings even when we the weather prohibited swimming.
We also knew we wanted a design that we could build upon in the future.


What advice would you offer to those just starting the pool building process?
If you are just starting out in the pool building process, I would suggest making a list of everything you want or think you need. Prioritize that list and make notes next to each item as to why you want it, importance of having it, who in the family wants it, and cost of obtaining each want/need. From there you can cross things off in order to stay within your budget. Don't be afraid to dream big and price it out.You might be surprised at which items are achievable.
It's also very important to communicate openly with your designer. The designers will not be offended if you do not agree with a design aspect and the only way to truly be happy with your finished pool is to make sure you convey all your thoughts with your designer and build team.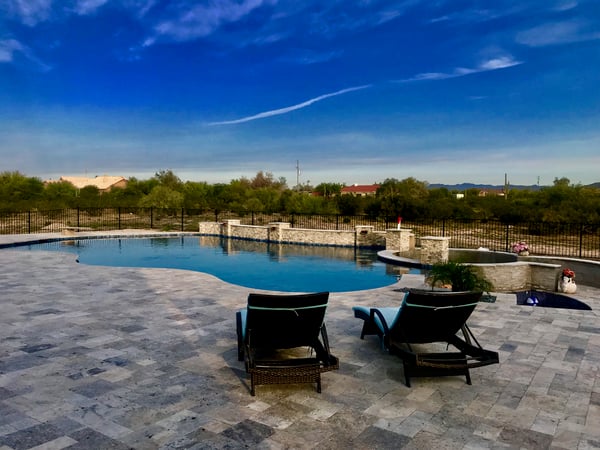 Why did you choose Presidential Pools, Spas & Patio as your pool builder?
We chose Presidential Pools because of reputation, prices that couldn't be beat and first-hand knowledge of their exceptional quality of work as well as responsiveness.
Having been in the swimming pool industry for almost 20 years, it was extremely important to choose a pool builder who 100% stands behind their workmanship, products and labor. My passion for swimming pools was parallel to the passion all of the employees and crews at Presidential Pools.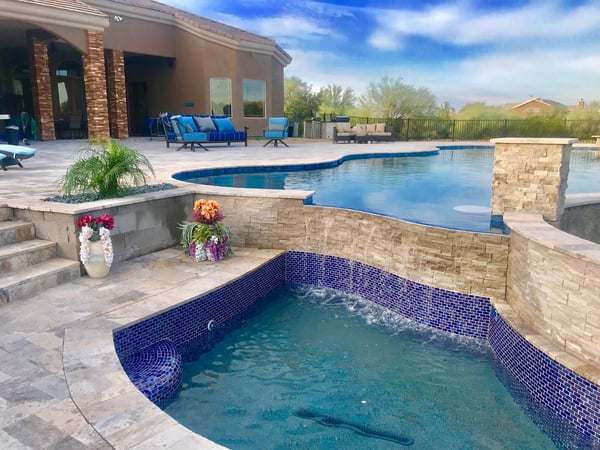 Tell us about what it was like to work with Karin, your designer?
When our family first began thinking about our "dream pool," it started with an idea in our heads. The idea was roughly sketched out on paper and it was taken to Karin. We sat and talked and went over our list of wants and needs. There was a vision in our heads but we weren't quite able to explain it in words. Karin pulled up some photos of completed projects that she thought fit what was trying to be conveyed; elements from each photo were given a thumbs up or thumbs down.
We left uncertain that we got our vision across clearly. A few days later, when we received a 3D image I realized we were wrong. Karin had actually listened and was able to interpret what was going on inside our brains! After a few tweaks here and there, the 3D rendering on the computer screen was pretty much perfection! Our communication with Karin didn't stop there. She provided excellent advice as far as other elements of the pool during the build process and kept in touch from start to finish.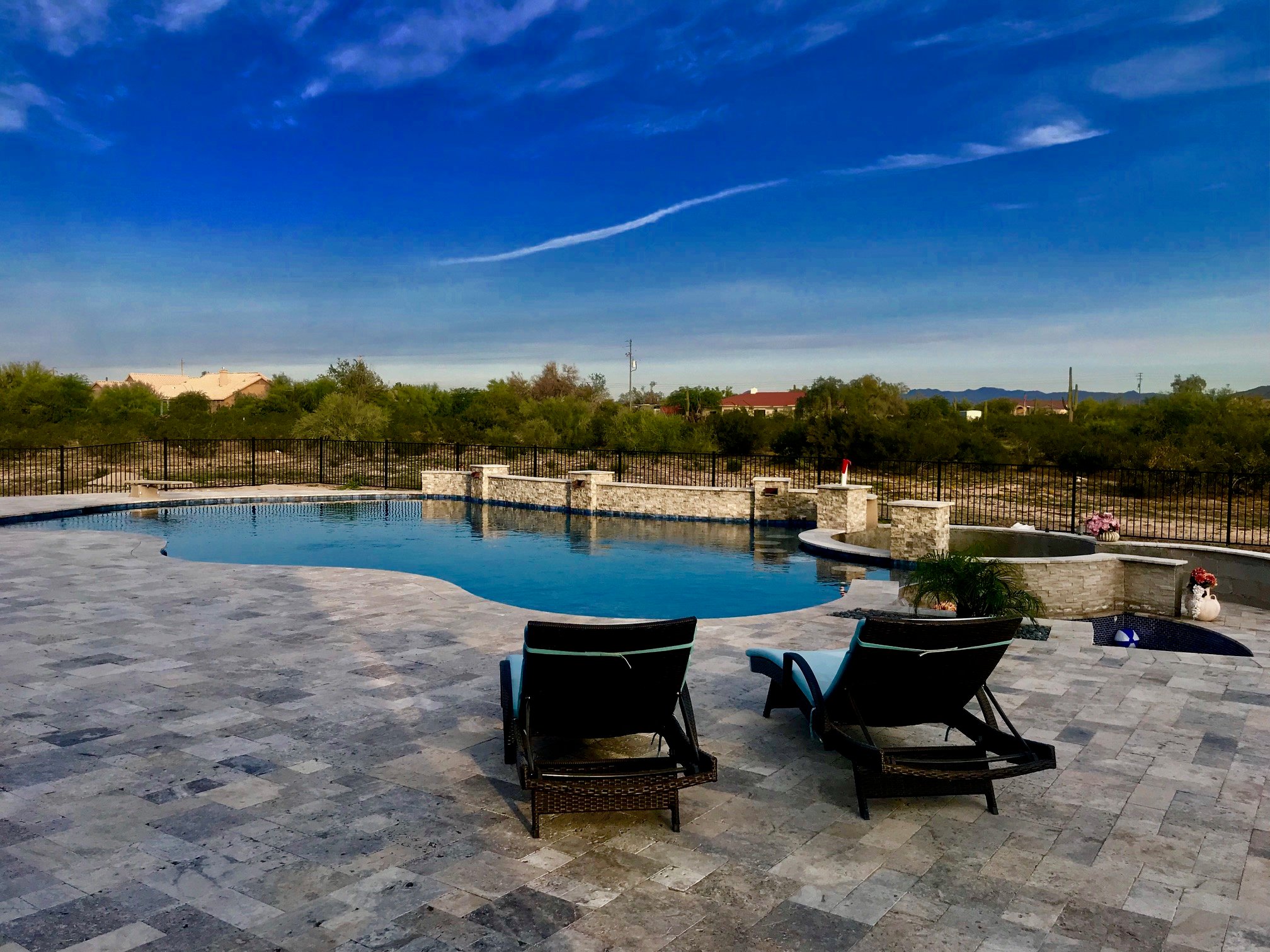 What do you like most about your pool now?
The pure beauty of the finished product is awe-inspiring! We love sitting on the patio just looking at it and enjoying the peacefulness of it.
Naturally, we absolutely love the huge swimming surface area for everyone to enjoy the pool. The multiple baja shelves provide ample space for tanning and relaxing while the diving area provides endless amounts of fun. The swim-up bar is excellent for socializing and the negative edge basin is large enough for the younger kids to play without interfering with the older kids.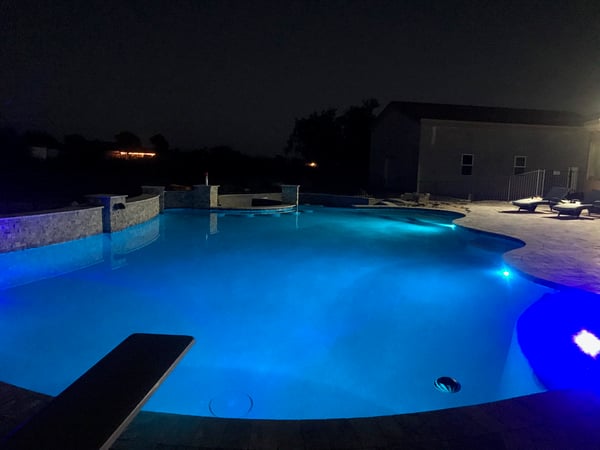 The multiple lights provide an amazing night-time atmosphere while the multiple water features are both tranquil to listen to and visually stimulating.
Presidential Pools has given us the backyard paradise with a resort style pool that we had dreamed of!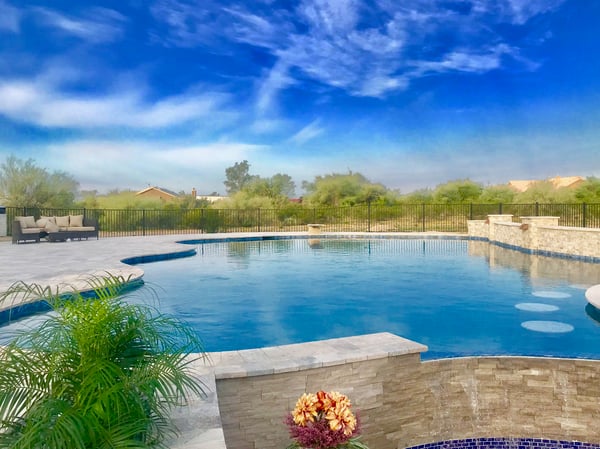 INTERESTED IN TALKING WITH Karin OR ANOTHER AMAZING SWIMMING POOL DESIGNER?
Call us at 480-967-9467, visit any of our locations, or click here.
Want to see more stories like this?