THE MILLER FAMILY OF GILBERT, ARIZONA, PARTNERED WITH PRESIDENTIAL TO BUILD THEIR DREAM BACKYARD. THEY WERE NICE ENOUGH TO SHARE PICTURES AND DETAILS ABOUT THEIR PROJECT, ALONG WITH ADVICE FOR THOSE OF YOU WHO MAY BE LOOKING TO BUILD A SWIMMING POOL.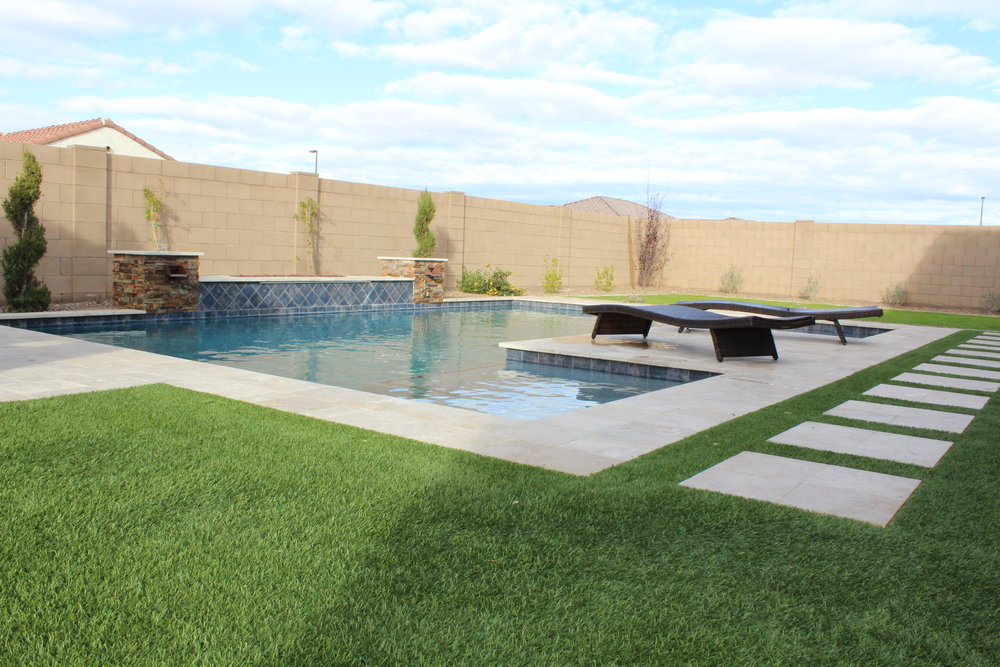 WHAT PROMPTED YOU TO BUILD A POOL?
We love having a pool, they look great in the backyard and just looking at the pool in the yard can take the edge off the hottest AZ summer days. We also love to entertain in our backyard during the summer and of course cooling off on hot summer days is a big benefit.
WHAT FEATURES WERE MOST IMPORTANT TO YOU IN DESIGNING YOUR POOL?
We wanted a timeless design and something relatively easy to maintain. We don't have tons of frills but the shape of the pool is perfect for our family with two extended step/shelf areas at different depths for the kids to play.
We also really wanted a large water feature that was simple but still dramatic. The water feature has tile and ledge stone and it stretches across almost 2/3 of the pool so it still makes a statement despite it's relatively simple design.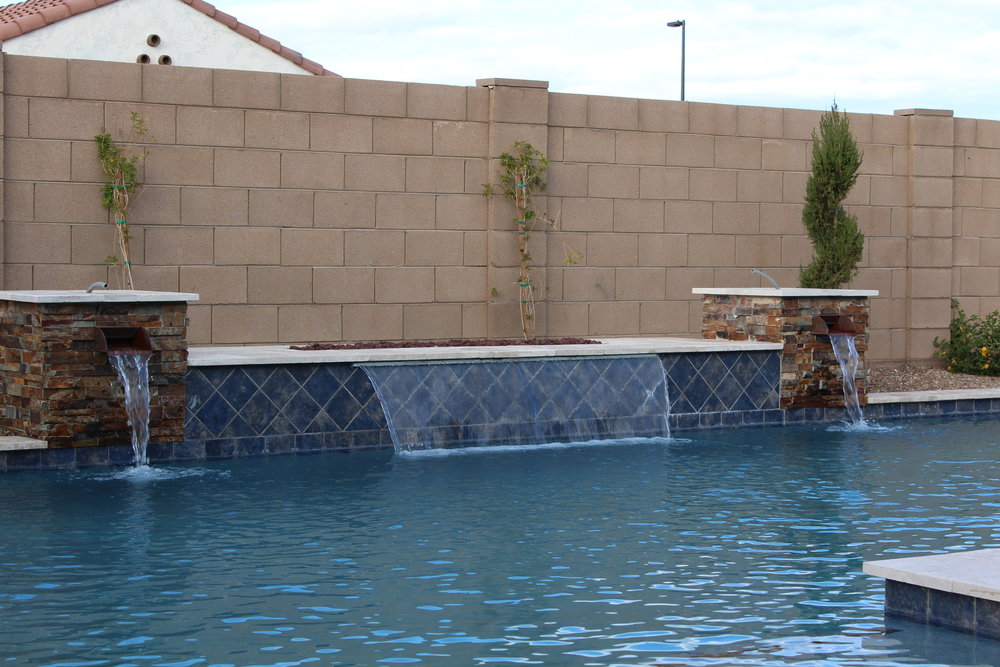 WHY DID YOU CHOOSE PRESIDENTIAL POOLS, SPAS & PATIO AS YOUR POOL BUILDER?
This is our third pool build with Presidential and we always find a way to get what we want at a reasonable price point. Dave Whittemore, our construction superintendent on this pool and the pool prior always does an outstanding job communicating.
WHAT DO YOU LIKE MOST ABOUT YOUR POOL NOW?
We love that the pool itself is not very big, but the shape of the pool is kind of unique. It also offers shallow play areas for our children and younger nieces and nephews.
We are so proud of our pool and backyard and we love when people walk outside and say "This backyard is gorgeous." It truly is simple but gorgeous and we find it really flattering when people ask us who did the work and if we mind if they copy some of our design.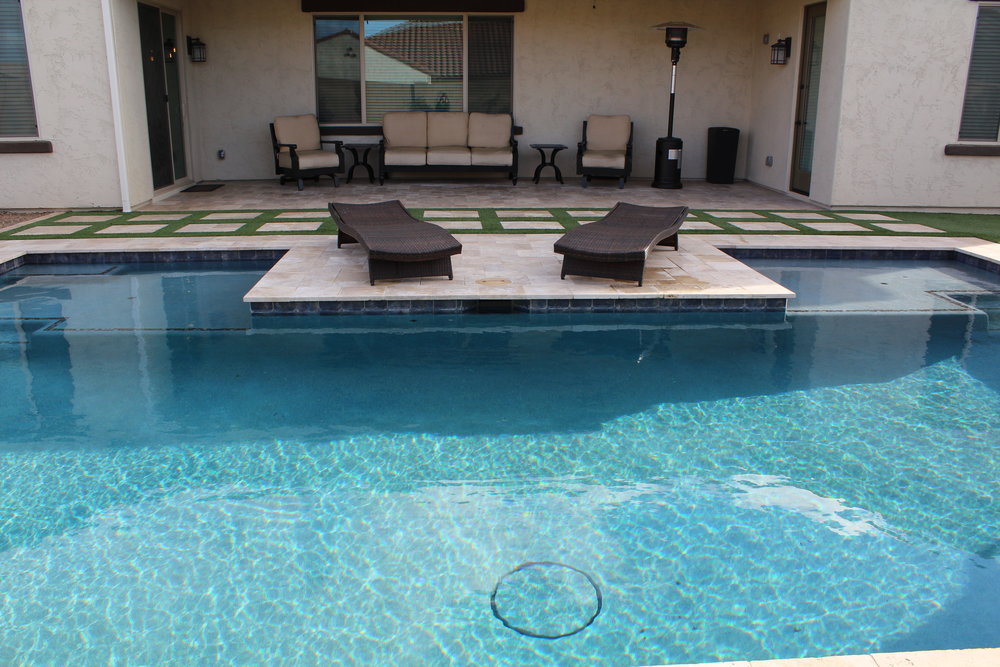 WHAT ADVICE WOULD YOU OFFER TO THOSE JUST STARTING THE POOL BUILDING PROCESS?
Don't skimp on the convenience or luxury items if you can afford them. Those are often your favorite features and can be very hard and/or expensive to add later if at all. Some of the things we love most about our pool we thought about removing, but I am happy we didn't.
The ones that come to mind are in-floor cleaning, upgraded interior finish, and some mosaic tile detail on our steps. The in floor is really convenient and rarely does our pool look dirty even after the worst storms. We have small children, so the smoother interior finish was important as was the pretty mosaic that also helps alert our new swimmers of the steps underwater.