THE RAFFETTO FAMILY OF SURPRISE, ARIZONA PARTNERED WITH PRESIDENTIAL TO BUILD THEIR DREAM BACKYARD. They WERE NICE ENOUGH TO SHARE PICTURES AND DETAILS ABOUT THEIR PROJECT, ALONG WITH ADVICE FOR THOSE OF YOU WHO MAY BE LOOKING TO BUILD A SWIMMING POOL.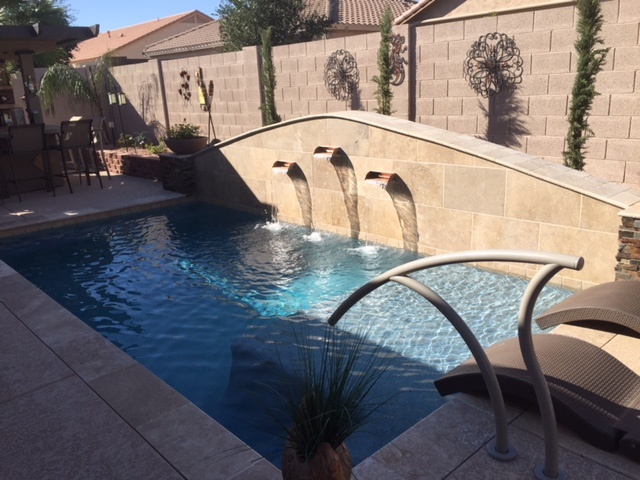 WHAT PROMPTED YOU TO BUILD A POOL?
We were moving full-time to our house in Arizona and wanted a pool.
WHAT FEATURES WERE MOST IMPORTANT TO YOU IN DESIGNING YOUR POOL?
It was important that the pool fit into our yard dimensions without looking like it
was taking over the yard. Also, it was important that blended into the existing patio that we have.
WHY DID YOU CHOOSE PRESIDENTIAL POOLS, SPAS & PATIO AS YOUR POOL BUILDER?
We went to many home shows and different vendors had recommended
Presidential. We had 3 bids submitted, and even though Presidential wasn't the
lowest, our salesman/designer Dane Pearson was the best. He spent as much
time as we needed to get the design exactly the way we wanted it.
WHAT DO YOU LIKE MOST ABOUT YOUR POOL NOW?
EVERYTHING.
WHAT ADVICE WOULD YOU OFFER TO THOSE JUST STARTING THE POOL BUILDING PROCESS?
Be patient. Building a pool is a process. Trust your supervisor, they know what they are doing. Our supervisor, Dion Hanke, was very patient with us and handled all of our issues in a timely manner. The pool was done on time despite some minor setbacks.
All in all, we were extremely satisfied with Presidential and would highly recommend them to anyone building a pool!