Linnzy Foster, designer at Presidential Pools, Spas & Patio, talks about a beautiful recent project completed for an active family of five in the interview below. This backyard is designed for hosting friends and family and is functional for both adults and children. The contemporary straight lines of the pool match the interior of the home, providing the feeling of a personal backyard result.
The large pergola covers a large outdoor kitchen and oversized fire pit, providing a perfect place to cool off or make smores on chilly evenings. The baja step with bubblers, rain sheer, fire wall, wok pots, and glow in the dark tiles all contribute to this backyard's unique, exciting style.
Enjoy the following interview with Linnzy Foster about this design for the Tubbs family of Gilbert, Arizona.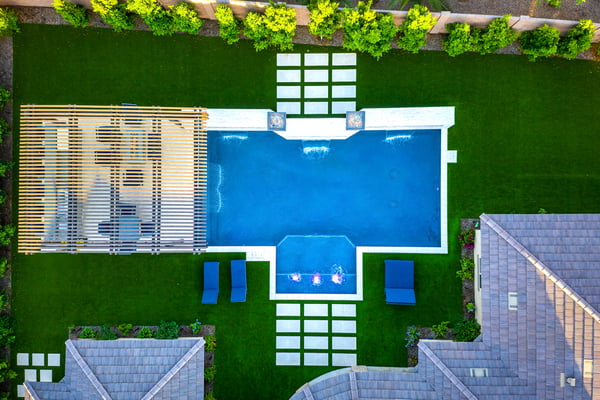 How was this backyard's design influenced by the family's lifestyle?
The Tubbs Family loves to have guest and family over throughout the summer months. Having three boys, they wanted to make sure they have a fun place to play as well. The multiple water features add awesome visual appeal as well as provide areas for the kids to explore.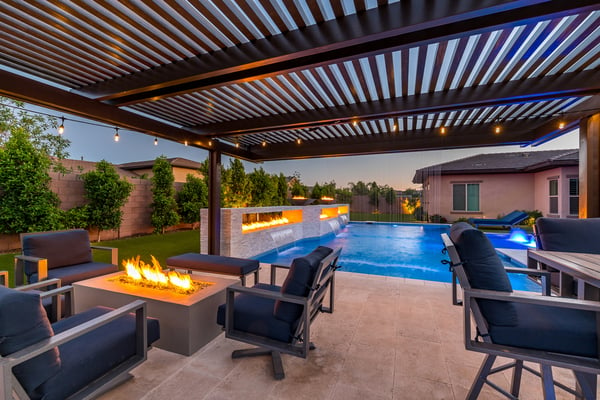 Describe the features of this backyard.
The backyard features a large wall with window cutouts that include fire elements. Two large wok pots above with fire elements in them as well. LED bubblers at the top Baja step. A rain sheer pouring from the oversized pergola. Glow in the dark tile on the waterline, steps and benches.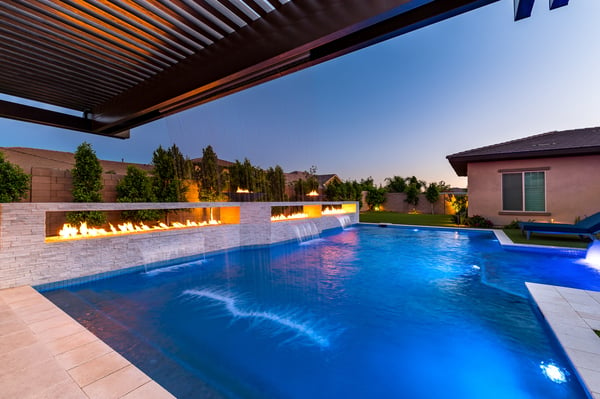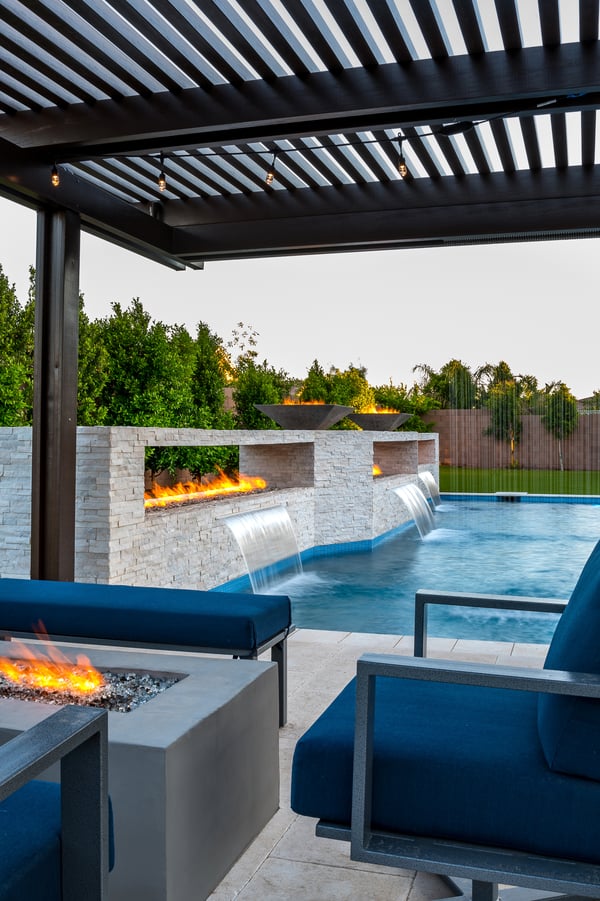 Are there elements of this that you think could inspire other swimming pool designs?
The fire and water elements of this pool are breath taking at night. This can inspire those who are looking for a resort style backyard.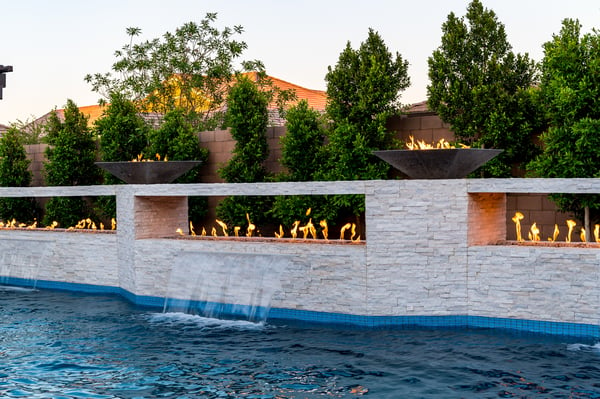 What are your favorite elements from this backyard?
My favorite elements are the large fire wall and the rain sheer from the pergola. These two items standout in any design and give you a pop of wow during the day and night.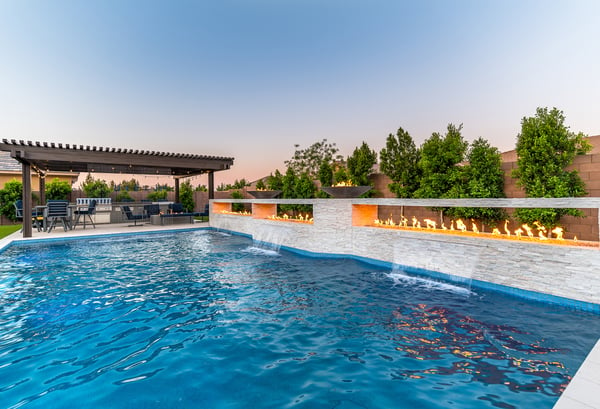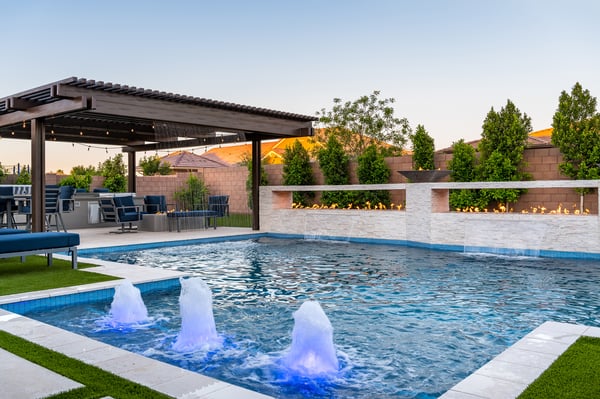 What can people starting the pool design process learn from this family?
The pool is surrounded mainly by turf. I treat turf as an alternative form of decking that will give a great pop of color and make it easy to enjoy your yard without needing too much patio furniture.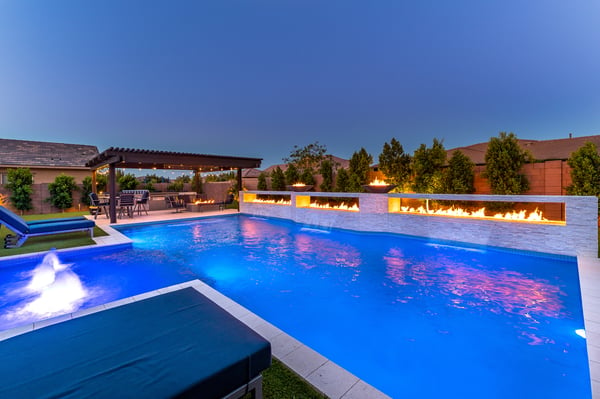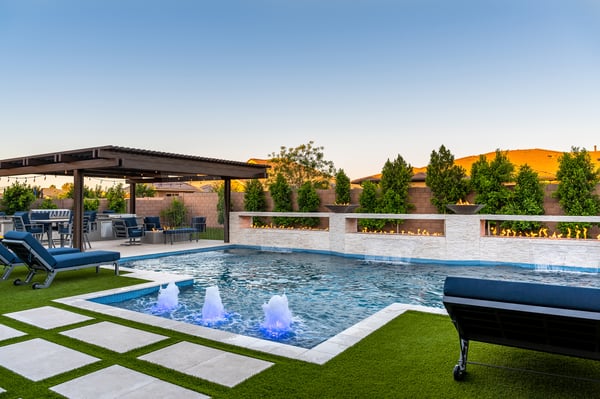 What advice would you give to someone who is considering building their first swimming pool?
Explore all possible options and be true to your lifestyle and use of your backyard space.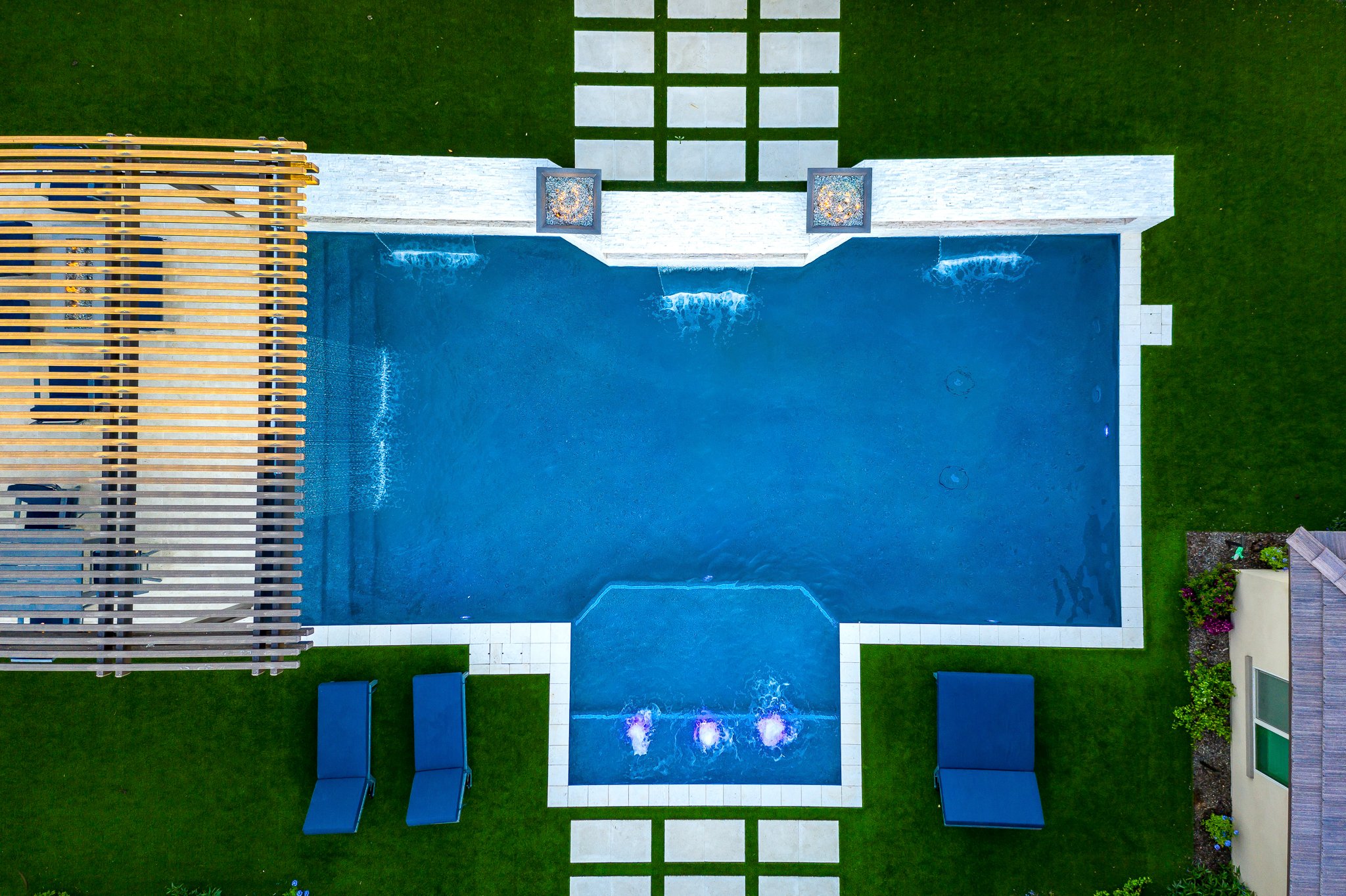 READY FOR MORE?
You can see more beautiful pools we've built in the Phoenix valley and Tuscon metro areas in our galleries.
You can also schedule a free, no-strings-attached design consultation you can call us at 480.967.9467, fill out this short form, or visit any of our three Arizona showrooms.