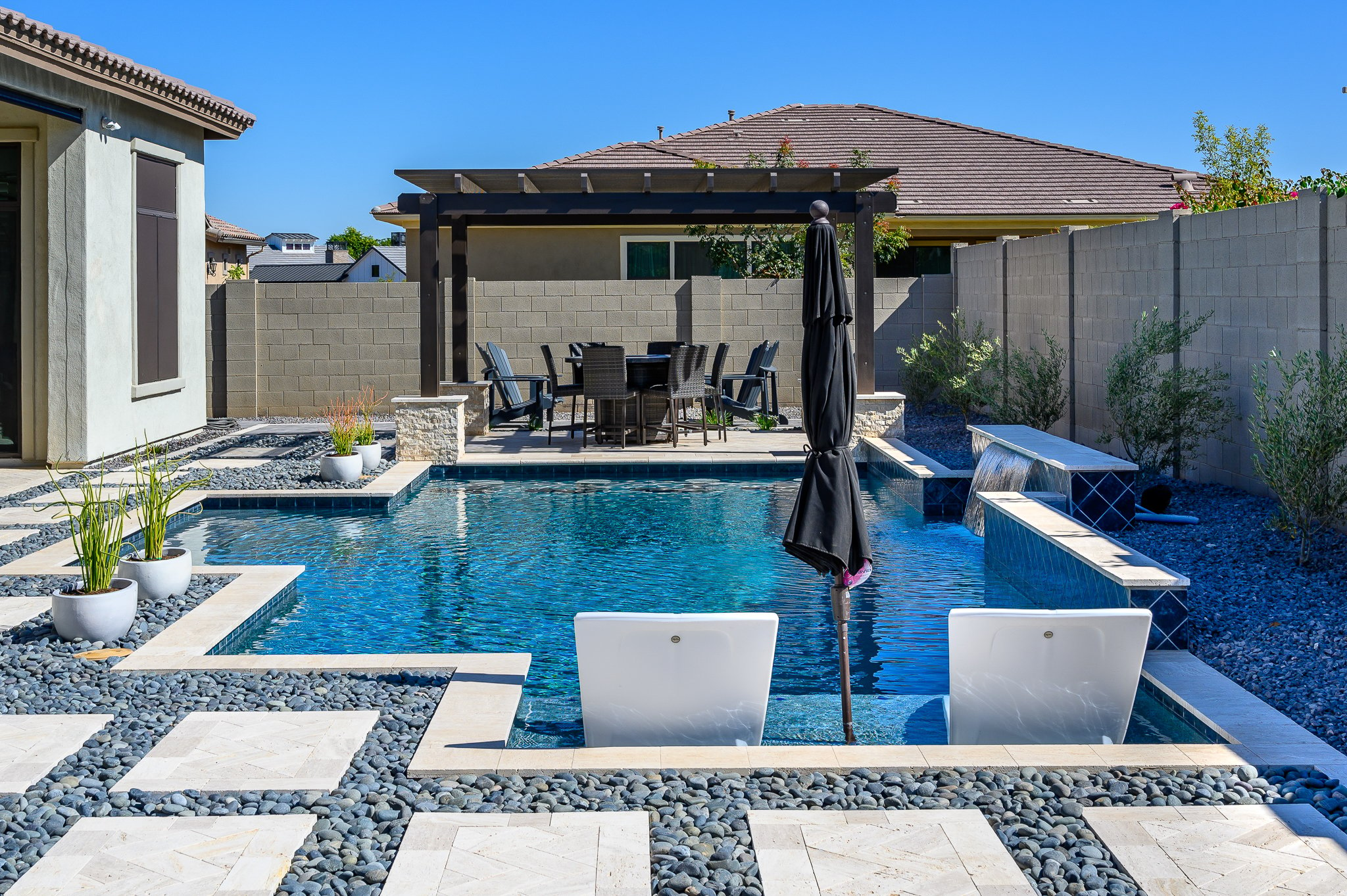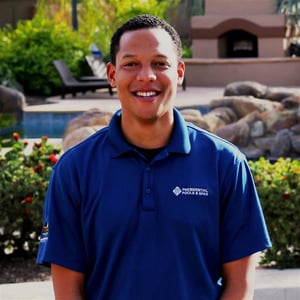 Linnzy Foster, designer at Presidential Pools, Spas & Patio, talks about a recently completed
swimming pool in Gilbert, AZ that we think you'll love. This backyard's unique, geometric
design includes a baja step with loungers, a swim up bar, and a sheer descent with bench. The contemporary, symmetrical lines used throughout the backyard make it feel like a zen garden oasis.
The backyard has a special place for every activity. A fire pit for chilly evenings, a pergola and raised table for shaded seating, and a grill station with larger table for poolside cookouts. Enjoy our brief interview with Linnzy and reach out if you have any questions.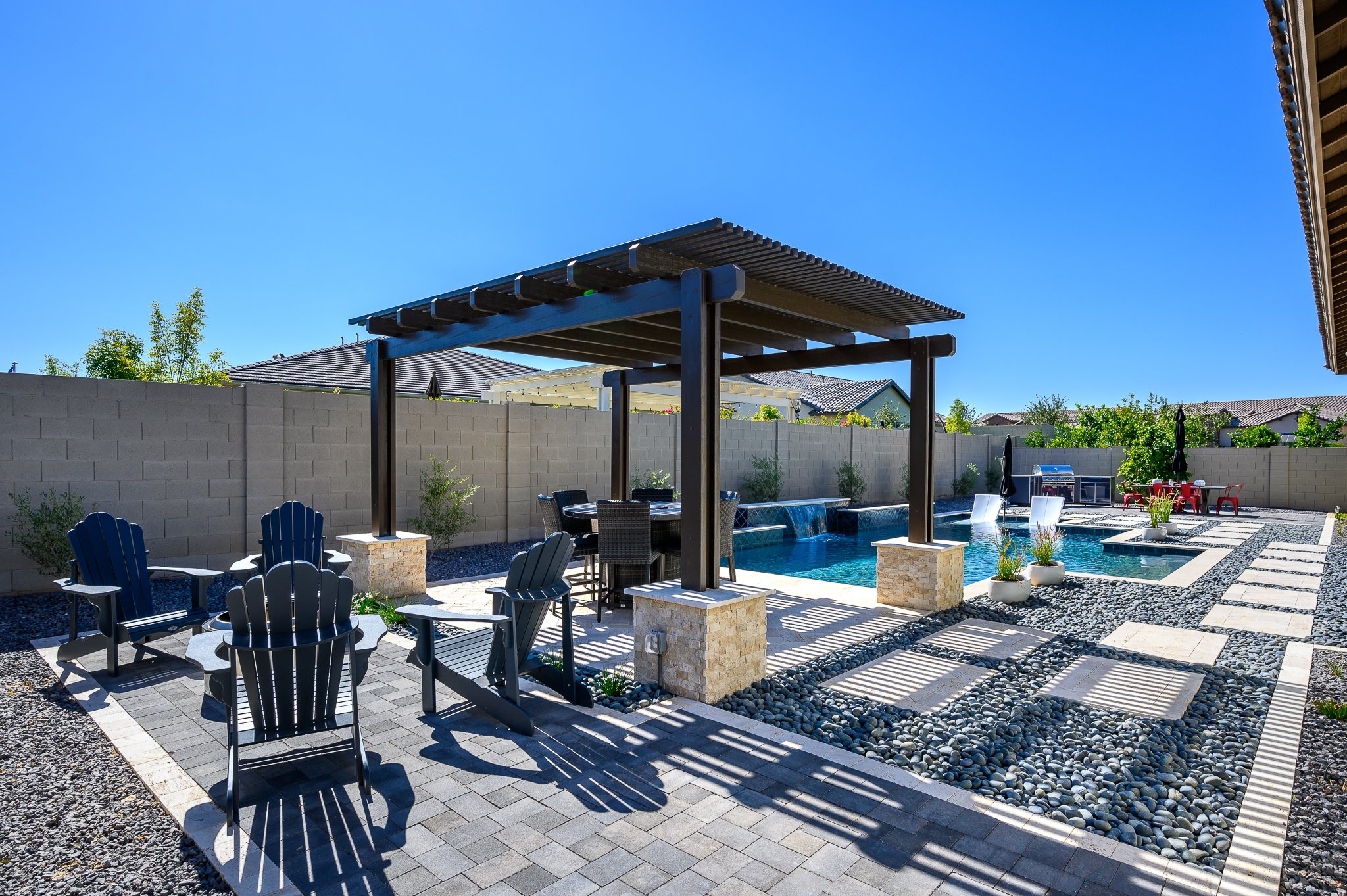 WHAT WAS IT ABOUT THIS PROJECT THAT REQUIRED AN UNUSUAL LEVEL OF QUALITY WORKMANSHIP?
The spacing on this project needed to be spot on to ensure every step pad and border lined up. This job was meant to be appealing to the eye with its geometric lines.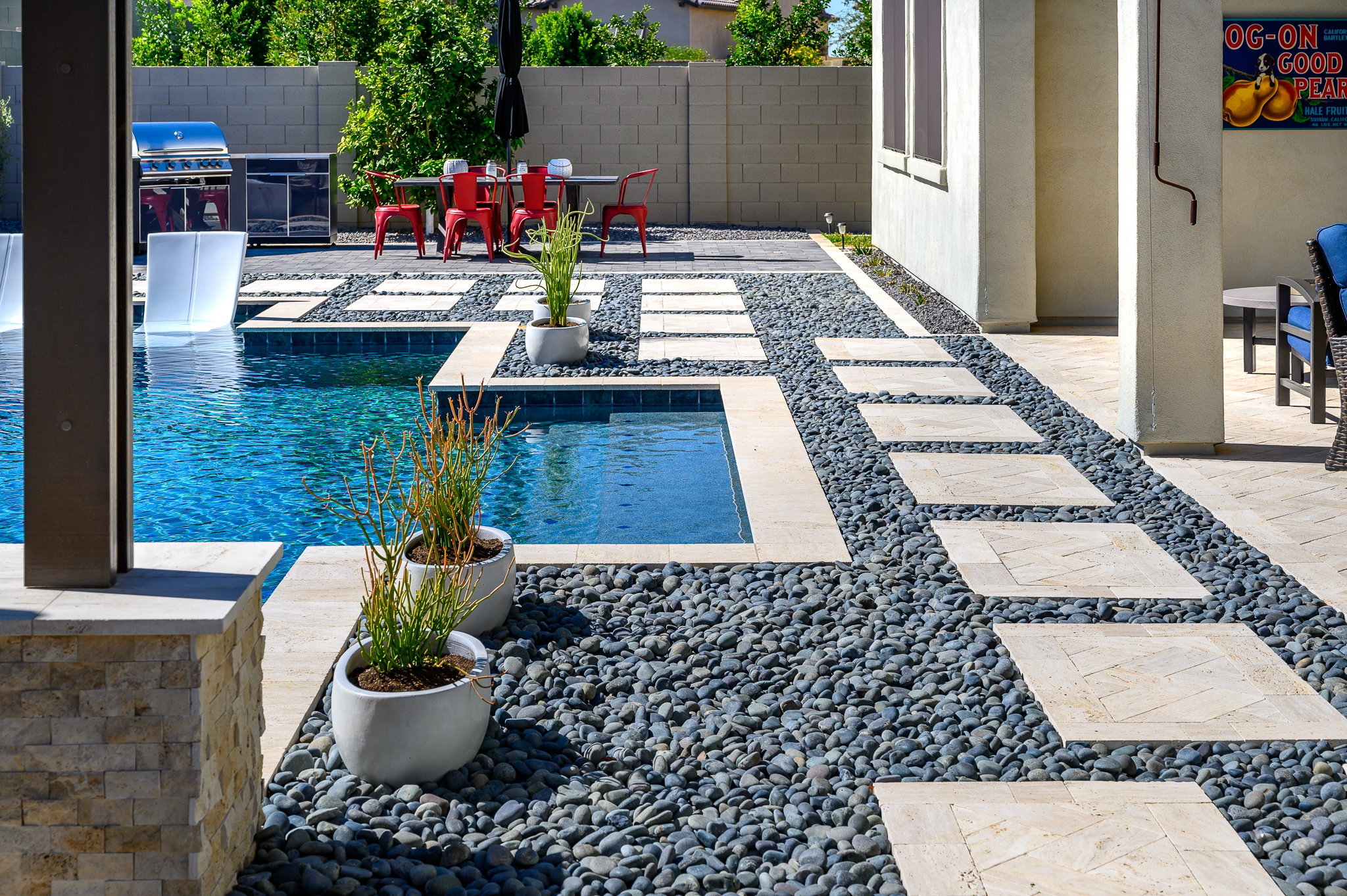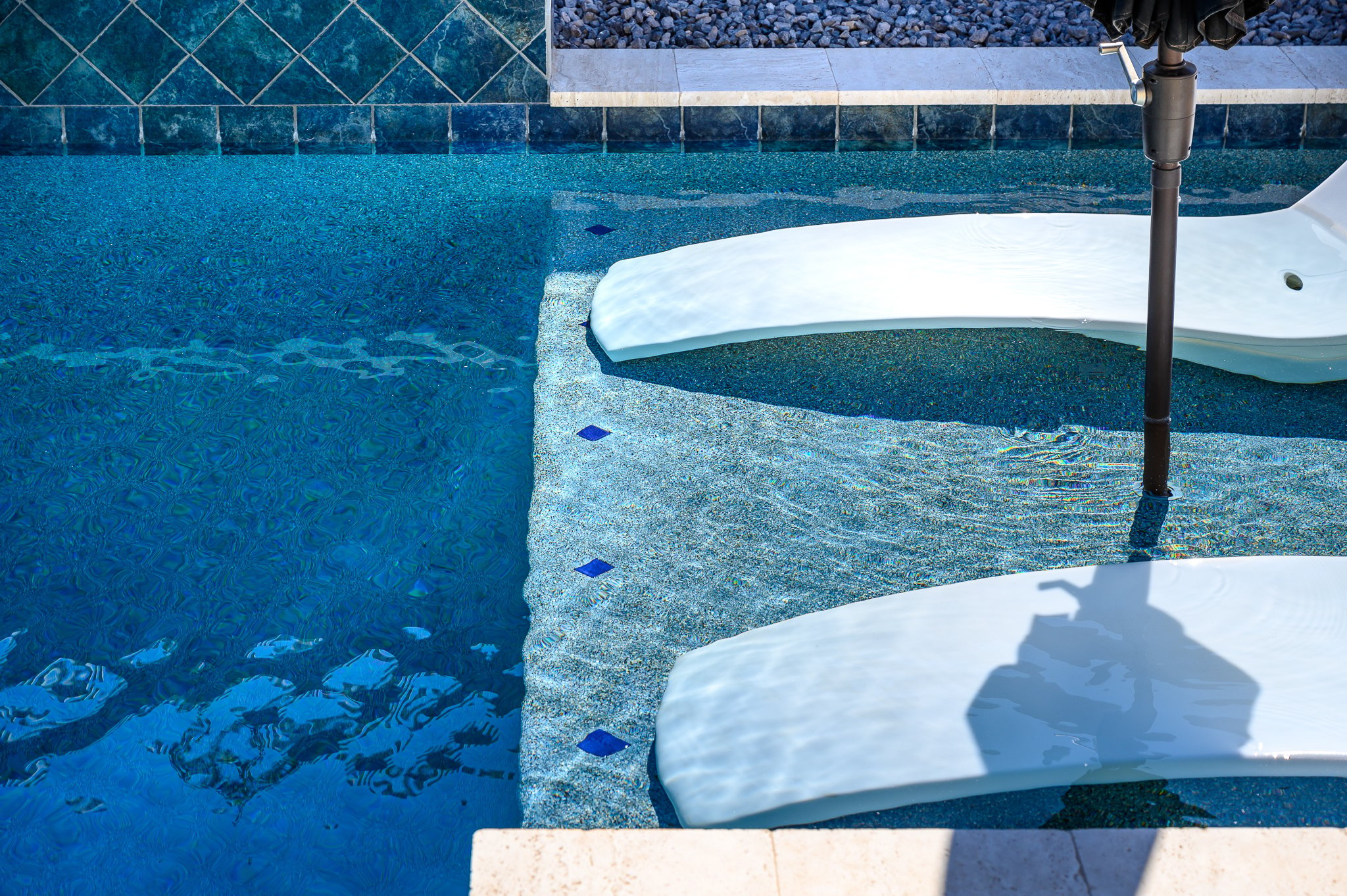 DESCRIBE THE AESTHETIC OF THIS PROJECT
Materials are something that make every project unique. The client was looking to have bold colors that contrasted, just like their home's interior. To accomplish this, we used Mexican beach pebble, light travertine, a blue crisp Pebble Radiance interior finish, and bold tile selections. The client loves symmetry, so their vision, and ultimately this design, reflects that.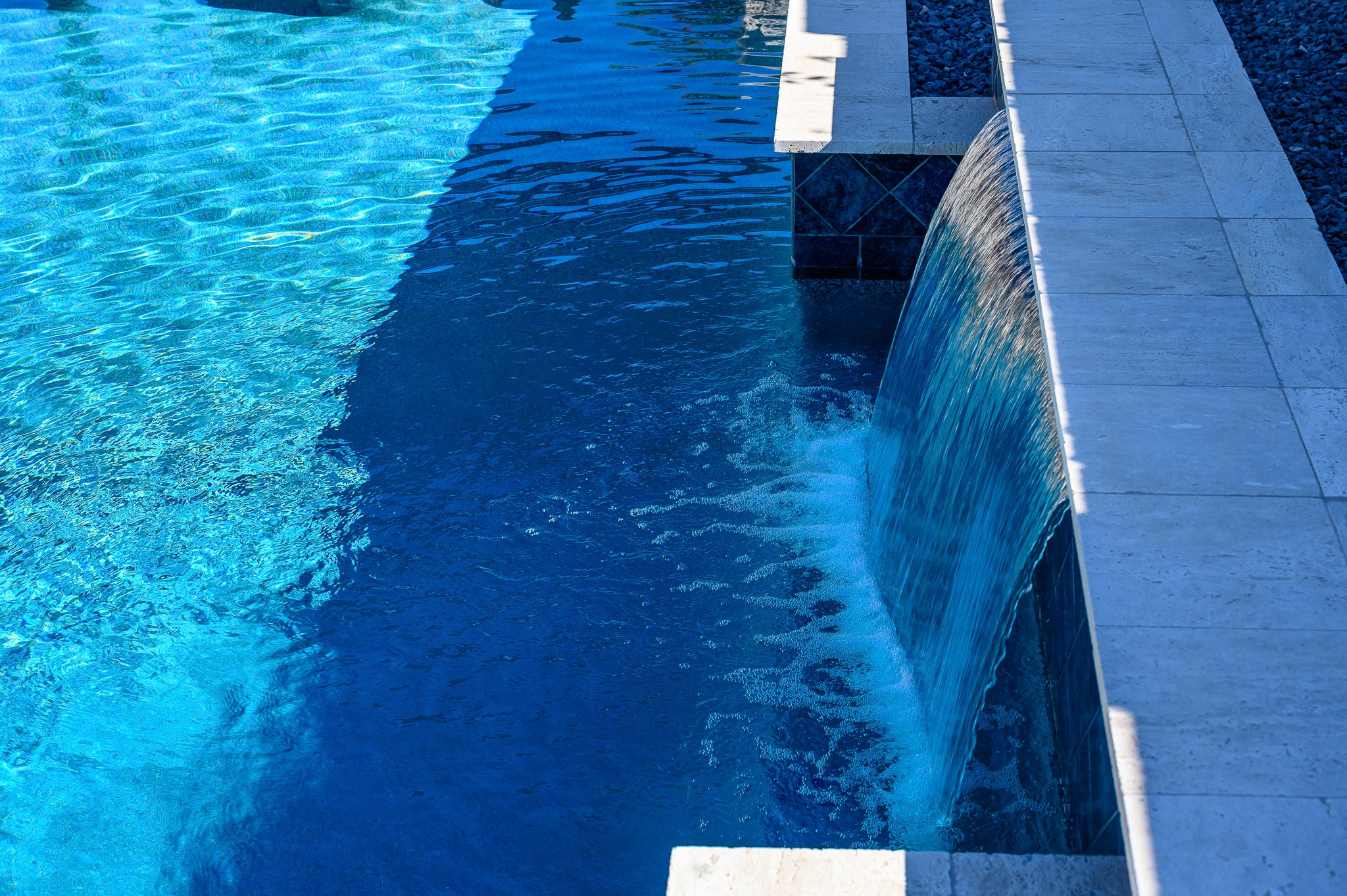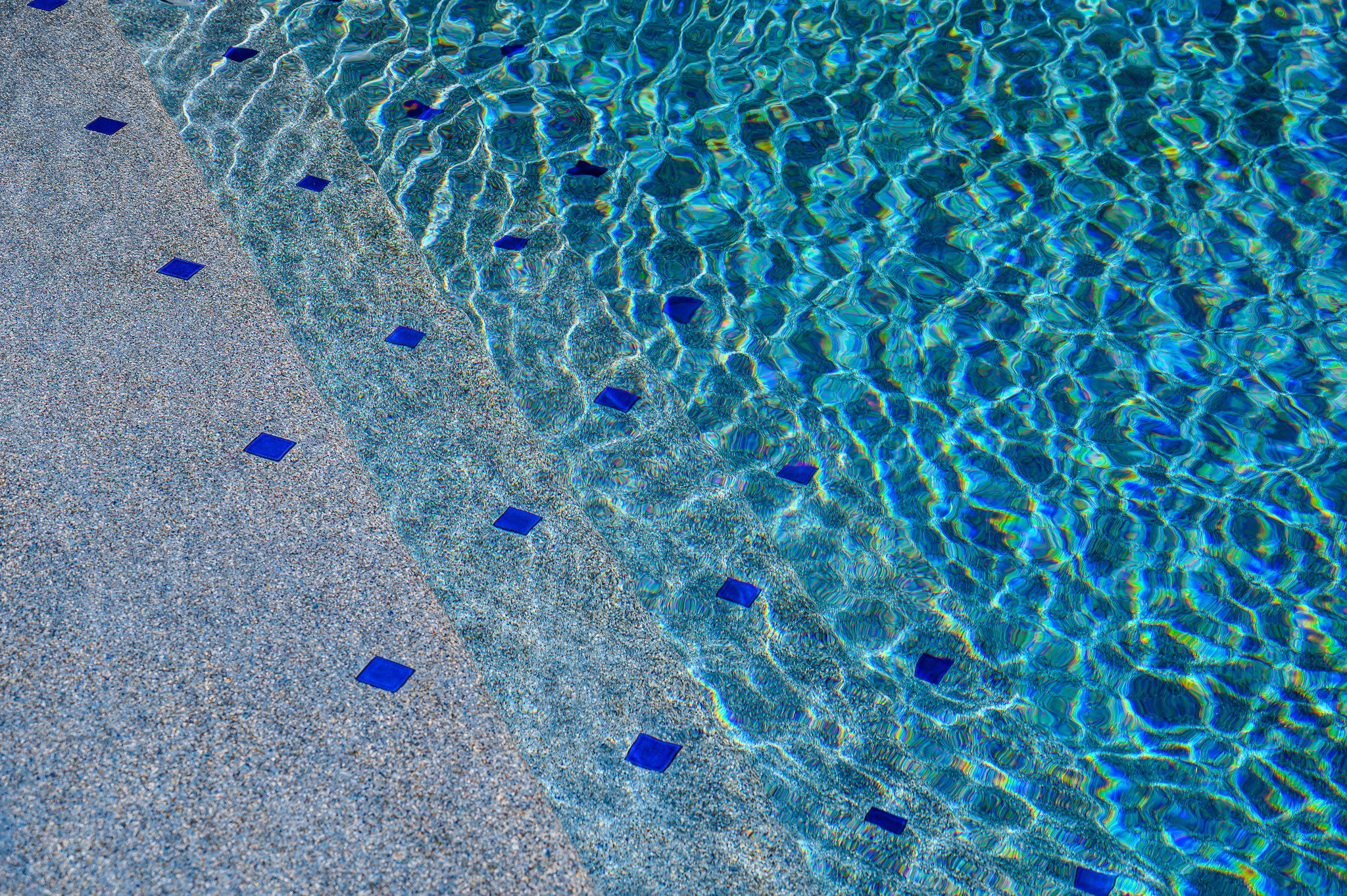 DESCRIBE HOW THIS POOL DESIGN INTEGRATES EFFECTIVELY WITH THE HOME, LANDSCAPE, BOTH
The interior of the home has light and dark accents which they wanted to carry into the backyard. They have large doors that open into the backyard which they wanted to make sure things looked seamless when the doors are opened.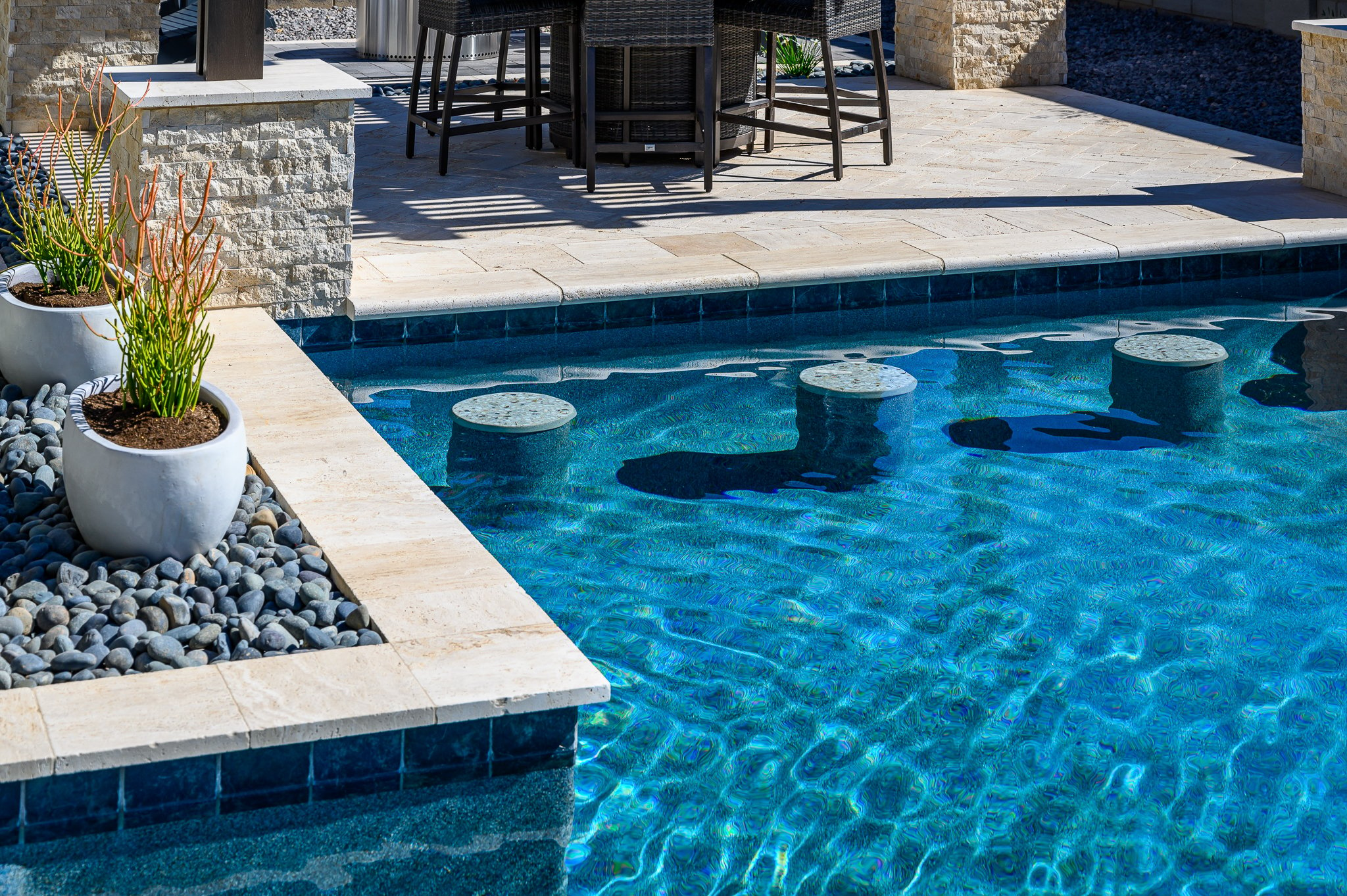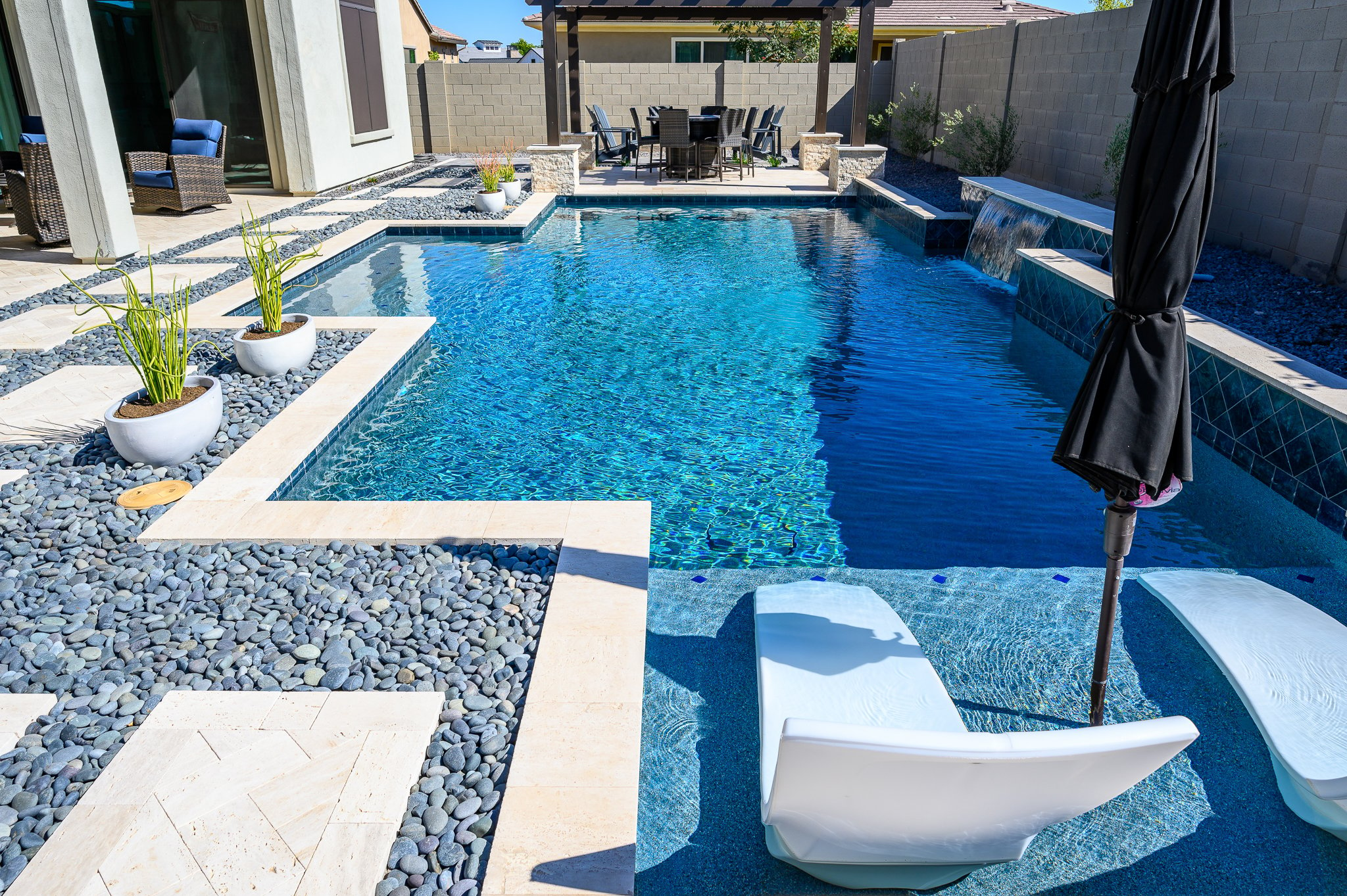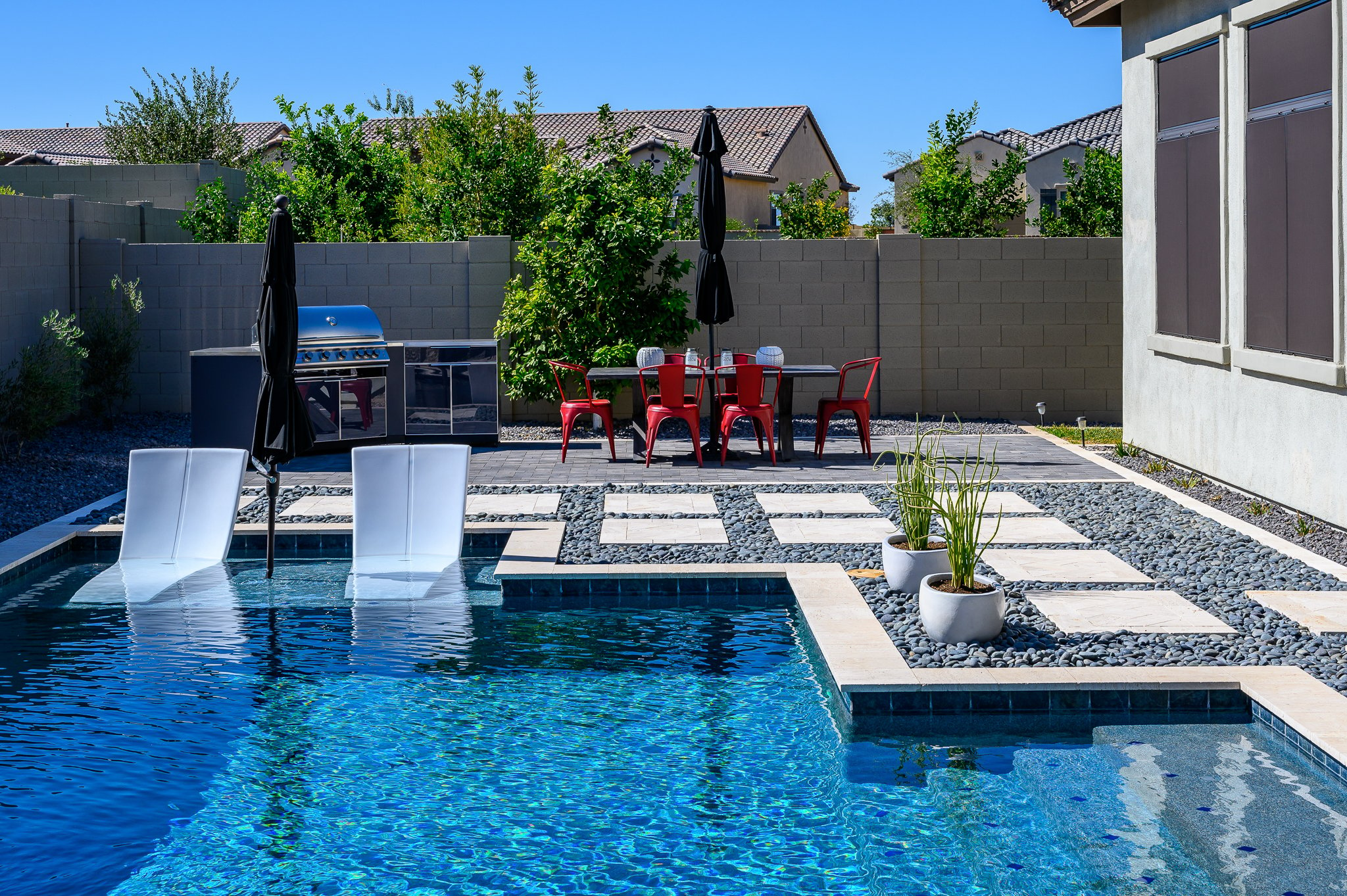 The landscaping was somewhat abstract and different from the usual palm trees of most Arizona Landscaping. Pops of green and other flowering plants, along with landscape lighting complete the look and create a real "wow" factor, especially at night.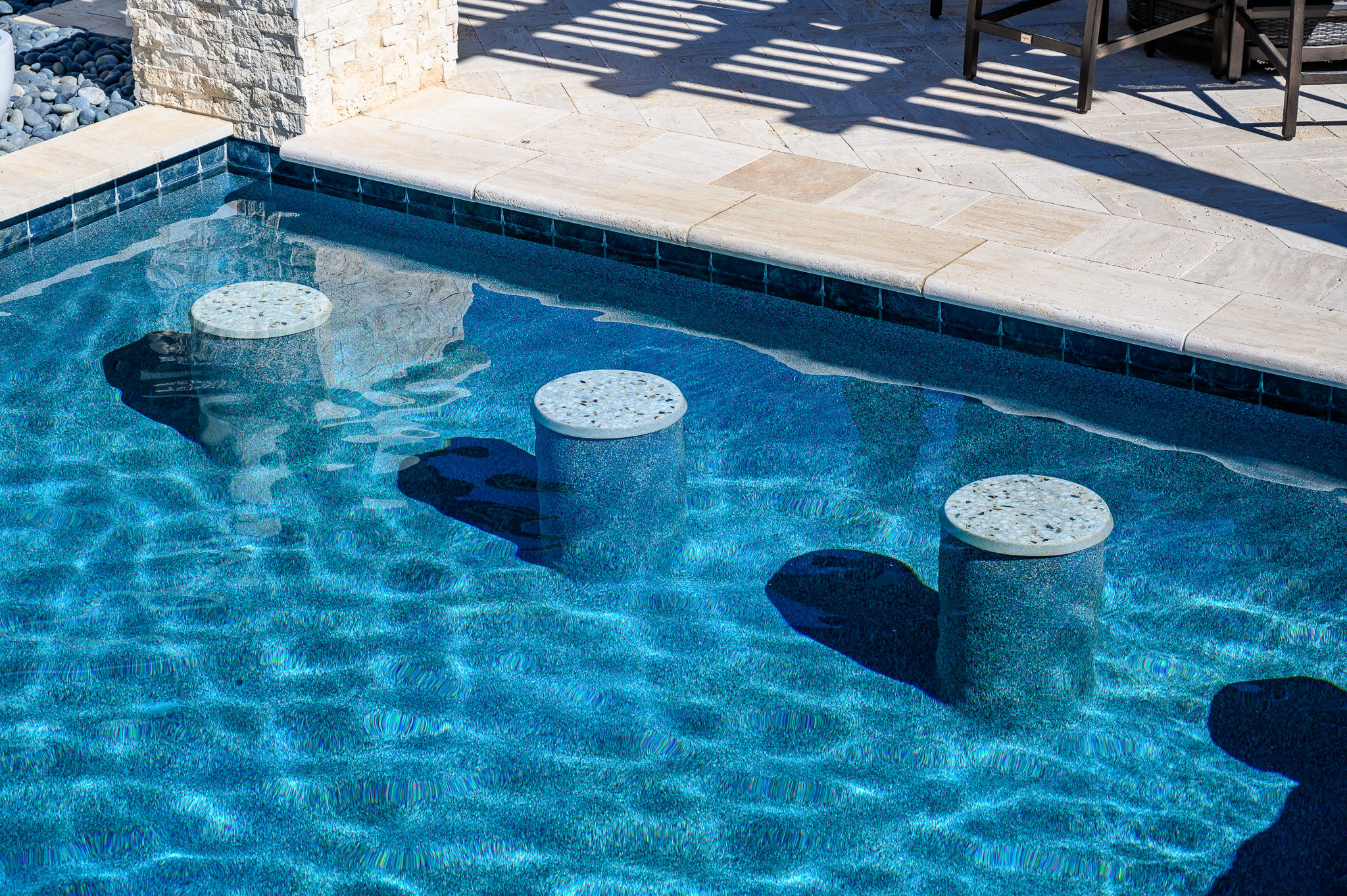 READY FOR MORE?
You can see more beautiful pools we've built in the Phoenix valley and Tuscon metro areas in our galleries.
You can also schedule a free, no-strings-attached design consultation you can call us at 480.967.9467, fill out this short form, or visit any of our three Arizona showrooms.