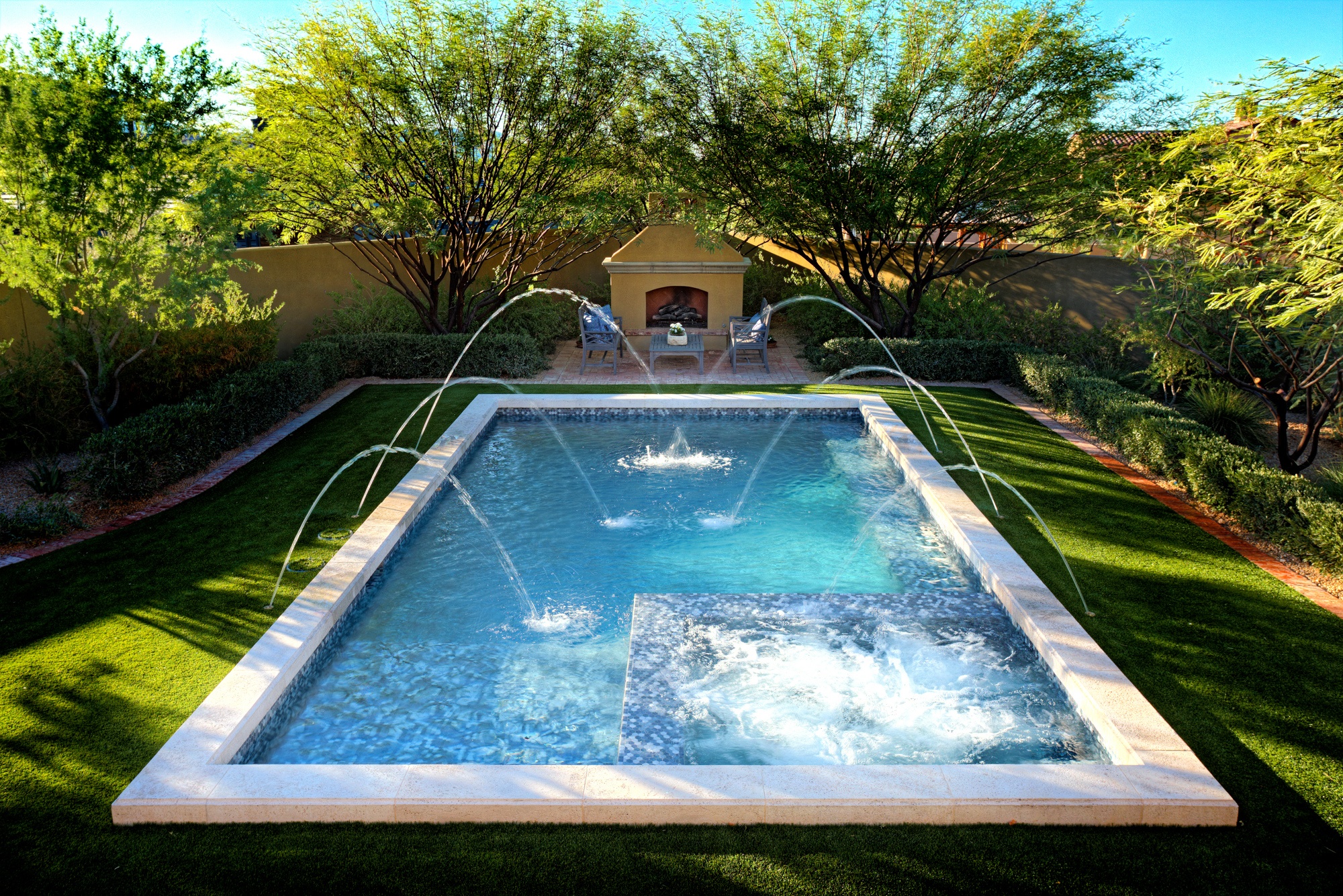 "The goal was to create a classic pool with an aged look. Similar to an Italian or Greek garden pool."

Presidential Pools, Spas & Patio pool designer Linnzy Foster talks with us about a design he recently completed for an active Scottsdale, AZ family.
Linnzy's interview below will educate and inspire you in thinking about your own backyard and pool designs. He covers everything from optimizing space in your backyard to the most important two questions to keep in mind while designing your pool.
This particular client chose to work with Presidential Pools as their pool builder because they were so impressed with our commercial pool building that they assumed we could handle their backyard transformation as well. This serendipitous encounter led to an absolutely beautiful pool design!
If you'd like to contact Linnzy or another world-class Presidential Pools designer, feel free to call us at 480.967.9467, visit us at one of our three showrooms, or click the button below:

When you began The pool design for this family, what was their most important objective? How did that influence the design?
Linnzy: When I first met with this family, I could tell they were a very active bunch (kids sports, school, work, etc.). Their home is their sanctuary and wanted to ensure the backyard was another area to gather with friends and family to entertain and relax.
Even if they weren't in the pool they wanted it to be a "visual treat", so we created a pool design that acted as a water feature when it wasn't in use.
The goal was to create a classic-looking pool with an aged look. Similar to an Italian or Greek garden pool. The large pre-cast coping and no water line tile created a stand out pool that's both functional but yet visually appealing too.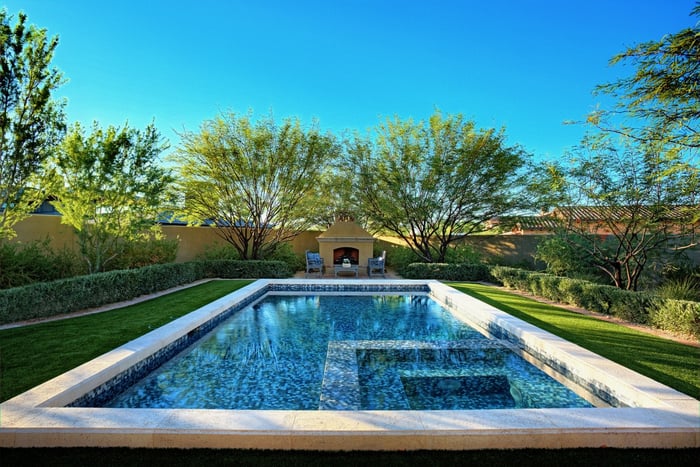 Could you walk us through the main features of this backyard?
Linnzy: A lot of existing elements were in place (a grill, decking, grass, and fire place). The family wanted their pool and spa to act as a reflecting pond when it they weren't using it. The pool is centered on the existing fire place with an internal spa to maintain the reflective glassy look when the water is still. The other big features were the Deck Jets hidden in the turf, Pre-Cast coping (the custom pool edge you see pictured), and an incredible all tile interior.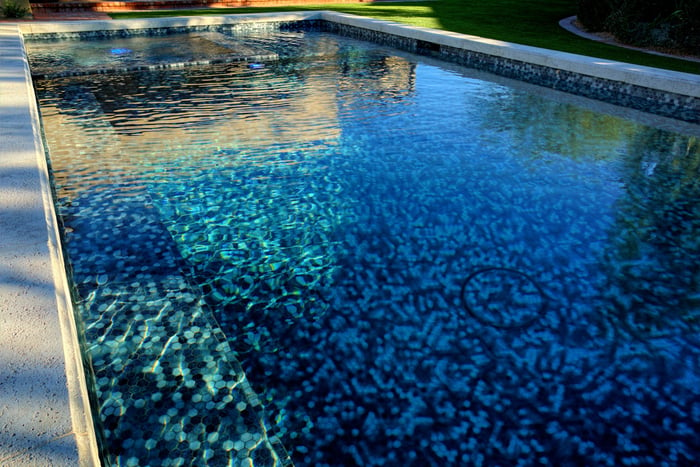 What can people redesigning their backyards learn from this design?
Linnzy: It's important to keep these two questions in mind:
What do you enjoy about your backyard now?
What do you want to get out of building a new pool or spa? is it for relaxation, exercise, lounging, fun for the kids, or all of the above?
Making sure the design matches the activities of the homeowner is key to a functional backyard.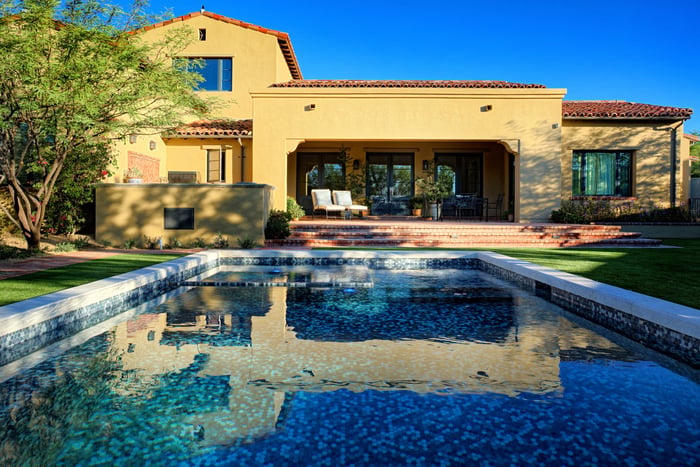 Do you have any favorite elements from this design that you'd like to see more people incorporate into their backyards? What are they and why?
Linnzy: I love the use of Artificial Turf as the decking. It makes you just want to take your shoes off and enjoy the day. Turf is an affordable substitute to hardscape decks like concrete or travertines and gives the yard a nice pop of color.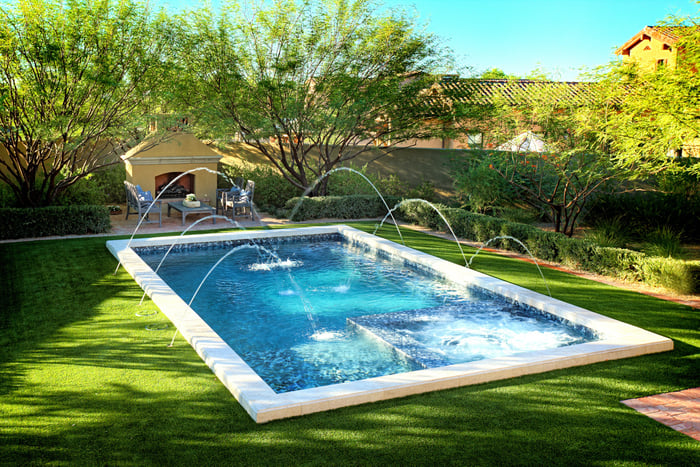 Are there any subtle design features that the untrained eye might miss when looking at pictures?
Linnzy: The hidden deck jets are disguised in the turf as well as the lids for the skimmer and water leveler. Also, the interior tile is 3 color blend of hexagonal tiles. Awesome detail!!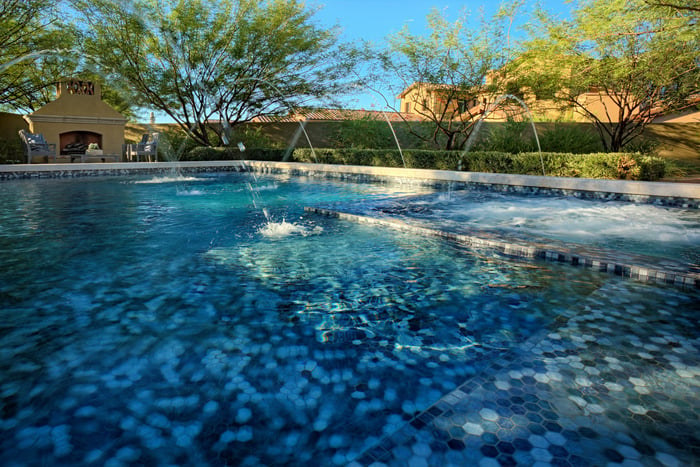 What do you think is the most important thing to remember while designing a pool?
Linnzy: The biggest thing I keep in mind is making sure to use all the available backyard space to its fullest. Arizona lots are often quite limited, so optimizing every square inch is a must.
Is there anything else you'd like to say about this pool design, or pool design in general?
Linnzy: Sometimes less is more. Even though this particular pool is just a simple rectangle, it has a lot of details to make it one of a kind. Everything has a purpose, even down to the height of the spa benches to suite the husband (6'5") and wife (5'6").


Ready for more?
You can see more beautiful pools we've built in the Phoenix valley and Tuscon metro areas in our galleries.
You can also schedule a free, no-strings-attached design consultation you can call us at 480.967.9467, fill out this short form, or visit any of our three Arizona showrooms.