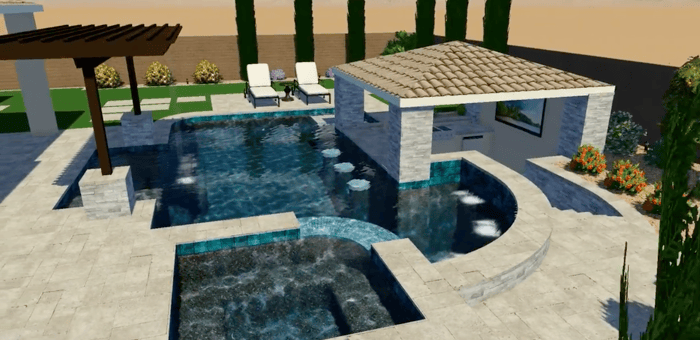 "I think people will see that contemporary designed pools can have some curves and custom features rather than only having straight lines like most."
If you're looking for pool design inspiration, you've come to the right place. This backyard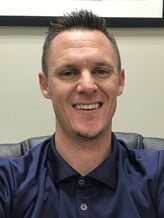 design packs a ton of ideas into one incredible resort-style layout. Trevor Brents, the prolific Presidential Pools, Spas & Patio designer, has created what looks like five pools in one.
There's a sunken swim-up bar, an in-pool table, sheer descents, a pergola rain sheer, a built-in spa, and there's plenty of room to play.
Below is a conversation with Trevor about this design and what those currently designing their backyards might learn from it.
What was the family's goal with this pool? How did this influence the design?
Trevor Brents: This family wanted a full backyard design concept that featured the ambiance of walking out the patio doors into a resort style pool.
The pergola rain sheer and the sunken bar were the big features that made this possible. Together, they create the feeling that you're walking into the pool area of a 5-star resort. I believe we created something truly unique with this design.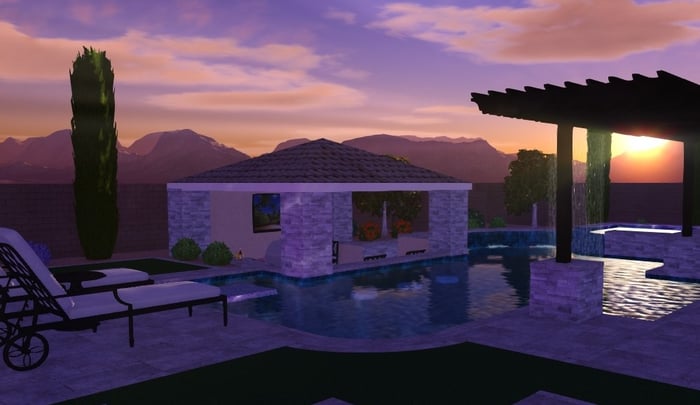 This pool almost looks like five pools in one. Can you talk about the different areas and how you thought about the design for each?
When we originally met and discussed the pool design the home owner had a different idea in mind. It would have been a great looking pool but it lacked the flare and uniqueness of this design. I love when the customer is willing to let us design something to wow them.
As I put this design together I wanted to create some radius parts of the pool that made for elevations in the design. Each station provides the feeling of being in separate "rooms".
We have the sitting area with the table for talking and enjoying a beverage. We have the awesome Baja step entry to lounge and soak in the sun. We have the curved deep end with the water sheers creating an almost hidden cave feel for the swimmer. And, to enjoy the Arizona fall and winter nights gazing at the clear skies, we have the beautiful raised spa (notice the custom tile work on the spillway).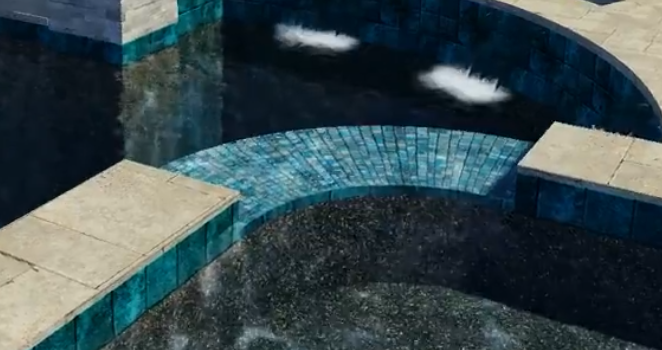 What inspiration can people take from this?
This pool is going to appeal to the modern design appetite. I think people will see that contemporary designed pools can have some curves and custom features rather than only having straight lines like most.
People will see how incorporating the feel of the yard and the overall concept will allow them to truly create a custom pool to enjoy for years to come.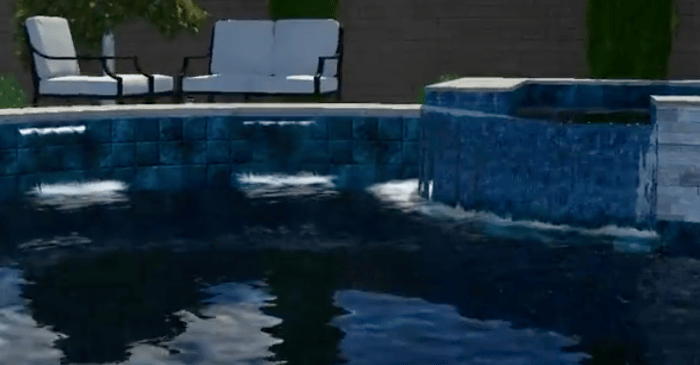 Do you have any favorite elements from this backyard? What are they and why?
I love the raised curved water wall connecting to the spa and the sunken bar. This, along with the rain sheer and custom fire pit in the back, make this design a fully usable backyard experience.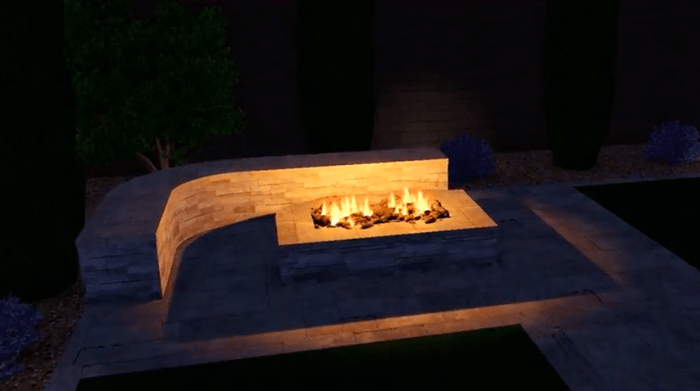 Was there anything new about this design that you had never done before? Can you tell us about it?
The client was great to work with and open to a lot of innovative ideas. I have never designed a Baja shelf with a custom pergola rain sheer. This is going to be a fun pool for sure!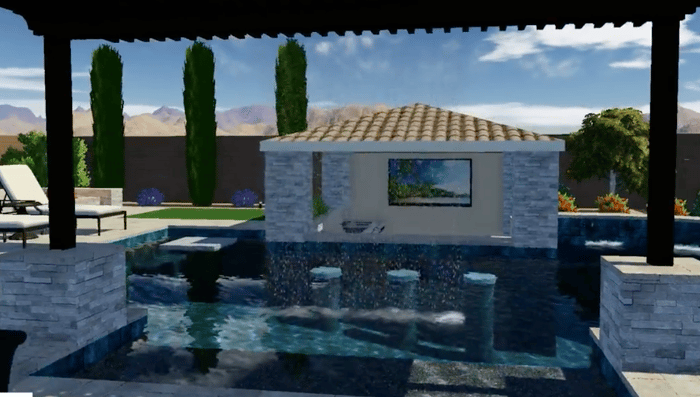 There are a lot of lighting elements and water features in this design. Can you talk about some of these features and how they change the environment, both visually and audibly?
When I meet with my customers I often tell them that creating design depth is important. Being able to elevate objects and create water features at different heights allows for the whole finished product to really come alive.
This design allows for a variety of settings. For example, the spa can be used by itself to create a quiet, relaxing mood.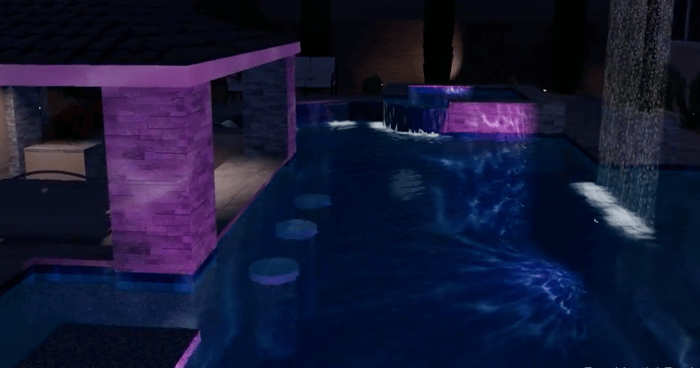 Or you can be grilling at the bar and watching the game and have the rain sheer on for that visual appeal.
Or you can light the fire pit and have all the colored LED pool and spa lights running to create that beautiful backyard everyone will want to look at.
This design provides countless options for setting the mood.
What can people starting the pool design process learn from this family?
This customer was really fun to work with. I would love to encourage our customers to enjoy the pool design process allowing yourself to be flexible. Remember, we're creating long lasting dreams and this should be fun for everyone!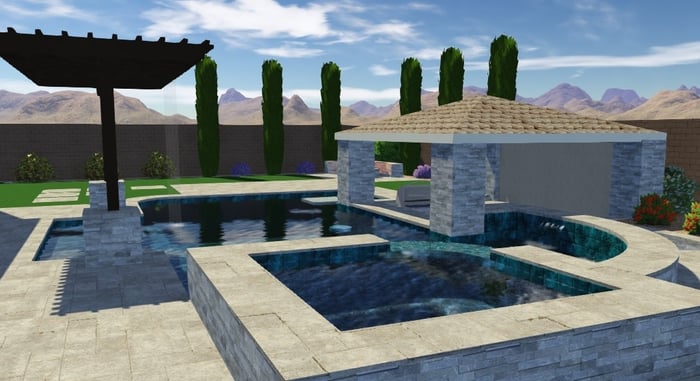 INTERESTED IN TALKING WITH Trevor OR ANOTHER INCREDIBLE POOL DESIGNER?
We offer free, no-strings-attached design consultations and would love to help you design the swimming pool and backyard of your dreams! If you'd like to chat, you can fill out this form, give us a call at 480.967.9467, or visit any one of our Phoenix valley and Tucson Metro area showrooms!
LOOKING FOR MORE POOL DESIGNS? CHECK OUT
OUR GALLERIES!