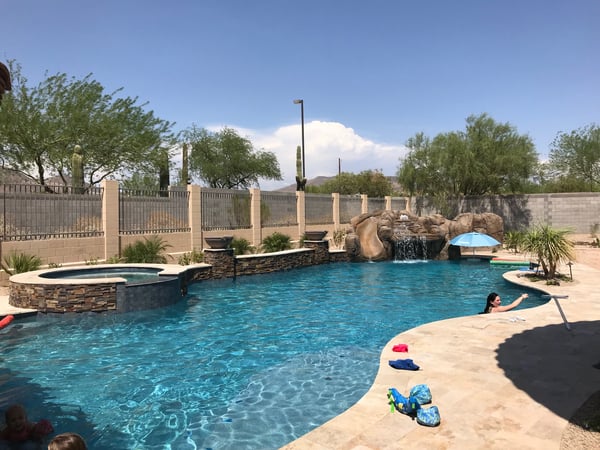 Above: one of Karin's recently completed designs.
Karin Tierney, swimming pool designer extraordinaire, is back to answers some questions that many people are currently asking.
IT'S TOO LATE TO USE MY POOL THIS YEAR, IS IT WORTH BEGINNING TO BUILD NOW?
Karin: It's absolutely worth it to build now as we've been seeing the hard costs of building a pool rise steadily and we're expecting them to continue to climb. It's also a slower time of year so the construction of your swimming pool could likely take less time.
Once we get into January, there's a big rush of everyone who wants to have their pools ready for spring time, especially Memorial Day weekend and 4th of July. It's good to get ahead of the rush!

Above: One of Karin's recent swimming pool designs.
Is it cheaper to buy this time of year versus in the winter?
Costs of products like shotcrete and steel are rising. Not to mention increasing prices in equipment. We'll run various promotions throughout the year and the current offer is actually great. We run promotions in the winter as well, but we never know exactly what they'll be.

Above: One of Karin's recent backyard transformations.

It's so hot here in Arizona, is it really worth adding a pool heater?
A heat pump makes sense for a lot of Arizona families. A heat pump will extend your swim season by approximately four months month - two months before and after the traditional swim season.
One lesser-known benefit of our heat pumps is that they are also able to chill your pool. I'm sure many of our customers are wishing they had a heat/chill pump right now as the pools can be much more refreshing with this option.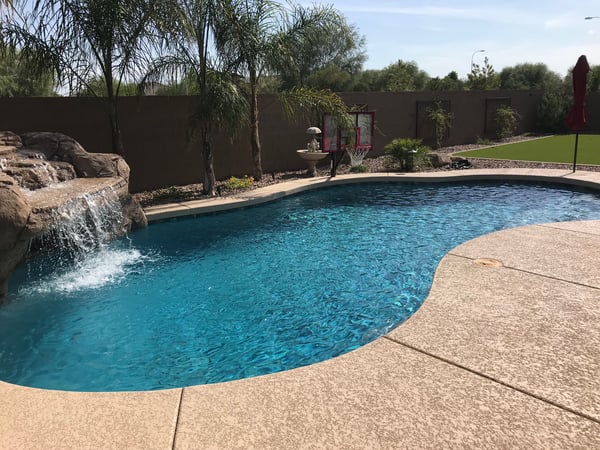 Above: Another beautiful project designed by Karin.
Below: One recent 2018 geometric swimming pool design completed by Presidential Pools in Gilbert, AZ.

What are the top trends you've seen this summer?
The biggest trend is the geometric, contemporary style of swimming pool. Greys and silvers are a huge change in the industry. The interiors are also going bright blue so the pool is refreshing and brilliant.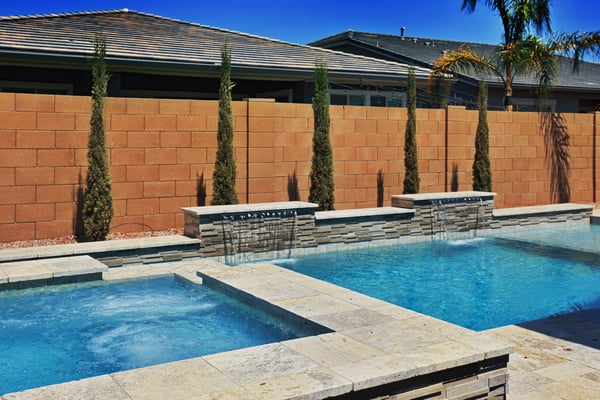 Above: A modern, geometric design.
Interested in talking with Karin or another incredible pool designer?
We offer complimentary design consultations and would love to help you design the swimming pool and backyard of your dreams! If you'd like to chat, you can fill out this form, give us a call at 480.967.9467, or visit any one of our Phoenix valley and Tucson Metro area showrooms!
LOOKING FOR MORE POOL DESIGNS? CHECK OUT
OUR GALLERIES!