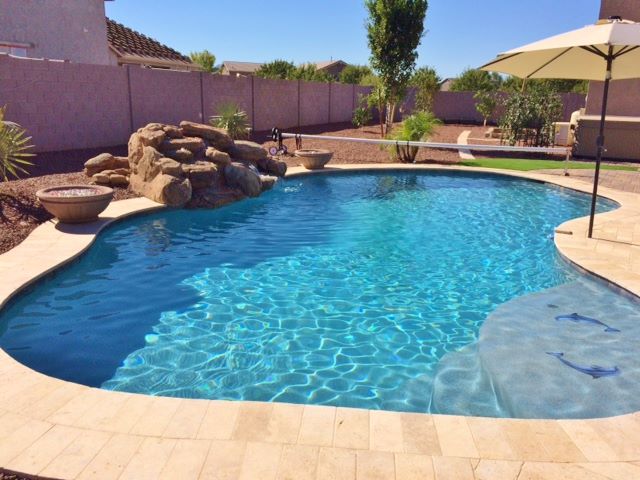 Without experience, finding the right pool builder can be a difficult process. Luckily, there are some things you can consider before buying to make sure your backyard pool is a quality investment. We put together four tips for first time pool buyers to consider before making a purchase.
WHAT DO YOU WANT IN A BACKYARD POOL?
Customers interested in purchasing a backyard pool generally have a few specific reasons for doing so. If you are not in that position, try to outline your pool building goals early in the process.
Do you want a large pool for the whole family, or a smaller pool for personal use? Have you thought about what kind of features—if any—you want to include? Are you going to use your pool for the health benefits, or leisure activities and parties? Do you want to include a spa and patio in your backyard design?
Once you have begun to brainstorm about why you are getting a backyard pool, you can start looking into what company would be best to work with.
WHAT DO YOU WANT IN A POOL COMPANY?
Every pool company has its own expertise and advantages. Researching what pool companies align with you and your family's building goals is an essential part of the process. Keep in mind that most of the well-known builders are flexible enough to adjust to your backyard objectives. Still, general research about each company's strengths and weaknesses can never hurt.
Some companies put an emphasis on quality, while others focus on getting you a cheaper price. Do you want a custom pool or pre-designed one? When do you want the pool ready for use? You can find this information by going on websites or contacting the company directly.
TALK TO PEOPLE WHO HAVE BEEN IN YOUR SHOES
An easy way to overcome the obstacles facing a first time pool buyer is to learn from pool owners who have already gone through the process. Whether this is online reviews from past customers, reviews from accredited sources, or just a local neighbor, anyone who has gone through the process before can provide beneficial advice. It would probably be best to take information from multiple sources!
DO YOUR FINANCIAL RESEARCH AND SET EXPECTATIONS
As we've mentioned, pool companies vary in the pricing of their backyard pools. Different companies have different features and pricing options. The same is true for the pool financing. It would be wise to do some preliminary research into the costs of the backyard pool you plan on building!