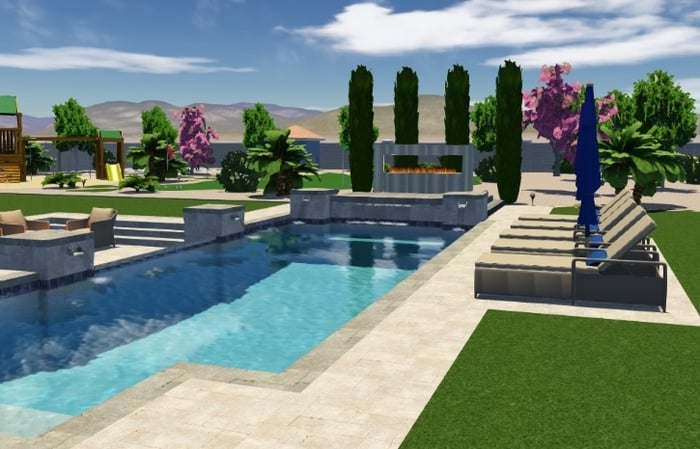 Karin Tierney is a long-time designer at Presidential Pools, Spas & Patio and has helped hundreds of Arizona families transform their backyards. Here she talks about holiday pool building, common mistakes people make when designing their pools, and much more!
In Arizona, do many people build pools for their families for the holidays?
Karin: Several of my clients have purchased pools as a gift for the holidays. I've had fun with this by creating a basket of pool supplies, a fun sign that says, "Life is better by my Presidential Pool!" and a laminated printout of their 3D design. These make great wrapped gifts to be opened on your special holiday day.
I've even had customers do this as a birthday gifts!
Giving a pool for a gift at the holidays in Arizona is so exciting because it's the ultimate gift that keeps on giving. You and your family will use your pool for many years to come. It's an extension of your home and will create treasured family memories.
When is the best time for someone to start working with their pool builder?
You can never really start too early on designing your dream backyard. Pricing can be locked in with a deposit and changes can always be made prior to permitting. Therefore you can take advantage of great pricing promotions and still pick your start date.
The holidays are actually a great time to shop, lock in end of the year promos and be ahead of those who wait until after the 1st of the year to make a decision. Most people want to have their pool completed for spring break, Memorial Day, and the 4th of July. Customers can get ahead of the curve (and others in the Valley!) by shopping through the holidays.

What are the most common mistakes people make when designing a pool?
To meet a budget, many people are tempted to cut corners. The most common is by reducing the amount of decking. As an ex-registered nurse, I'm all about safety, especially when it comes to kids. It's important to make sure there is enough decking so that kids can run around without being forced to run too close to the pool.
I also always tell my customers that their money is well-spent on a quality interior, ample decking and a quality in-floor cleaning system like the Q360.

What are the most common mistakes people make when choosing a pool builder?
The most common mistake people make when choosing a pool builder is shopping the "cheapest" guy out there. Since I started working at Presidential Pools over 12 years ago I've seen many pool companies come and go.
I can't tell you how many times we've helped people complete their backyard because another builder left them with a big ugly dirt hole in their backyard. That's right, these builders actually abandon projects in the middle of them. It's important to buy from a stable, reputable company who will not only be there for you to complete your backyard but also to service and warranty your pool for years to come!
Why did you decide to spend your career designing pools with Presidential Pools, Spas & Patio?
Swimming pools were always a huge part of my life. Growing up, my dad owned a pool company back east and I swam competitively from third grade all the way through college. So the thought of designing someone's dream pool and backyard was very intriguing.
Designing for Presidential Pools also meant moving to Arizona from the east coast. Being a lover of sun and warm weather, that move was an easy sell! My family was just as excited and we made the move across country. We're extremely happy we did!
I also grew up best friends with the wife of Presidential Pool's President, James. For years I came out to visit and watched the company grow by leaps and bounds. As they grew I always noticed how much they cared about their customers. Seeing that focus on building the best pool and treating the customer right just made me feel good about joining the team.
Want to learn more? Schedule a free, no-strings-attached design consultation with Karin by calling 480-967-9467 or filling out this form.