We live in the desert - of course you want to build a pool! But as a permanent part of your home and as one of the larger purchases you will make in your life, it is important to thoroughly evaluate your goals, budget, and environment before breaking ground.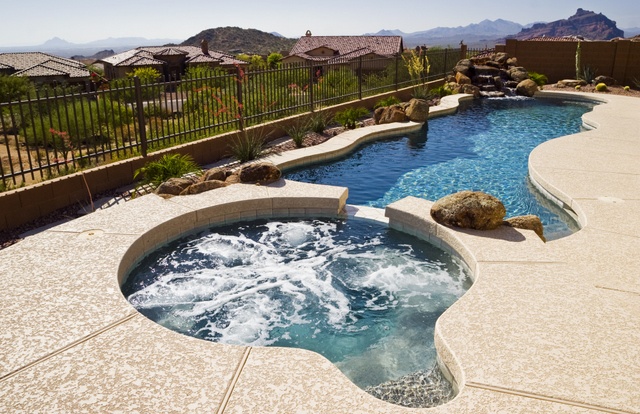 Here are 9 questions to discuss as a family:
1. What will be the main purpose of our pool?
Common answers include relaxation, fun for the family (or grandkids that come to visit), and fitness. Knowing the purpose of your pool can help you to prioritize pool depth, feature options, and more.
2. What is our budget?
Building a pool can cost $20,000 to well over $100,000. So much depends on your pool design choices and features. If you know your budget, your pool consultant can better guide you through options and make sure you stay within your comfort zone.
If you need help determining a reasonable budget or evaluating pool financing options, please contact our finance team.
3. Who will use our pool?
Will young children be around the pool? If so, safety features will need to be a priority. Do you often have large groups at you home? That may influence steps, seating, and more.
4. How will we address pool maintenance needs?
Swimming pools do require regular maintenance. Depending on your lifestyle and budget, you may choose to personally take charge, outsource or a combination. Knowing how you plan to manage maintenance can help you to prioritize when selecting cleaning systems, pool setting technology, and more. It can also influence your actual pool design, as some pool shapes require more maintenance than others.
Living in the Phoenix or Tucson markets, those who choose to outsource have many pool maintenance company options. Feel free to ask your pool design consultant for suggestions.
5. What elements of our backyard environment will need to be addressed in order for us to enjoy our pool?
You will be spending a lot more time in your backyard after building a pool. If you avoid spending time there now, consider why. Do you need more shade? Is there a lot of noise? Do you have a wind issue? These are all things that can be addressed as part of the pool deck and landscaping design.
There may also be specific landscape challenges to address in excavating the land. Knowing these upfront can help with budget accuracy. A Presidential Pools consultant will be happy to meet you at your home to evaluate these types of needs if you need help.
6. During what times of year will we use our pool?
Families who will only use their pools during the hot months will have different pool heater needs than those who only live in Arizona during the cooler parts of the year. Those who will use their pool frequently during those 100+ degree days we have in June and July in Arizona may also want to consider cooling options (i.e. sprayers, fountains).
7. What pool designs get you excited?
You should love your pool! Spend time looking through our pool galleries, browsing Pinterest, and thinking about pools you've seen in your neighborhood or at friends' homes. Start making a list of what you love, what you like, and what you dislike. Not everything you love will be appropriate for your backyard, but our design consultants can be quite creative in adapting! Your list will be very helpful to your design consultant in attempting to create a custom pool design you will love from the very beginning.
Presidential Pools, Spas & Patio also has the largest demonstrative pool park in Arizona at our Gilbert office to aid in this effort. You are welcome to come and tour whenever you would like! You can see hundreds of options and life-size pools in person, while having the pool design consultant explain the specifics of what you are seeing.
8. What are your concerns about swimming pool construction or ownership?
We understand that this is a big decision, and do everything we can to make joining the Presidential Family solve any concerns. We offer many complimentary resources to our customers, including an online portal for tracking the construction process and Pool School for owners.
If you communicate your concerns to your pool design consultant, he or she should be able to provide access to the right resource.
9. What will be the "wow" factor for your family in building a pool?
Each family has different priorities when building a pool. For some, getting a great value, strong warranty and service support on a simple rectangular pool will leave them saying, "Wow, that was a great experience, and now we have the perfect backyard for our family." For others, the "wow" may involve something far bigger - a cascading waterfall with a custom fire pit beneath, perhaps?
Whether a successful build will be based on the value for your budget or the unique nature of the finished project - or both, Presidential Pools, Spas & Patio would be honored to work with you. Quality craftsmanship is always a given with us. And we take great pride in having served tens of thousands of residents throughout the Phoenix and Tucson regions with great results.
If you would like to start discussions with a pool design consultant, we encourage you to contact us. We're more than happy to answer any questions you may have.
---
Presidential Pools, Spas & Patio is Arizona's largest pool builder, providing custom pool design, custom spa design, pool construction, and backyard hardscaping services to the Phoenix metro area, including the Scottsdale, Surprise, Goodyear and Gilbert areas, and the Tucson metro area. Our design consultants can also assist you in selecting hot tubs, swim spas, and patio furniture to complete your backyard.