When you make the decision to build a pool in Scottsdale, it should reflect your style, personality and, of course, fit within your budget. Planning and activation of a plan is often the key to ensuring this process goes off without a hitch. It's due to this fact that many homeowners work closely with their pool contractor in Scottsdale and all Phoenix Valley suburbs to create a checklist of items to follow.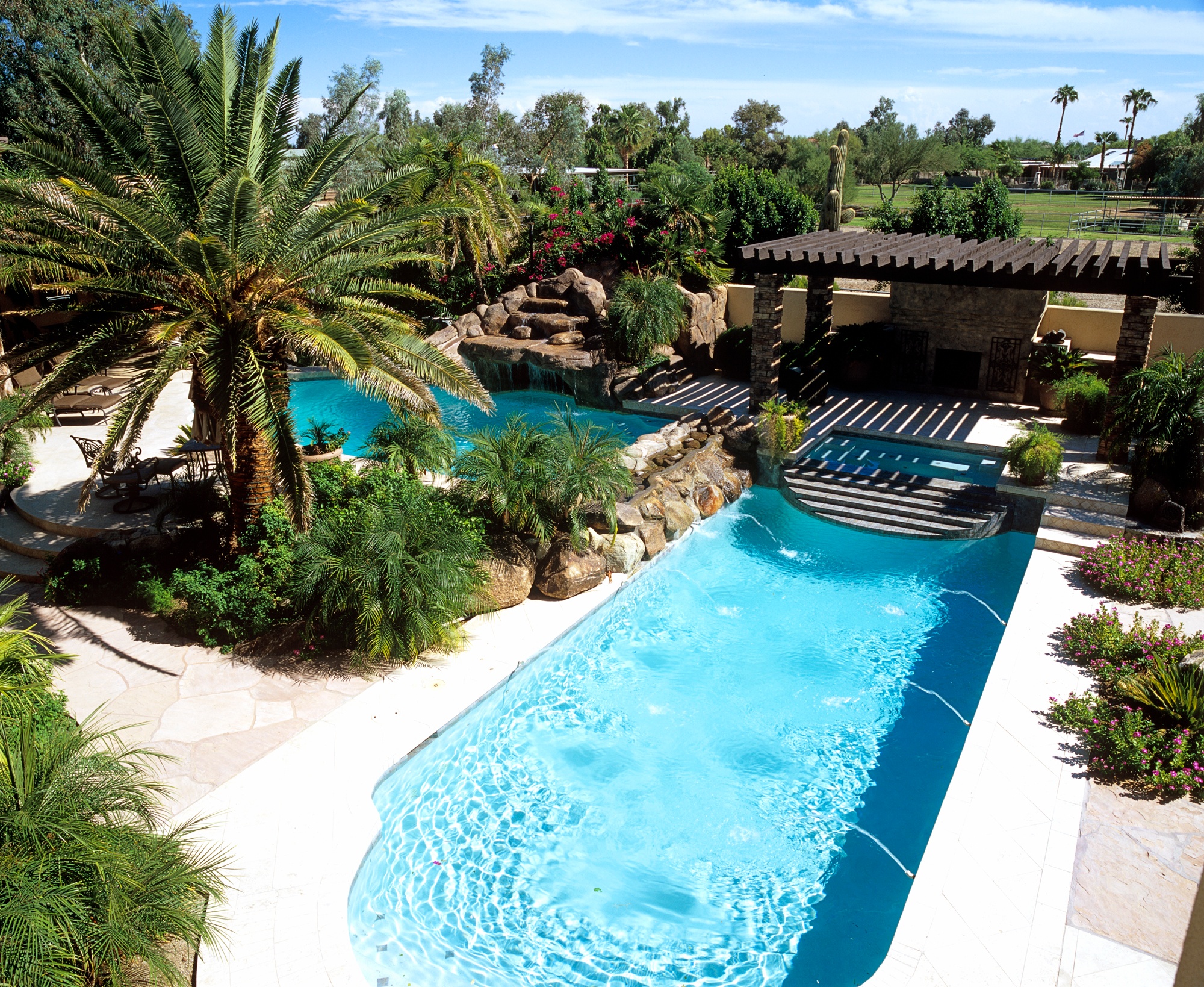 Posted below are items that you should consider when preparing to buy a pool in Arizona.
Sit Down and Interview Any Pool Designer in Scottsdale
Before you sign on the dotted line or write a check for a down payment, you should always take time to interview a pool designer that you intend to hire. During an initial consultation, it's important to review a few specific items including:
Discuss your backyard layout. Design consultants will work within the confines of your backyard, any local ordinances or HOA restrictions.
Discuss financing and payment options.
Ask them about the construction process, permits required to obtain and warranties on pool construction.
Talk with the contractor about materials used in the pool construction process.
Ask about the time frame of construction – from start to finish.
Clarify any questions you have and don't be afraid to be blunt. The best pool contractors in Scottsdale are exceptional at communication and can provide detailed answers to the most difficult to ask questions.
Discuss the Design Process for a Custom Pool in Scottsdale
Once you've agreed on to retain the services of a professional pool designer in Scottsdale, the fun of designing your pool begins. You should be assigned a design consultant that will work with you on creating a 3D rendering of your pool design and any accompanying landscaping additions you plan to make. During the design phase, make sure you talk to your design consultant about the following items:
What type of materials will enhance the overall look and feel of your pool?
What is the process for excavation and wall construction?
What colors are best suited to match your existing landscaping or your home's exterior features? Also, what type of pool surface, liner, gunite or concrete will your pool surface is used?
Are there certain design restrictions that need to be considered in regards to plumbing or electrical for your pool?
What type of tile or extra water / fire features would you like to add to your pools design?
What type of water system (salt or chlorinated) is best suited for your particular needs?
Construction Phase Checklist
After you have a solid plan for the design and pre-construction phase for your pool, the final step is planning the construction and development of your pool and any additional landscaping upgrades you'll make to enhance your backyard. Before you begin construction, make sure the following items have been completed to ensure you and your family is fully protected:
Are all construction permits pulled and do you have copies of these permits at your home?
Are you completely comfortable with the construction process, from excavation to forming walls, and installing plumbing and electrical?
Do you have access to online updates on the construction process that you can easily review?
Who is your point of contact with the pool designer and construction company?
Do you have a clear understanding of any liability or responsibilities that you have during this construction phase?
The best pool companies in Scottsdale strive to earn your business through clear and consistent communication, are dedicated to staying on time and on budget, and have a proven record in styling the ideal backyard for you and your family.
The team at Presidential Pools has worked with tens of thousands of customers just like you in the Phoenix Valley over the years. Our dedicated project managers are available to address any concern you have on-site. Most important, after installation, we're only a phone call away. If you're ready to create your own customized pool buying checklist, contact our professional team today.