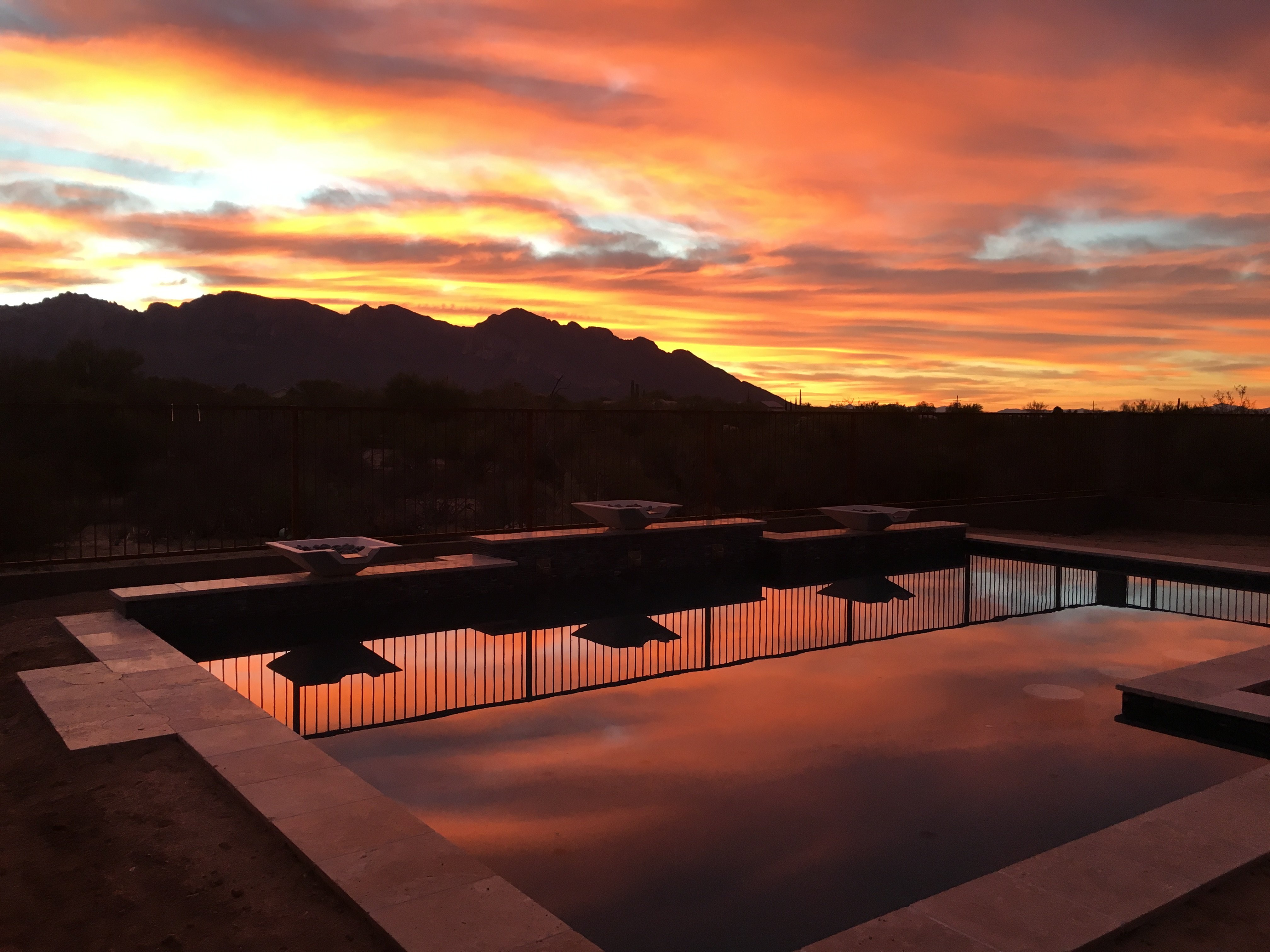 When Jason Todd moved to Arizona from the Midwest, he decided to build a pool with Presidential Pools, Spas & Patio. The experience was so great that he decided to design pools for us!
This interview talks about Jason's unique pool design, his approach to working with customers, and the special aspects of designing swimming pools for Tucson.
Enjoy!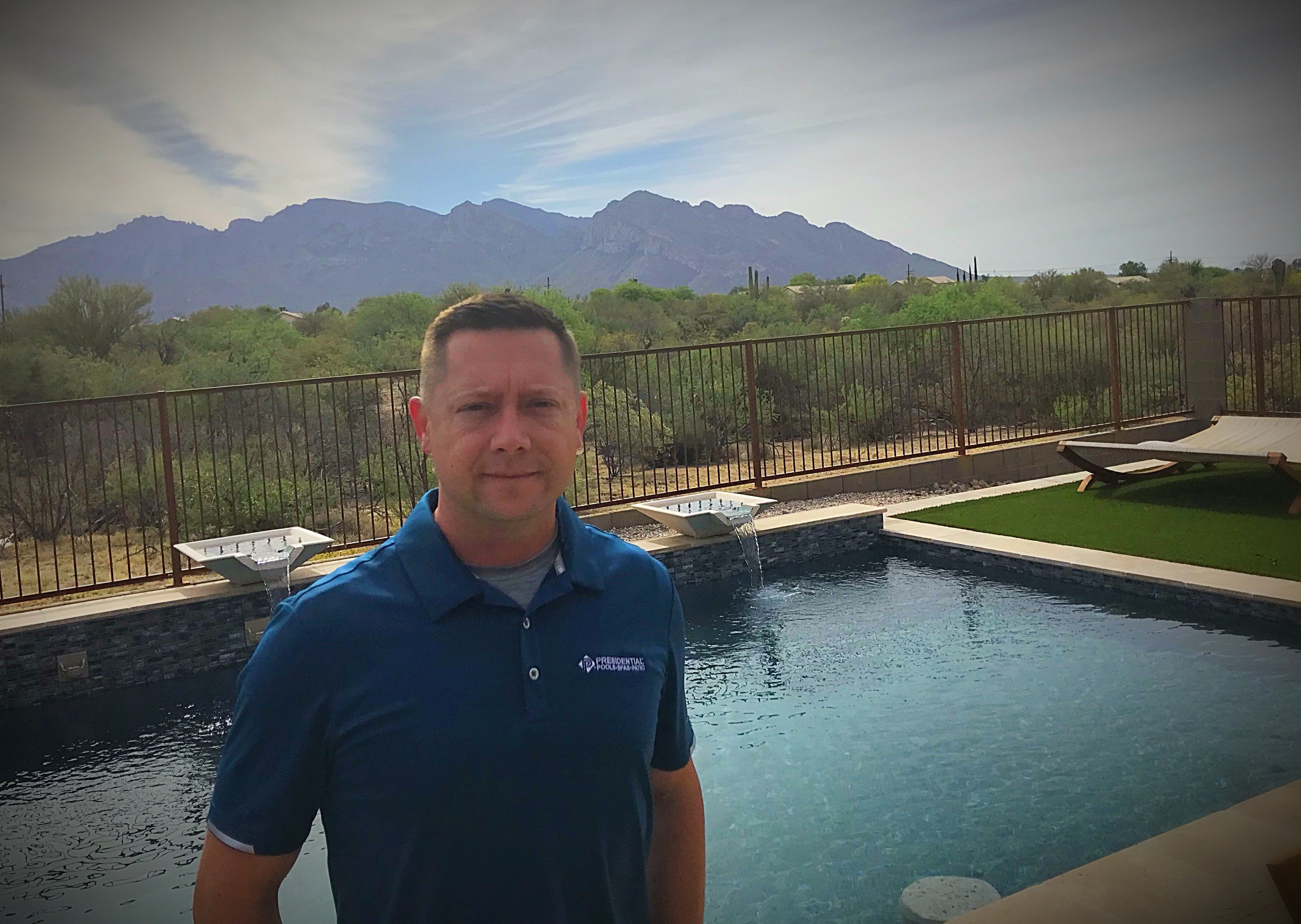 How did you get started as a designer at Presidential Pools, Spas & Patio?
My wife and I moved to Tucson from Illinois in 2016 and had decided to build a home. Presidential Pools was recommended to us by our home builder because of their quality and reputation.
We had set up a time to go in and meet with one of their designers, Carlo, to talk about the pool. He was great to work with and extremely knowledgeable.
I have a degree in Horticulture Management and Residential Landscape Design and have been working in residential design for more than 10 years, so I was able to collaborate with Carlo on our backyard while doing most of the design myself.
Carlo liked what I did and thought I would be a good fit with the Presidential family. He said, "Why don't you just come hang out with me and work here?"
It was easy for me to get excited about working for a company that I believed in and trusted. I loved what Presidential offered from a client standpoint with their warranties, top of the line products, customization of their pools, the people and the innovative technology they offered.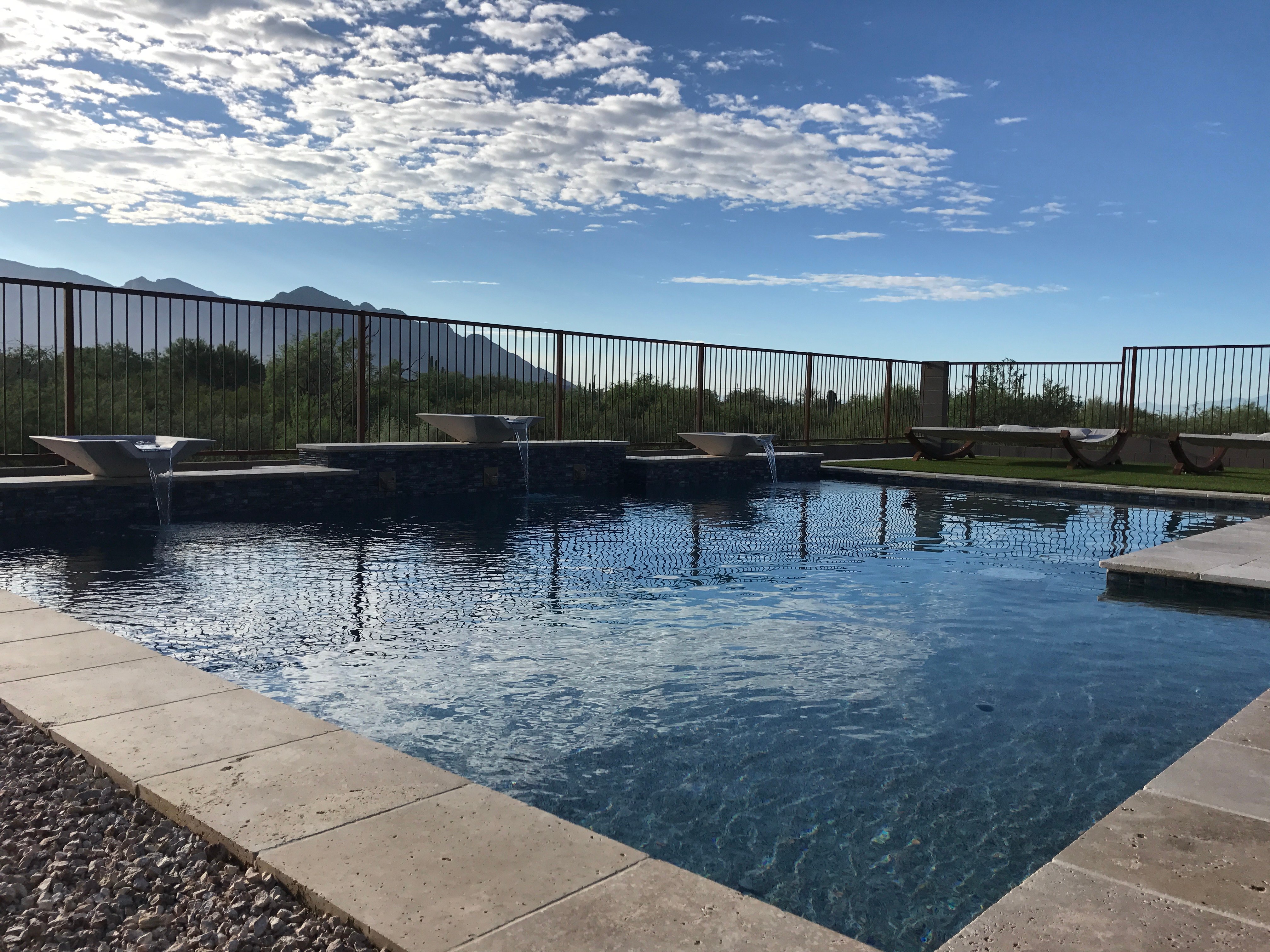 What have you learned about Presidential Pools, Spas & Patio?
Having the experience of incorporating pools in many of my designs and working in the landscape field back home, I knew what I was looking for in company.
I wanted a company that had people in place that were knowledgeable and that had products and finishes that looked great and would make my pool not only look good but function so I could enjoy my pool
And I wanted a company that had longevity and could stand behind what they say. Having been at the top for over two decades, I knew Presidential Pools would be there for me long term. Anyone can put a warranty on a piece of paper but having the track record and staying power gives a client comfort and trust.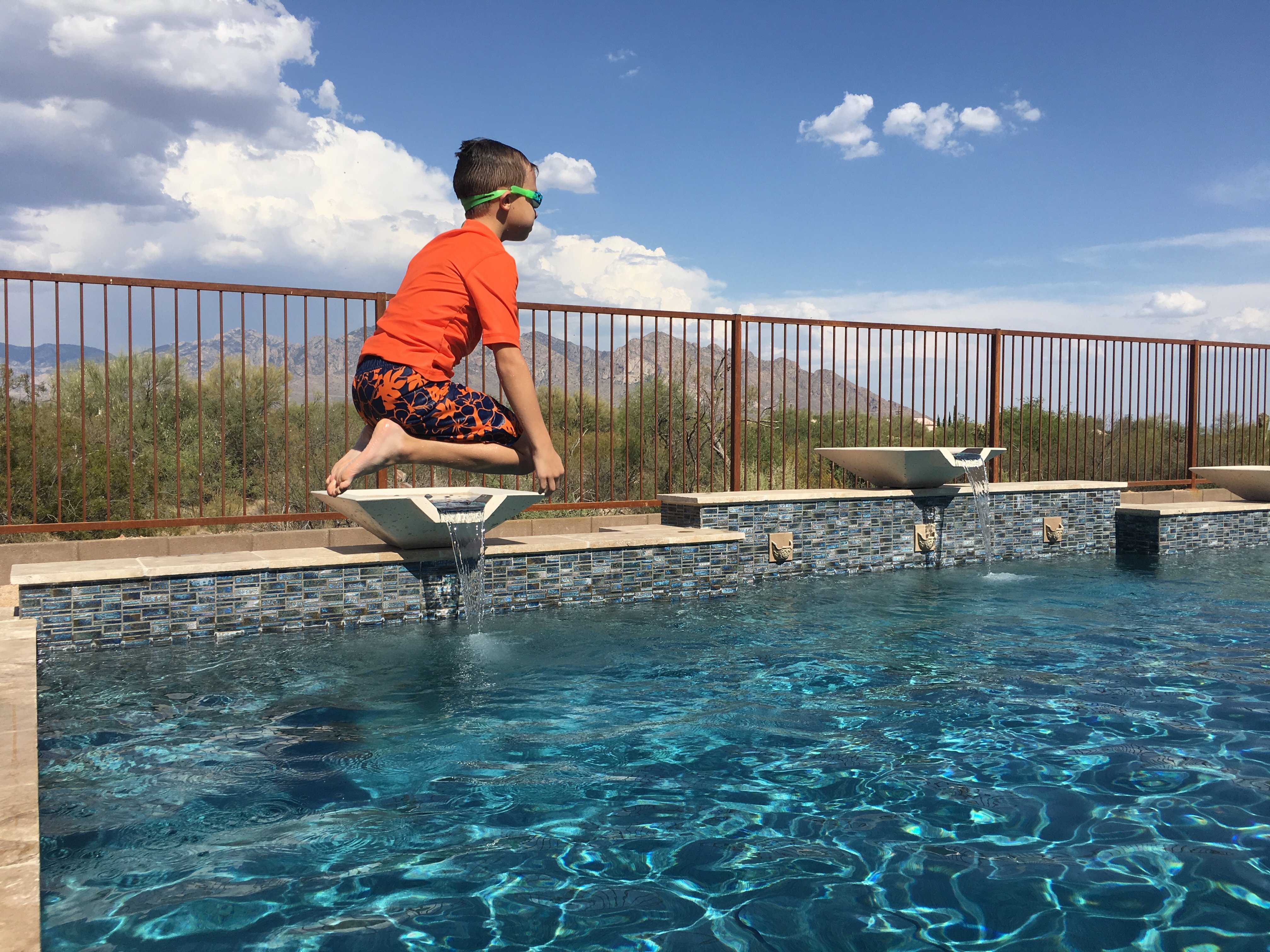 What do you love most about having a pool in Tucson?
Living in Tucson is great. Having a pool in Tucson is amazing! It does get warm here in Tucson but when you can spend the day pool side with family and friends, memories are created.
We have a son who will be turning 9 soon and to have your very own family pool right outside your door is incredible. At a drop of a hat we can just put our swimsuits on and escape. We love throwing the ball around with our son, taking in the great views form our lagoon or having conversations with our friends while sitting on our barstools we have inside the pool.
Having three wok pot water features gives us a tranquil, private retreat we enjoy all year round. Having a really amazing pool like we do in our backyard is the icing on the cake!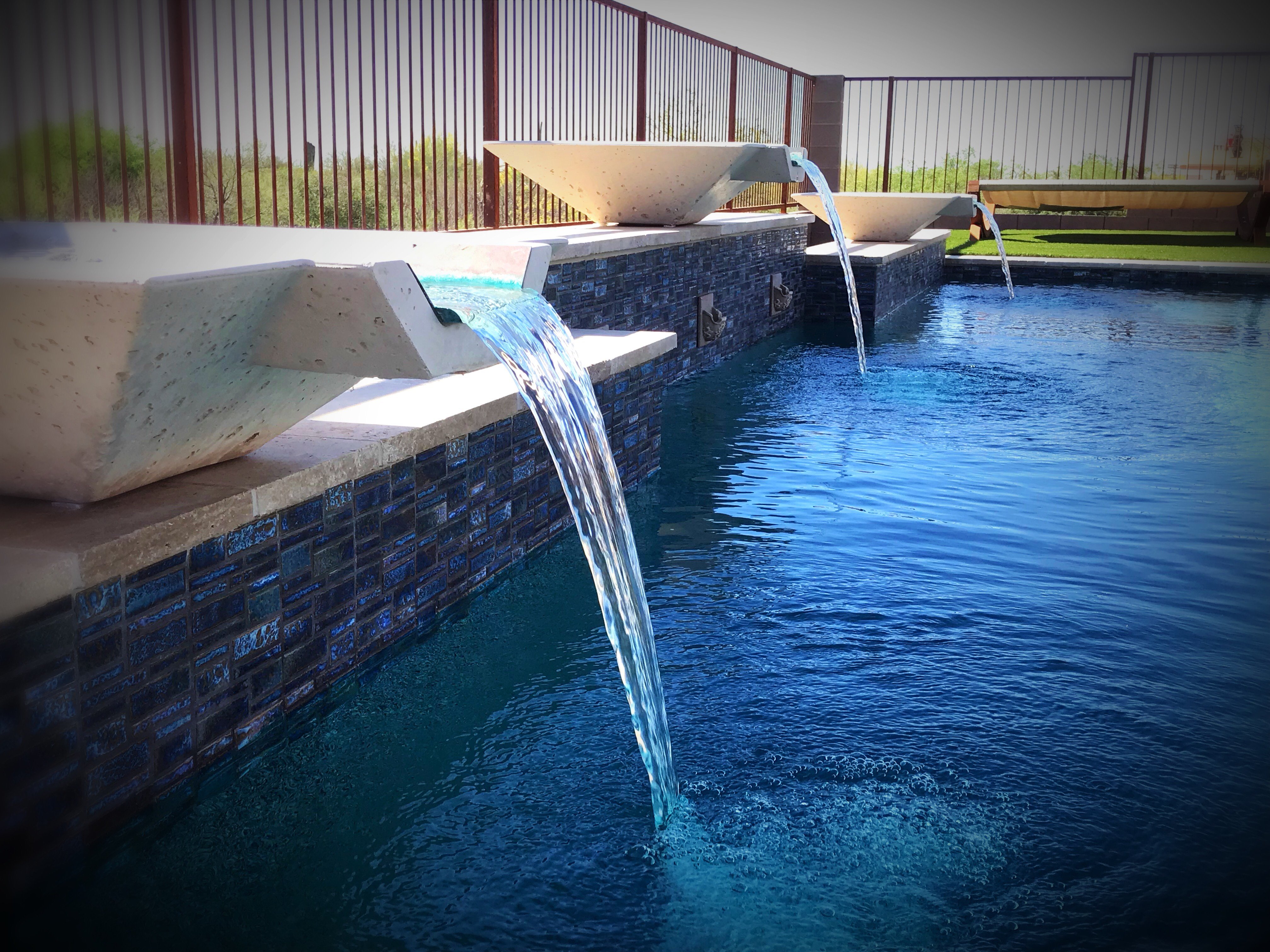 What is different about designing pools in Tucson?
Doing pool design in Tucson is great. Not only do you have amazing vistas that can help enhance the project, you have great people to work with who are excited about a pool. I have been blessed to work with people that are from Tucson originally and a lot who have moved here from other parts of the country.
When you have clients that are passionate about putting a pool into their back yard, as a designer it really pumps you up. And with a lot of the residential lots we work with, doing a design and comprehensive plan correctly can really transform a client's residence into a gorgeous escape for them and their family.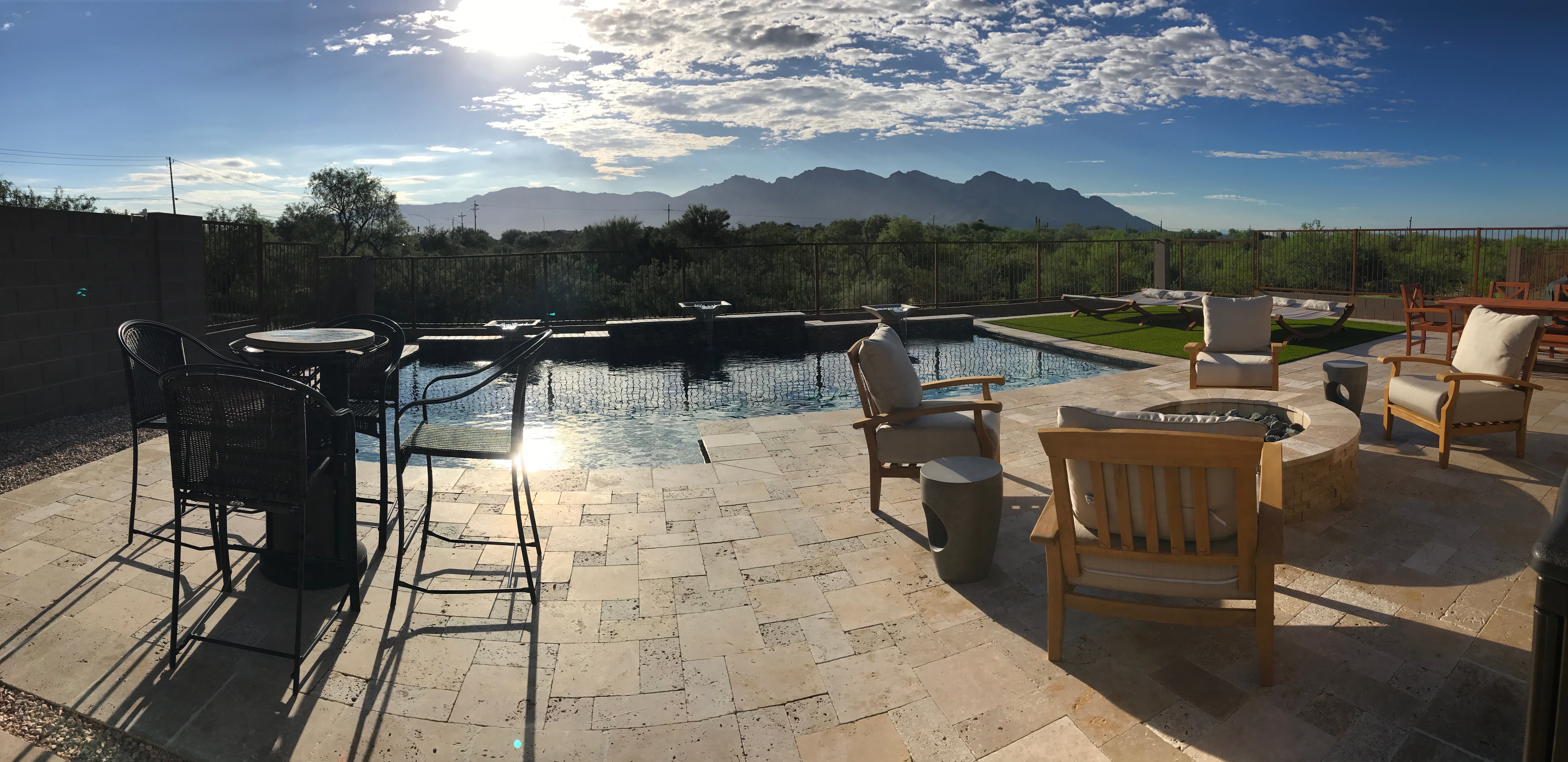 What is your favorite feature of your pool and backyard?
It really is hard to narrow down my favorite feature in my pool. We have so many great things.
Aesthetically, the pool just looks great. It isn't over the top, yet it looks and feels like I'm at a resort 24/7.
The wok pot water features give us the perfect balance of peaceful sound and elegant focal point we can see from inside the house and around our patio.
From a functional side, there are so many features that make our pool amazing. The Blue Square Q360 in-floor cleaning system allows us to enjoy our pool and not have to constantly work on our pool. It keeps our pool so clean that it makes me look like I really work hard at maintaining my pool.
The automated system from Pentair that allows me to work my water features, my in-floor cleaning system, my LED lights, and everything else from an app on my phone or tablet. It's beyond incredible! Having a smart pool in your backyard is crazy!
My customers always think it's the coolest thing when I show them how they can control so many aspects of their pools from their phones. I agree!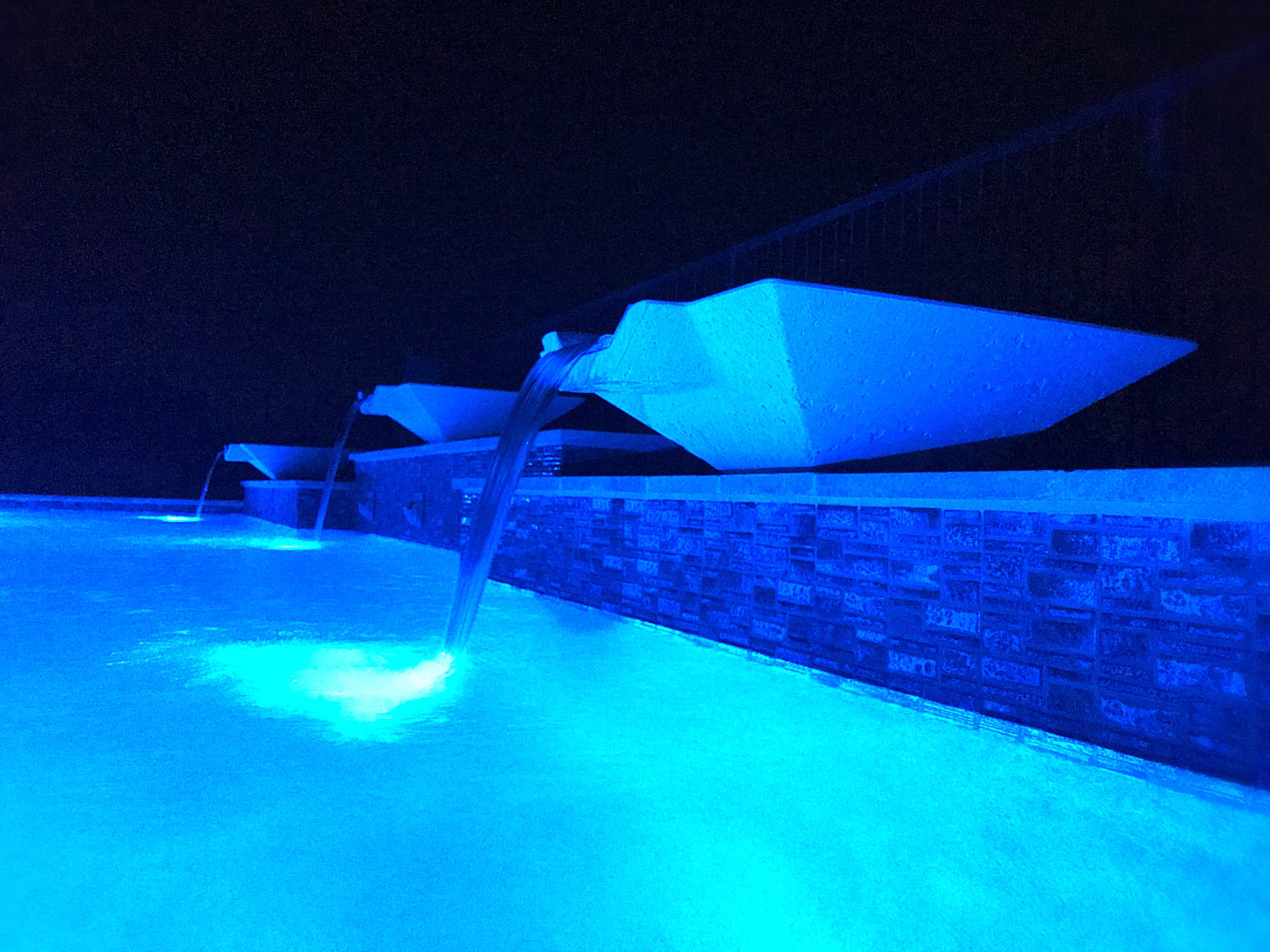 What are your favorite features that are trending in 2018?
You want to create memories in your pool. Creating a pool layout with function and flow that catches the eye and has multiple entertainment destinations within the pool is really helpful for that!
Sunken kitchens and swim up bars are great, but there are other more affordable options to create interesting spaces in your pool. You can use well placed lagoons and benches in specific locations across from patio seating areas, for instance. Built-in spas create great conversation areas as well.
Even without a swim up bar, having bar stools or built-in tables can give clients an outdoor room within their pool that is perfect for hanging out with guests. When you incorporate one or more of these spaces into the project it becomes more than a pool and a true outdoor entertaining feature. Add in a water feature as a focal point with subtle sound and you have an instant retreat.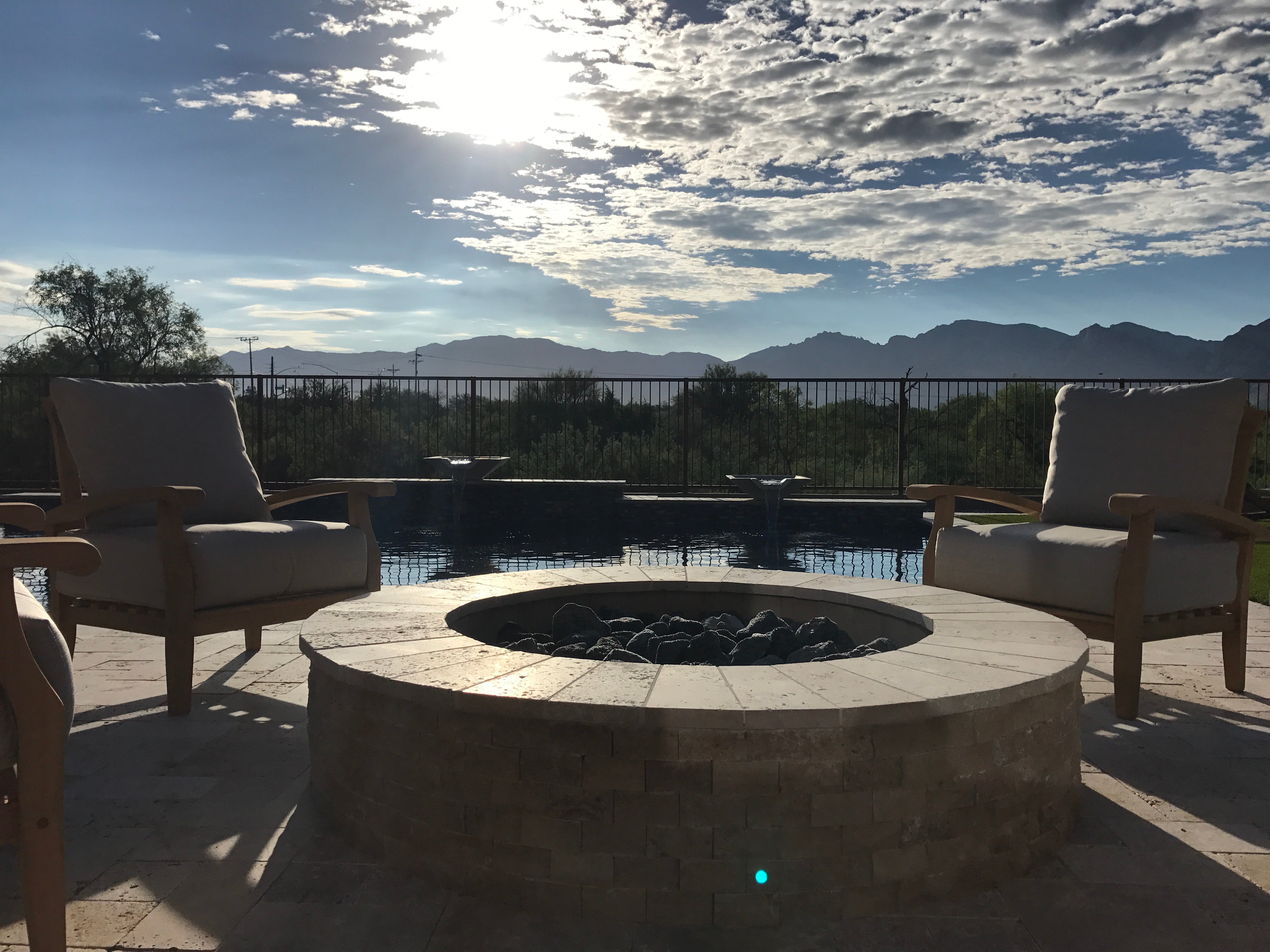 What is the biggest mistake people make when designing a pool?
Clients always have a wish list or a must-have list. Often these lists are too big or too small. Just because your neighbor has this or a family member says you don't need that with your pool doesn't mean they are right.
My advice to all of my clients is ask questions and dream big. I will always be upfront and honest. When you are working with a client, trust and integrity means a lot.
Helping them understand what can work with their back yard, what are good features to have and why, what the pros and cons are regarding specific features, why this element might be better than the one their sister has in her pool, etc. You want to make sure you're making the decision that's right for you. That's why every design is totally custom.
With a pool project, you want to make sure you explore your options. The design phase is just as much about exploring and dreaming as it is finalizing the layout. Get what you want with your pool and make an informed choice!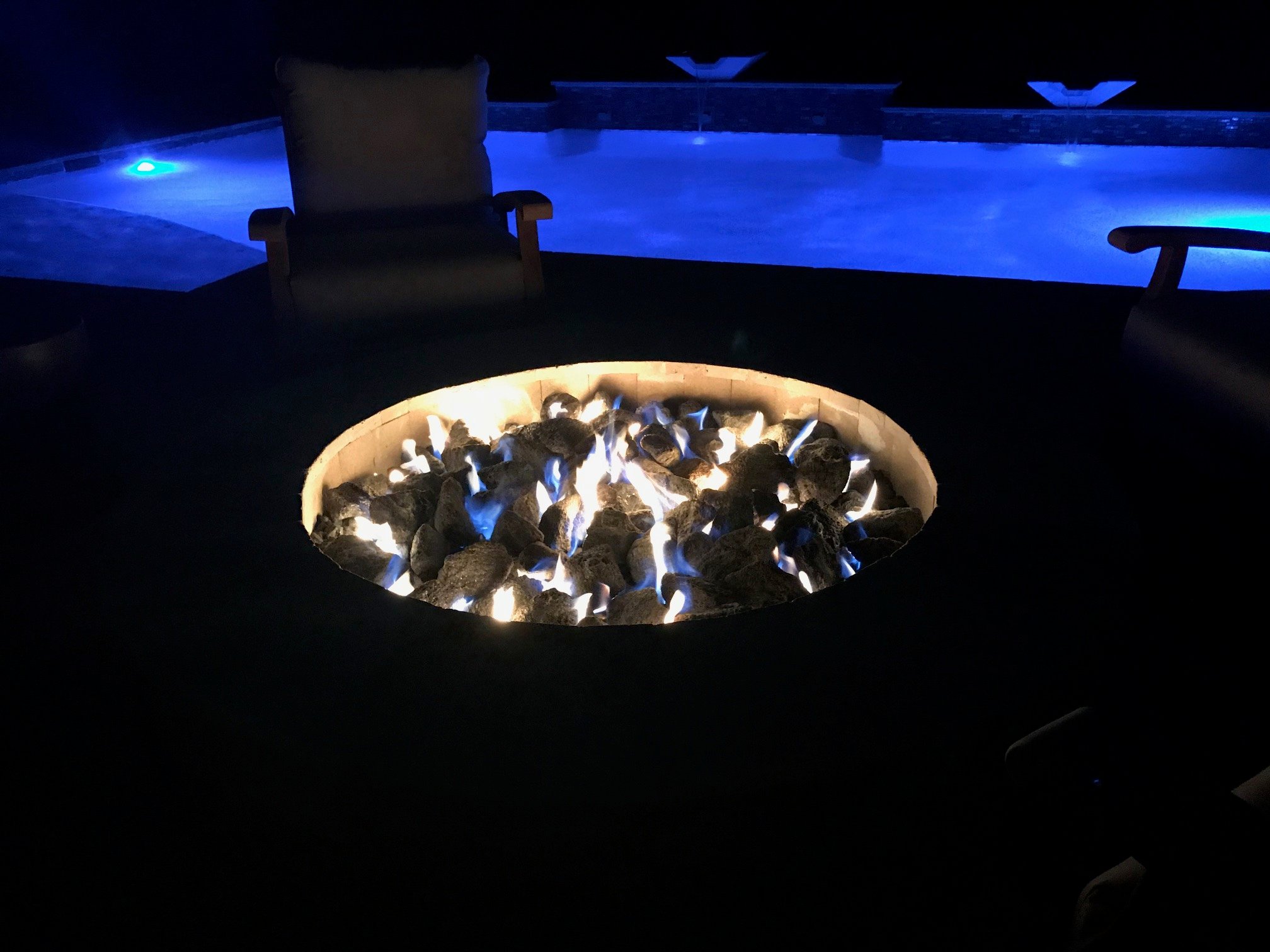 What is the biggest mistake people make when choosing a pool builder?
Price. Price is always a factor. However, some clients get fixated on getting the cheapest pool possible. So much they don't really pay attention to what they are actually getting for their investment. You see "home show special" or "base pool starting at" advertised all the time to catch your attention.
As a potential client, you should really pay attention to what is being sold.
Sometimes, clients will start cutting things out of a design to get to a specific number. We all have limited budgets, so you'll likely need to cut some features you'd like to have, but it's important to remember to pay attention to what you're cutting.
It's worthwhile to get familiar with the actual size that is being proposed and understand the true value of having specific upgrades and features. Presidential Pools stands out amongst most pool builders because we have better products we offer. We also take pride in educating our clients so they can make the most informed decision that best fits their family.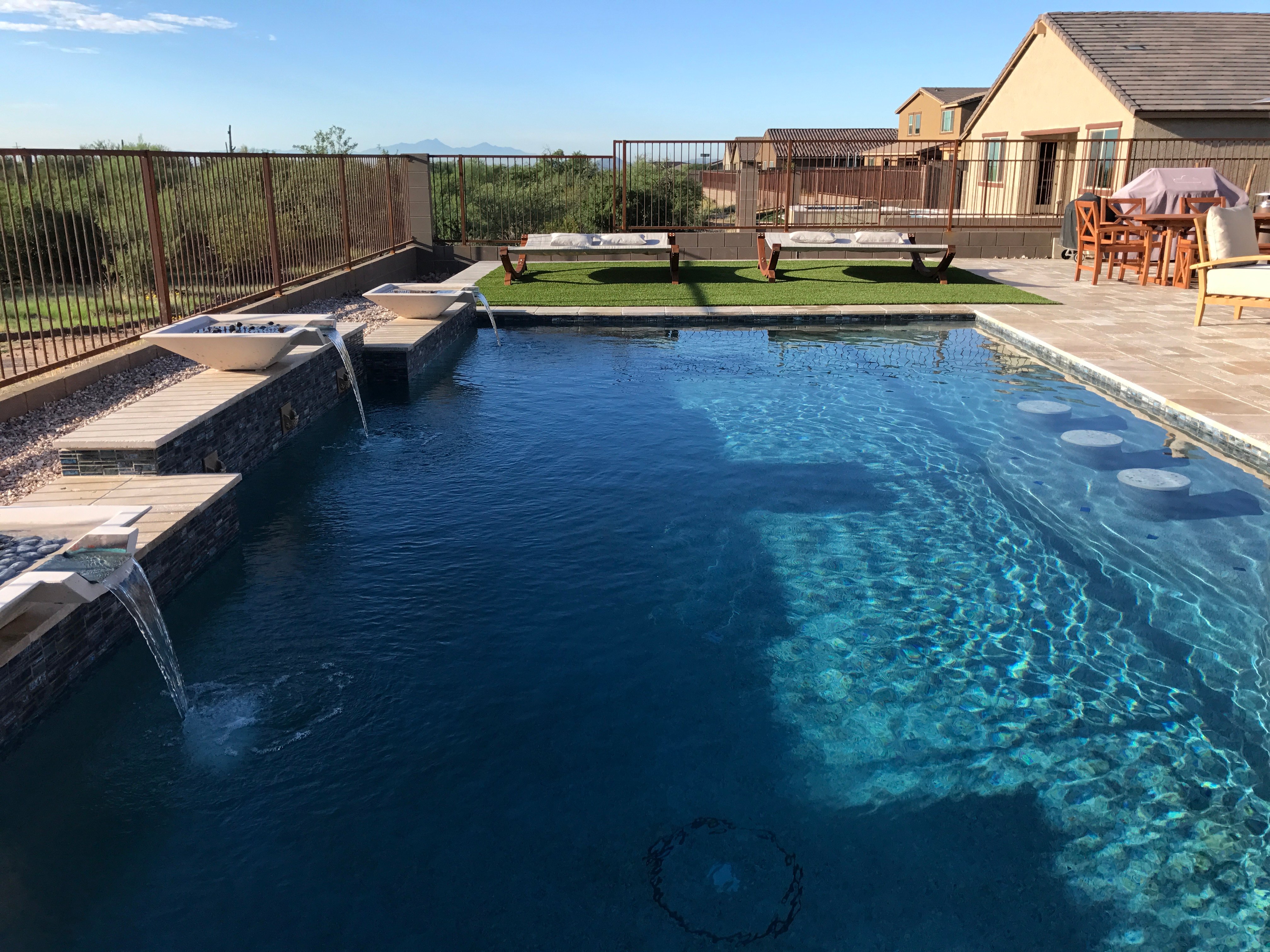 What is your process when working with a client?
One of the first things I ask my clients is, "How do you envision using your backyard?" Not just the pool but the entire space. Then, more specifically, "How will you see yourself using your pool? Will you use it more for exercise? For entertaining? To play sports? What types of features do you want in your pool?"
All of these questions help me get a picture of how they ultimately want their back yard to function and look like. Even if we are just designing the pool, I want to make sure that the pool we design and build fits the lifestyle they want.
Pool placement is just as important as the pool design. Knowing how they are going to use the back yard helps determine the pool deck or patio space. It is all about creating a comprehensive plan or having an idea of what it will become long term. It truly makes a difference.
Once I have an idea what my clients are looking for, we start to develop a shared vision. I have the experience and expertise but at the end of the day, I work for the client. My goal is to give them the pool and backyard environment to create the memories and experiences they have envisioned. One that is custom. One that is personal for their family. One that they will cherish and have for a lifetime.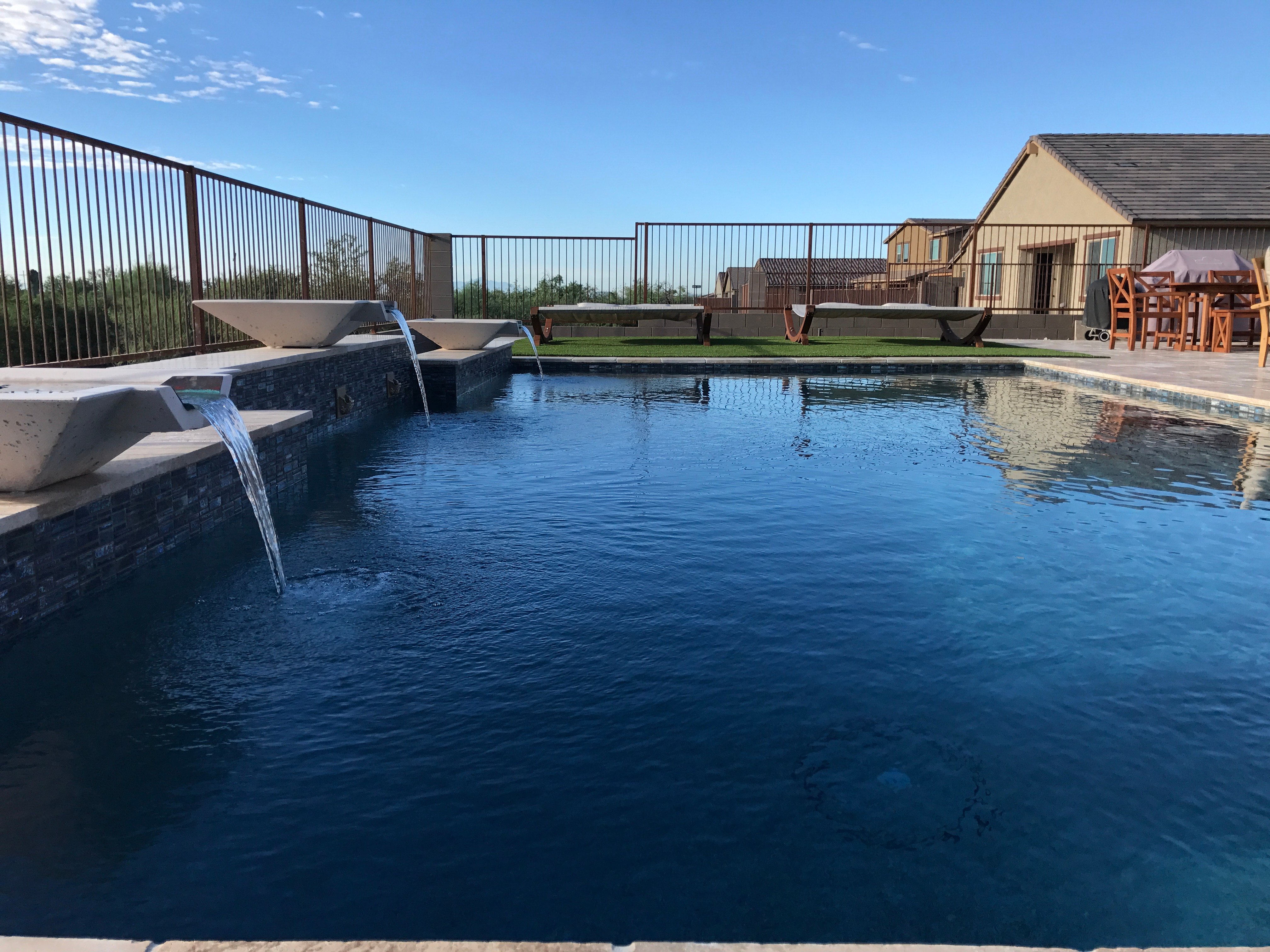 INTERESTED IN TALKING WITH Jason OR ANOTHER INCREDIBLE POOL DESIGNER?
We offer complimentary design consultations and would love to help you design the swimming pool and backyard of your dreams! If you'd like to chat, you can fill out this form, give us a call at 480.967.9467, or visit any one of our Phoenix valley and Tucson Metro area showrooms!
If you're in Tucson and would like to call Jason directly, call 520.572.5617.
LOOKING FOR MORE POOL DESIGNS? CHECK OUT
OUR GALLERIES!