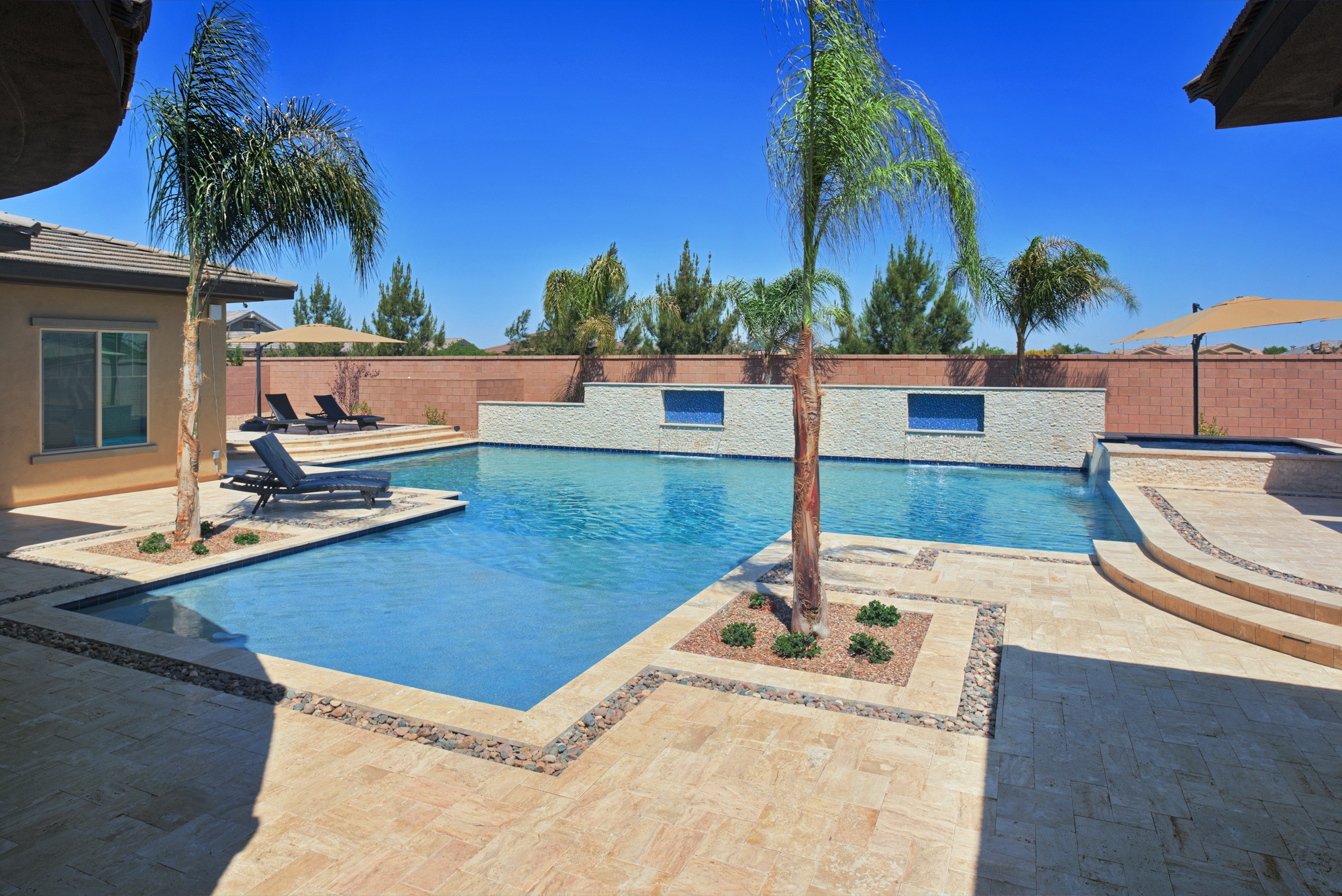 Many of the best pool designs come out of collaborations between expert designers and passionate homeowners. This pool is a great example of this. This modern, geometric pool design is a result of a collaborative effort between the homeowners and Jordan Frabasilio, a pool designer at Presidential Pools, Spas & Patio.
You may have seen Jordan's extremely popular compact design before. This post is a short interview with him about some of the design decisions featured in this new beautiful swimming pool.

Tell us a little about this design?
JORDAN: This pool was really made for the whole family. Tons of swim space, two enormous Baja steps, a spa, and tons of outdoor living space, including a huge fire pit.
The size of the yard determines, to some degree, the size of the pool. The backyard is big, so we decided to design a big pool, too. The home's interior is very modern and has all these contemporary colors and the pool follows those design aspects.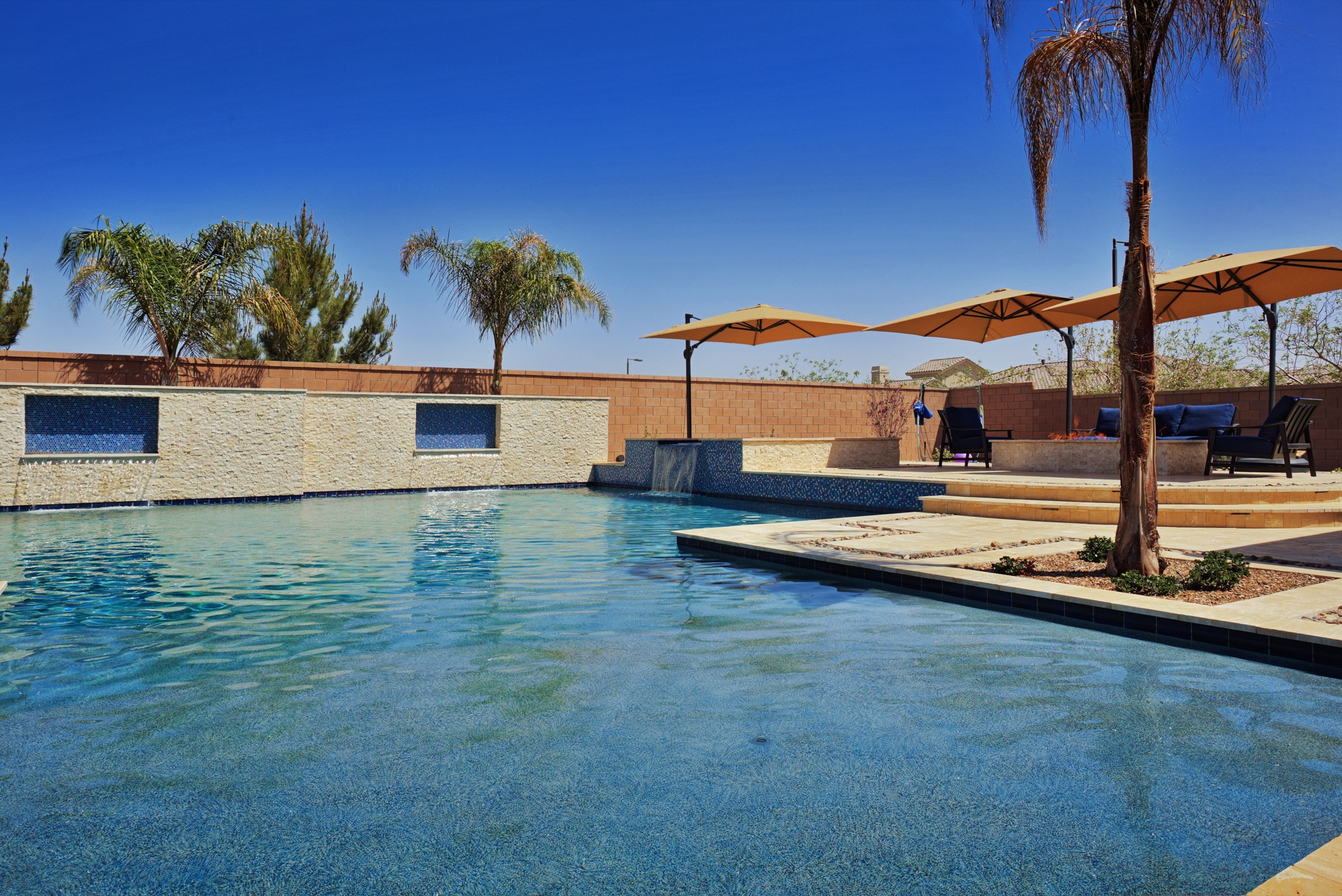 Talk a little about the design of the staggered wall. How did you come up with its design?
The staggered wall gives the feeling of a change in elevations which creates a really unique look. It was a lot of fun to collaborate with the homeowner on this. She sent me a picture of the river rock border and a similar water feature/wall design, then I just ran with it.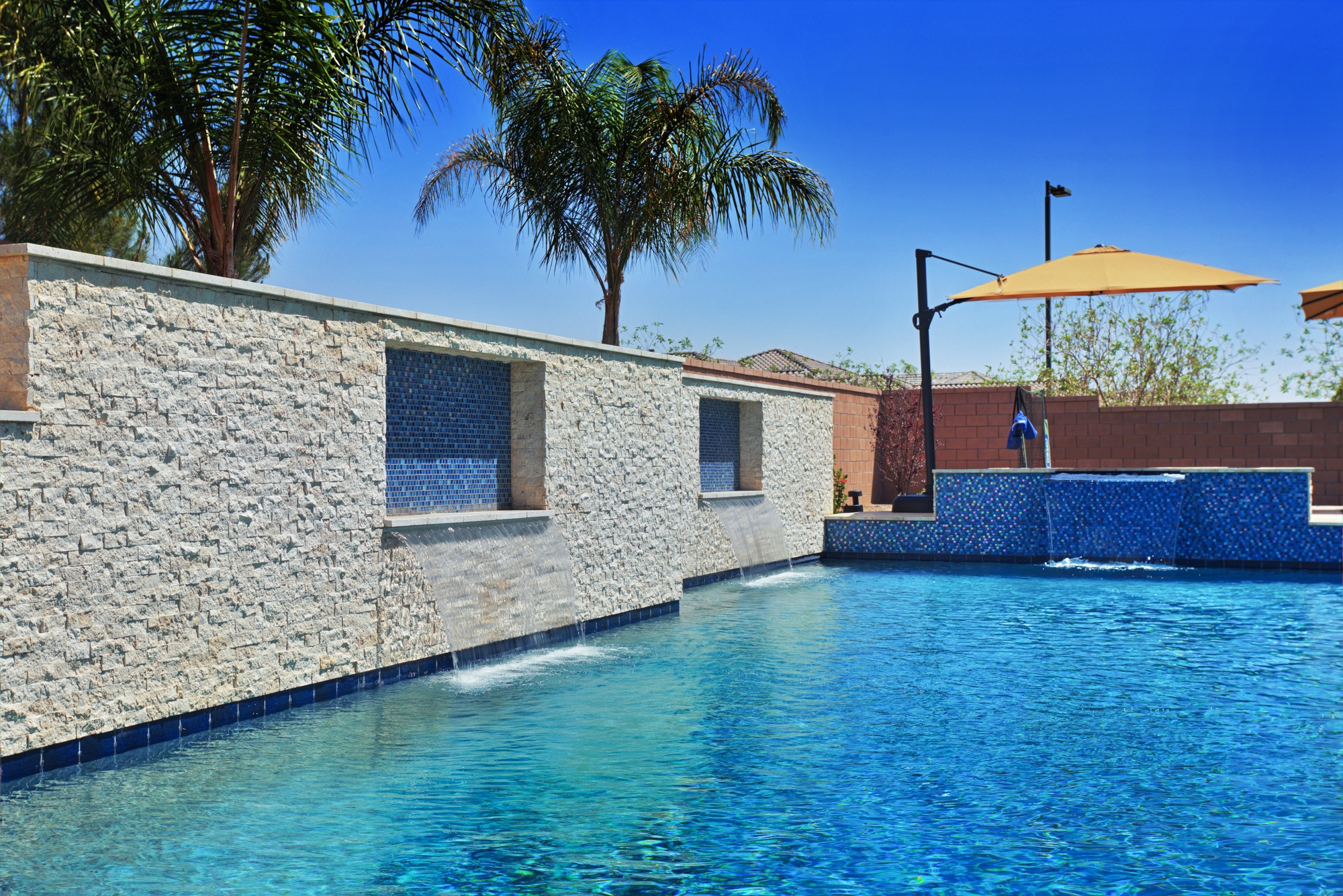 What are your favorite design elements of this backyard?
My favorite part is probably that wall with the recessed windows faced with glass tile and lit up with led light bars that sync with the pool lights. It's super unique and definitely one of a kind.
Overall this ranks up there as one of my favorite designs I have ever done.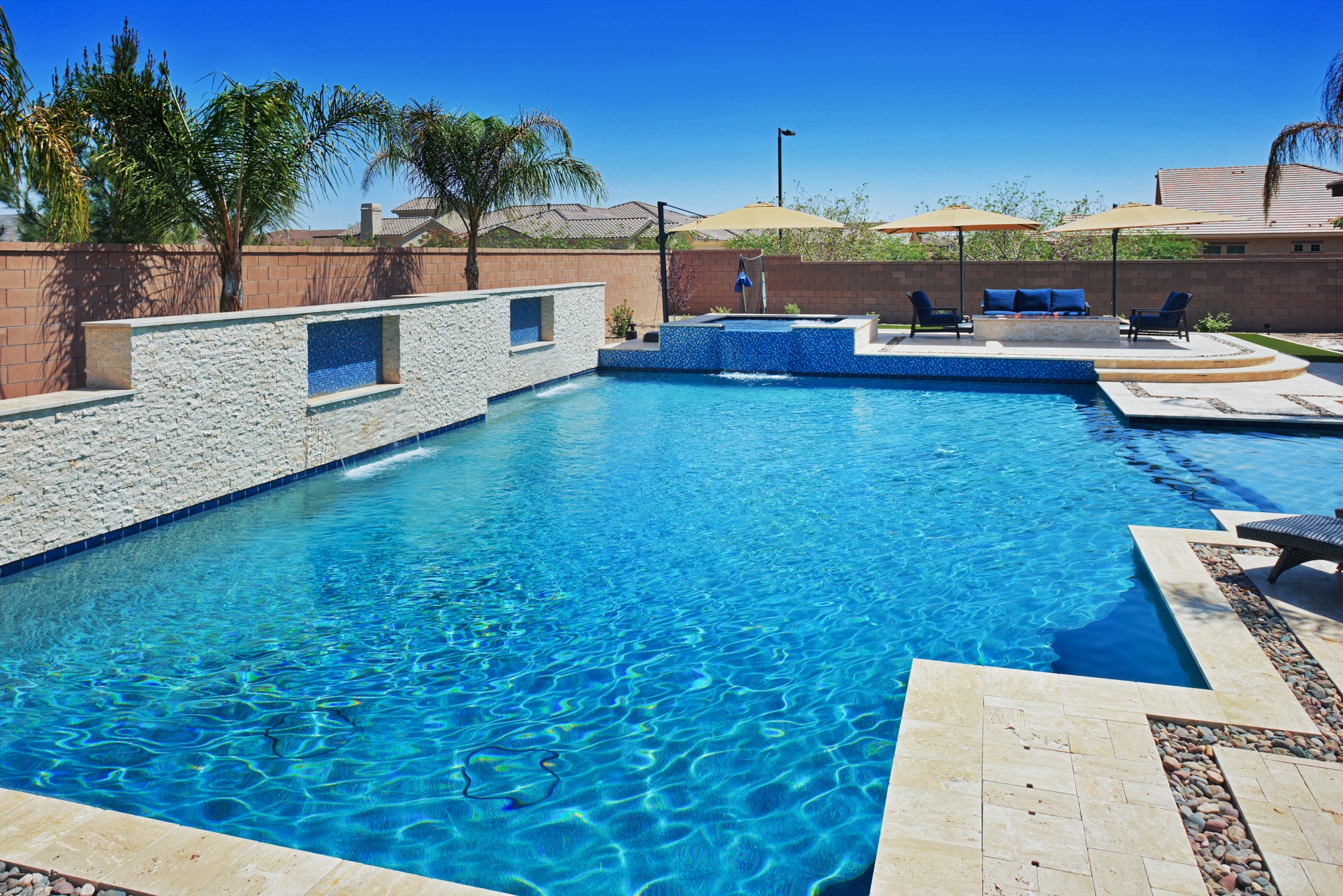 Can you talk a little about large Baja shelf?
The two large Baja shelf's are very cool. You get an area of 6" of water and an area of 18" of water, which is a great place to hang out but not fully submerge yourself in the water but still cool off--possibly while enjoying a beverage or two.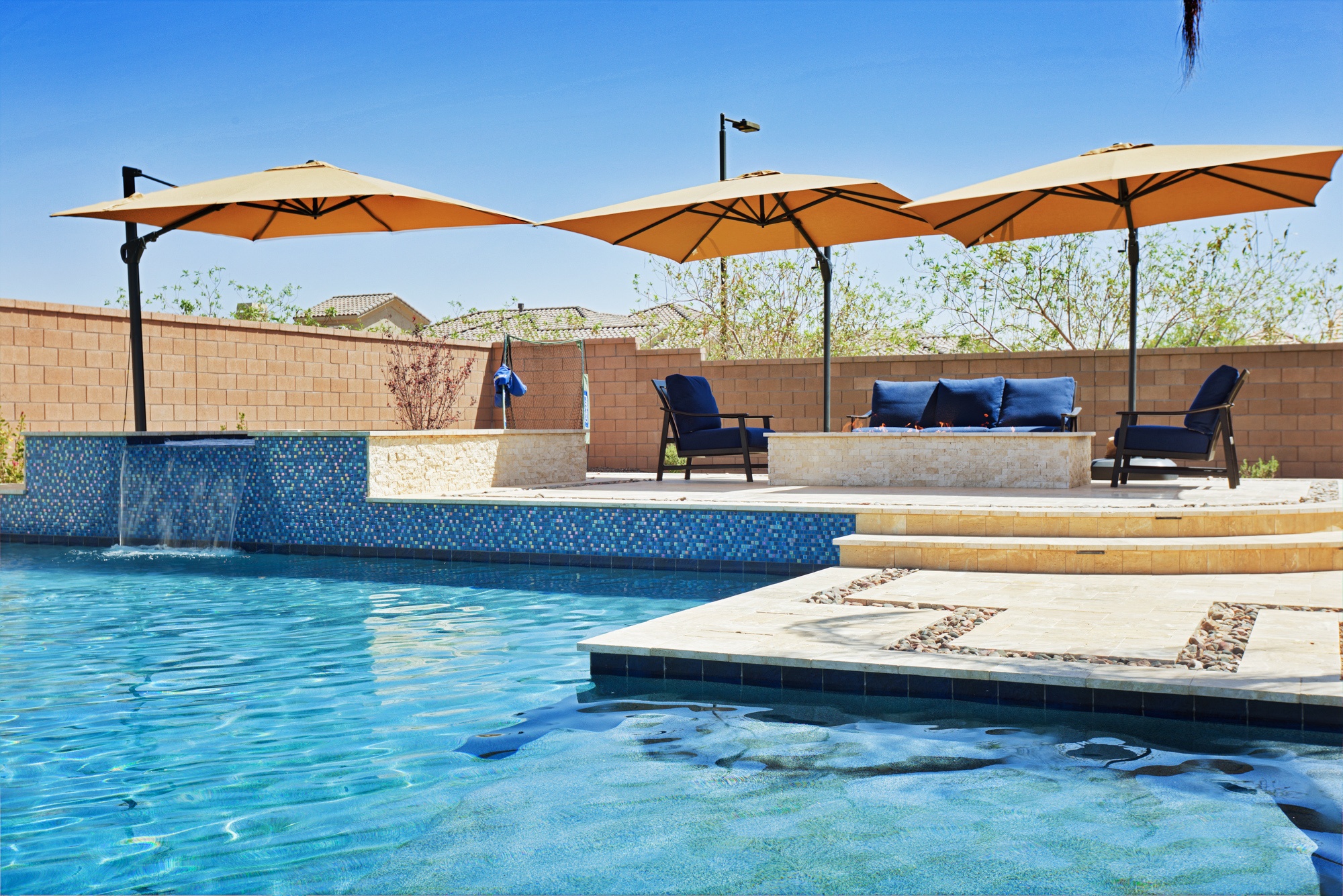 INTERESTED IN TALKING WITH JORDAN OR ANOTHER INCREDIBLE POOL DESIGNER?
We offer complimentary design consultations and would love to help you design the swimming pool and backyard of your dreams! If you'd like to chat, you can fill out this form, give us a call at 480.967.9467, or visit any one of our Phoenix valley and Tucson Metro area showrooms!
LOOKING FOR MORE POOL DESIGNS? CHECK OUT
OUR GALLERIES!